Travel Advisor Insider ~ Summer
Welcome to Travel Advisor Insider for news and information that will help you expand your business and your bottom line.  This quarterly newsletter you'll find information about upcoming webinars and other useful topics to assist you in building your business.

Drum Roll… Introducing Navigator Series® Edition III
At Big Five, we focus on the space between – between what is expected and what is unknown; between where tourism is and where we want to travel. Each of us needs to explore what is most important to us while we also strive to meet the challenge to use travel to better the world, to change others' lives and redefine preservation and conservation in ways philanthropy alone simply cannot.  To begin your personal exploration of the space between, reserve your copy of Navigator Series® Edition III, arriving this month.  To order, email reception@bigfive.com, or call 800 244 3483 or use the Brochure Order Form.
It works best as a lead generator when hand delivered with a note and followed up with a call to see how the clients responded. To request your own copy of this brief letter that you can personalize with your contact information and logo, please contact info@bigfive.com and write Request Sample Letter in the subject line. To request a proposal/quote, you can contact us at that same email address, or call 800 244 3483, or contact your Big Five Destination Specialist.
Agent Spotlight: Robert Litts, owner, L & L Travel, Lodi, 
CA
Robert began his journey in the travel industry in the mid 1960's as a flight attendant for SFO Helicopter Airlines, and continued in the industry, including working with TWA, where, in 1985,
he was one of only six  employees to work the special phone line during TW847 Beirut hijacking, talking to family members of those on the aircraft during the crisis. After time at a large agency in New York, he moved back to his hometown, Lodi, California, to become a travel agent and to be close to his family.  In 1997, he purchased L & L Travel. Next year, Robert will celebrate 20 years as the owner of L & L Travel. He discovered Big Five through his membership in WESTA.

Why Robert works with Big Five: "It took a few years for me to believe my sales rep, Bill Boden, who kept insisting that I give Big Five a try for some of my high end clients.  So a couple of years ago I did just that and the rest is history.  From start to finish, I loved everything about Big Five:  expert agents to talk to; pre-tour info for clients; trip proposals like no others; beautiful final documents that become keepsakes; constant emails from the operations manager during client travels to assure me how they are doing.  Now, when I have clients who want to go anywhere Big Five can do the trip, I give them "The Book," tell them to take it home and look at it. I also spend time with them before they do that and I tell them if they want a flawless unforgettable fabulous adventure to consider Big Five, and I tell them upfront that the cost will be a little higher than most alternatives, but what they will get in return just can't be beat.  I talk to them about how guides anywhere are all known and vetted by Big Five and that Big Five takes care of any and all logistics and that they are always under Big Five's wings, but never in an obtrusive way.  I've been very persuasive with clients who I know can afford the extra and not one of them have ever come back and say they had a good time; they ALL come back and say WOW, that was THE MOST fabulous trip we've ever been on!"
Webinar: Why I love Botswana & why you should, too
Date: Wednesday, August 17, 2016 Time: 12pm – 1:00pm EST
Register here & mark your calendar!  Join Ashish Sanghrajka, Big Five president, as he talks about Botswana, one of the last frontiers representing the essence of what Africa needs to become to confront the many challenges it faces from poaching to sustainability. Learn about how this destination is getting it right!  Discover how, by simply choosing to explore places others have long overlooked, you become part of the solution – without donations, without volunteering.  Your choices truly matter, and your tourism dollars can make the difference between these incredibly special places surviving or not. This is information you need to know. Don't miss this informative webinar.
 What's New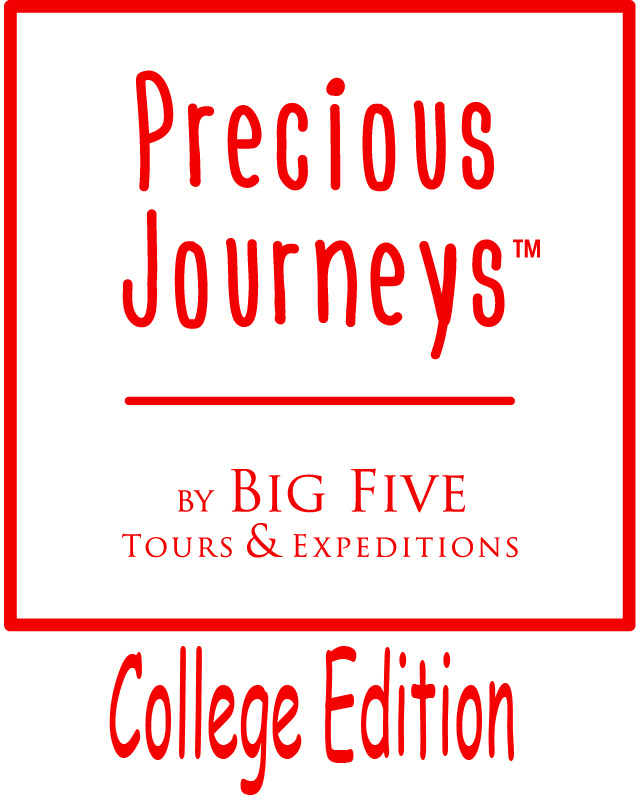 We have expanded our Precious Journeys™ collection to include Precious Journeys™ College Edition.  An innovative approach to family travel that allows young adults to continue to explore while still with their families, and, before they head off to college, careers and their future lives. At the same time, begin to use the knowledge and skills they have gained up to this point with opportunities to investigate interests from graffiti as found in Buenos Aires, Colombia and elsewhere; to a multi-day trek walk in Australia's amazing wilderness; to an amazing cultural experience climbing up 750 steps of Sri Lanka's 12th-century Sigiriya Rock Fortress.
Also don't forget to visit New Adventures as well as our President's Picks collection to see new adventures such as the Incredible Indochina and Botswana & South Africa.
For a three-way conversation, please contact your Big Five Destination Specialist
This is another fabulous tool in your arsenal – a conference call between you, a Big Five Destination Specialist and your clients.  Early in the quote/proposal process request this three-way conversation — it will  double your chances of closing a sale!
Big Five Travel Blog
Please visit our Travel Blog for more great ideas on places to go and things to do.