We welcome Nina Boys as our guest blogger this week. Nina is an avid explorer and passionate traveler whose journeys have taken her across five continents to some of the world's most beautiful natural and cultural wonders. Nina has served as a judge for the National Geographic World Legacy Awards, honoring the planet's sustainable travel visionaries, and has a knack for finding unique travel experiences wherever she goes. She is known to seek out up-and-coming art scenes, local delicacies at street food stands around the world, and opportunities to scuba dive on vibrant coral reefs, all while blogging about her off-the-beaten path adventures for publications including Virtuoso.com, Huffington Post and Roads & Kingdoms.
The night is young, the air warm, and I am on a mission to find what is arguably the most famous restaurant in South America.  Strolling Lima's hip Barranco neighborhood, I wind past vibrant street murals searching for 'Casa Tupac' – Virgilio Martínez's new culinary complex that houses Central, his celebrated brainchild, and its sister establishments. Martínez has become one of the most highly sought-after chefs in the world since debuting Central's Mater Elevations – an innovative tasting menu which takes diners on a voyage through Peru's varying altitudes by creatively showcasing the indigenous ingredients native to each place.
Swinging open Casa Tupac's heavy doors, I notice what looks like a small glass laboratory where botanical specimens hang organized by their scientific names. In my quest for gastronomic greatness, I have discovered the biological and cultural research center behind Martínez's growing culinary empire. Enter Mater Iniciativa: the driving force behind what just may be the future of Peruvian cuisine.
The innovative project is led by Chef Martínez's sister Malena, who travels throughout the elevations of Peru with a team of experts to collect, study and ultimately preserve the incredible diversity of plants that thrive within one of the four most megadiverse countries on earth. By digging deeply into Peru's wild ecosystems, from the dense Amazon jungle to sweeping grasslands to the mighty Andes mountain range, Mater Iniciativa gains new knowledge on the nation's natural and cultural diversity with help from the indigenous peoples who call the distinct regions home. In turn, the research shines an international spotlight on Peru's many unique cultures and crops through scientific discovery, interactive conferences, and once at Central, thought-provoking fine dining. My next stop is Cusco, where beneath the beating midday sun of the Sacred Valley of the Incas, I watch patiently as local farmer Manuel digs deep in the fertile earth, pulling out gnarled tubers. He shakes off a film of soil to reveal rich shades of magenta and ochre while whispering to himself in Quechua, the mother tongue of the Inca. Andean culture, he explains, shares an ancient spiritual connection with pachamama, Mother Earth, and her many crops – including the sacred potatoes that have been grown here for millennia. I acknowledge his words with a solemn nod. We are, after all, in the epicenter of potato diversity, where over half of the world's known varieties are found.
Corn is another important staple, which the Inca fermented into a beer known as chicha de jora, considered a bridge to the gods and used in sacred ceremonies. The sour corn libation is still popular in the Andres today and can be sampled at one of the region's many chicherías – just be sure to pour some out for pachamama before imbibing.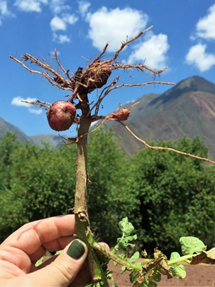 Mater Iniciativa has taken a special interest in the Sacred Valley's agricultural legacy and their scientific explorations prompted Chef Martínez to open his second restaurant – Mil – high in its mystic hills, just outside the ancient ruins of Moray. In fact, guests dining at Mil literally look out over the spectacular ruins while enjoying dishes steeped in the region's ancient history – some of which are cooked in an underground huatia oven dating back to the Inca Empire. In contrast to Central Restaurant's forward-looking approach, Mil serves unique interpretations of 'ancestral cuisines' through a tasting menu that only utilizes ingredients found at its 11,500 foot elevation. The restaurant also shares strong ties with its neighboring communities, who introduced traditional agricultural practices to the onsite gardens where guests can also get their hands dirty harvesting potatoes before sitting down to a culinary journey back in time.
Once again in Lima, I head to Central's more casual sister restaurant Kjolle – run by Chef Martínez's wife, Pia León. Tucking into a savory quinoa tart topped with rainbow-hued ribbons of root vegetables from the Sacred Valley, I reach for a gin-based cocktail shaken with Amazonian cocona fruit and dusted with coca leaf powder. When the server asks how I am enjoying my meal, I pause to reflect on all the scientific and cultural research that has gone into it, and on the limitless possibilities that seem to exist in Peruvian cuisine. With an appetite stronger than my desire to translate such thoughts, I simply smile and reply "Es perfecto. Salud."


To explore Peru's amazing cuisine as well as it's people, culture and history, start planning your own journey to Peru.
We human beings are part of a wonderous and diverse family…. The family of primates — Primat-, from primus: "prime, first rank".  Primates arose 55–85 million years ago from small terrestrial mammals that adapted to living in the trees of tropical forests.
From the tiniest Madame Berthe's mouse lemur, just over three and a half inches long and weighing an ounce, to the eastern gorilla, some as tall as six feet and weighing over 440 pounds, there are 300 or more primate species, including humans, making it the third most diverse order of mammals, after rodents and bats, according to the Encyclopedia Britannica. And, remarkably, new primate species continue to be discovered. More than 25 new species were described in the first decade of the 2000's, and 11 more since 2010.
The Madame Berthe's mouse lemur is one of some 100 species of lemurs. Remarkably, they are native only to the island of Madagascar. Most existing lemurs are small, have a pointed snout, large eyes and a long tail.
On the other end of the size scale is the critically endangered gorilla, the largest living primate. Ground-dwelling, herbivores, the great apes inhabit only a small percentage of the forests of central Sub-Saharan Africa. The genus Gorilla is divided into two species: the eastern gorillas and the western gorillas (both critically endangered). They cover a wide range of elevations. The mountain gorilla inhabits the montane cloud forests of the Virunga Volcanoes, ranging in altitude from 7,200 to 14,100 feet. Lowland gorillas live in dense forests and lowland swamps and marshes as low as sea level.
The DNA of gorillas is highly similar to that of humans, from 95 to 99% depending on what is included, and they are the next closest living relatives to humans after the chimpanzees and bonobos. The closest relatives of gorillas are the other two Homininae genera, chimpanzees and we humans, all having diverged from a common ancestor about seven million years ago. Human gene sequences differ only 1.6% on average from the sequences of corresponding gorilla genes.
With so much in common, we owe it to our animal companions on this planet to learn more about them. Our newest President's Pick: On the Trail of Primates helps you explore the worlds of the lemurs of Madagascar and the mountain gorillas of Uganda. Travel into Bwindi Impenetrable Forest, a UNESCO World Heritage Site due to its ecological importance. This primeval forest remains one of the most biologically diverse areas on Earth with some of the richest populations of trees, small mammals, birds, butterflies and reptiles. This is home to roughly half of the world's population of the mountain gorillas. Those who have been lucky enough to spend time with these amazing animals in their natural habitat describe the encounter as one of the most profound experiences of their lives while others speak in terms of a spiritual experience. Whatever your reaction, you will be deeply moved by these gentle animals.
Then you travel on to the island of Madagascar for delightful encounters with a variety of lemurs including inquisitive groups of ring-tailed lemurs and the entertaining Verreaux sifaka as well as mouse, sportive and sifaka lemurs and a great variety of birds such as the malachite kingfisher, Lafresnayes and hook billed vangas, Verreauxs coua, crested and giant coua, scops owl and many others.
The 18-day President's Pick: On the Trail of Primates journey introduces us to some of our closest relatives.
"The dynamics of Africa are always changing, evolving, and never more than in 2019," states Ashish Sanghrajka. "The concept of the safari is expanding far beyond classic routes and activities to more authentic, personal and closer encounters. This program demonstrates that and represents the exciting new frontiers to be experienced in Africa."
« back