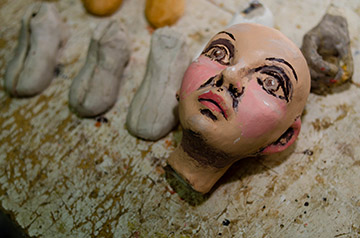 In 1995, a coalition of talented Latin artists and academics founded the Teatro Círculo in Paraty, Brazil. It was created as a place to preserve classical 17th Century Spanish theater as well as support new works by contemporary Latin artists.
What makes this theater unusual is that its performances are wordless and its actors are a bit stiff, but that is to be expected when your players are puppets of wood and cloth. And, this is a theater for adults… 14 and older, so no little ones.
From its inception, Teatro Círculo has been committed to preserving and promoting Latin cultural heritage through creative theatrical works.
Teatro Círculo encompasses four primary areas: the Mainstage Season, showcasing award-winning classical, contemporary and original plays; a national and international touring program that includes classical competitions and performances to Spanish-speaking communities lacking local theater; a school program engaging students in learning about their heritage through workshops and visiting performances; and professional master classes for emerging and established artists led by world class directors like Antunes Filhio from Brazil, Luis Jiménez from France and Floyd Rumorh from the U.S.
For nine years, it has hosted an international festival, Contatos Cênicos, bringing to Paraty more than 18 international companies of dance, theater and circus. In 1991, they created the Latin American Network of Independent Producers of Contemporary Art (La Red), which today has representation in 47 countries. In addition to the performances by the resident group, the theater is home to the cultural activities developed by its members.
In the last decade, the company has won more than 50 awards for excellence in the Hispanic theater, including an OBIE for touring classical work, and numerous ACE Awards and HOLA Awards.
The regular schedule of Teatro Espaço, "Em Concerto" is presented Wednesdays and Saturdays, 9pm, for adults. Several important Brazilian and Latin music, theater and dance performers have played this stage such as Paulo Autran, Paulo Moura, Joyce, Denise Stoklos, Antonio Nóbrega, among many others.
Travelers from the U.S., New Zealand, Norway and beyond have found their way to this unusual 90-seat  theater to see the hour-long show, and have left moved.
"This is one of those experiences you should try if you've got time. It lasts only an hour, and every seat in the theater is a good one. Also, language isn't a barrier. The puppets are beautiful. The scenes are vivid, and the creators weren't afraid to explore a variety of adult topics ranging from an elderly couple and their simple but fulfilling love, a suicide, an Indian woman in a bathtub, and ending with a woman and self-love. It isn't appropriate for children for sure, but if you are an adult and you go, be sure to keep an open mind."
"Unique, creative. WOW! While it won't be everyone's cup of tea, this was a pure joy to watch. 7 small skits, each under 10 mins, together make an amazing show. You really 'feel' the emotion of the puppets (you are sad for them … or happy), and totally unique. If you like live performances, and like something different, you won't be disappointed."
Teatro Círculo brings a contemporary attitude to an art that dates back to 1000 B.C.  The theater sits in the heart of Paraty, a historic city three hours from the center of metropolitan Rio de Janeiro. If you crave unique cultural experiences in your travels, then you might like to experience Teatro Círculo. Depending on your itinerary, we can arrange for you to take in the show during your Brazil adventure such as in our new President's Pick Brazil Discovery In Depth.
Many travelers to Southeast Asia have heard of the Marble Mountains in Vietnam. This gathering of five outcroppings is a pilgrimage site with caves, temples, tunnels and peaks. From afar, the mountains seem small, but as you approach, you see the grandeur of the landscapes. Each mountain represents one of the essential elements – metal (Kim), wood (Moc), fire (Hoa), soil (Tho)), made out of limestone and marble, and water (Thuy). The largest among them is Thuy Son (Water Mountain), and, ironically, it is home to the notorious Am Phu ("hell") cave.
Discovered in the 19th century, King Minh Mang named the cave to signify the mountain's yin-yang contrast because the top of the mountain is considered heaven while the bottom is its opposite.
Opened to visitors in 2006, the cave's natural atmosphere of rock formations, stalactites and dark tunnels have been heightened with startling figures and altars created by local artists, who recreated a Buddhist concept of hell "where sinners confess crimes, suffer punishments and hope to reach heaven's light."
You cross a stone bridge over a pond with carved hands jutting up from the water begging for rescue. The bridge symbolizes the passage from your Earthly existence into the afterlife. Enter in the Am Phu Cave and begin your journey along sometimes challenging stairways. (Those who have difficulty with stairs should consider skipping this as the cave has many sections of stairways, some steep and without railings.)
The cave symbolizes nine floors of Buddhist hell. Go down into spooky tunnels accompanied by the sound of bat wings flapping somewhere nearby. This isn't Disney… the bats are real. Descend into the realm of man-hungry crocodiles, violent demons, devils and river monsters. In the depths of Am Phu, the strong, fragrance of incense is unavoidable. Sad reminders of the Vietnamese-American War include a chamber used as a Viet Cong field hospital. Altars are scattered around the cave with burning candles and incense. This is where locals come to pray and leave offerings. An altar rests below a stone stele for lost soldiers of past conflicts and a stone Buddha marks a staircase that leads deeper underground.
Another path, leading up, has walls covered with beautiful carvings. This is the section symbolizes heaven. Some steep and narrow steps lead to a small balcony with an altar and a laughing Buddha statue. Climbing the stairs to salvation isn't supposed to be easy. In Hell's court, judges evaluate a sinner's acts to decide on the level of punishment. In the cave's center, a statue of the Ksitigarbha Bodhisattva, referred to as the Bodhisattva of the Hell beings, is near the spiritual scale. If you have a mind to, you can confess sins and repent before this marble scale that weighs good and bad deeds.
Nearly 1,000 feet in length, this remarkable cave presents a blend of folklore and Buddhism's philosophy of humanity.  You can climb a stone stairway up to "heaven" — the top of the Thuy Son Mountain, or you can opt to take a glass elevator and enjoy the views of the city. On top of Thuy Son, more caves as well as divine shrines and pagodas wait.
If you'd like to travel to Am Phu and back to experience this otherworldly cave system, consider our seven-day Vietnam Private Exploration.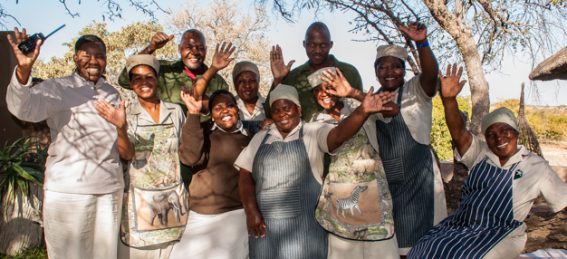 A lifelong Disney fan, I was not surprised to learn that Disney stretched all the way to Botswana! Walt always had a global outlook. I'm not sure he could have looked this far ahead.
In a diverse landscape of expansive plains, grassland, riverine forests, rocky hills, marshland and sandstone ridges in the eastern extremity of Botswana, there snuggled into the landscape is Mashatu Tent Camp within the Northern Tuli Game Reserve. The Tuli Safari Area encompasses a national park in Zimbabwe and the Mapungubwe National Park, a World Heritage Site in South Africa. Mashatu shares unfenced borders with both the South African and Zimbabwean national parks in the south and north. This vast area forms part of a cross boundary wildlife conservation area protecting the substantial biodiversity of fauna and flora in this region.
Mashatu Tent Camp has just eight private tents are spacious, comfortable and large enough that adults need not duck for fear of bumping their heads in. Each is mounted on a concrete platform and has its own private outdoor en-suite facilities to shower under the stars.
Okay… so what about Disney?
No less than seven members of the Mashatu staff have spent a minimum of 12 months at the Disney entertainment complex in Orlando. FL as part of an exchange program offered to the citizens of Botswana. The Mashatu staff – two camp managers and five other staff members – spent a year training and learning the wide-ranging facets of hospitality. This is a rare opportunity to be part of Disney International Programs and experience a once-in-a-lifetime opportunity to learn from one of the world's most innovative entertainment companies. Living and working at Walt Disney World® Resort allows participants to connect with people from across the globe, create lifelong memories and be immersed in an English-speaking environment. They learn leadership, presentation and customer service skills. They continue to pass on what they learned to other Mashatu employees. To experience all that Mashatu has to offer, from the staff's hospitality to the phenomenal landscape and wildlife of the region, consider Africa South, a 14-day adventure that includes Mashatu Tent Camp in Botswana.
I suspect Walt would be pleased.
We are adding a few sparks to the blog this year that will broaden our scope a bit with news on places, topics and tours, the company and more.
Spark 1. Our weekly corporate blog will encompass elements from a larger cross section of our itineraries that feature dynamic places, people, events and activities.
Spark 2. Next month will begin an occasional series of stories from the travels of our Brand Manager, Deborah Kilcollins, who started traveling independently at age 19 and has experienced nearly 60 countries.
Spark 3. Of course, we will play Big Five's version of Where's Waldo with Where's Ash & What's he gotten into now? We will track our president, letting you know about his speaking engagements, webinars, client events and his more adventurous antics such as ziplining or whitewater rafting. Last year, he racked up 200,000 miles, a personal best, he says. Let's see if he'll break that record in 2020.
Spark 4. When it comes to Big Five and sustainable travel, you will not be disappointed as we keep you updated about today's issues, ideas, progress made, and a range of topics on our three sustainable blogs: Safaritours.com, Galapagos.com and Visibleasia.com
We genuinely hope you will hit the road with us as we continue to set off sparks in the World of Big Five in 2020.
Thank you for your continued friendship and partnership. Happy New Year.
« back