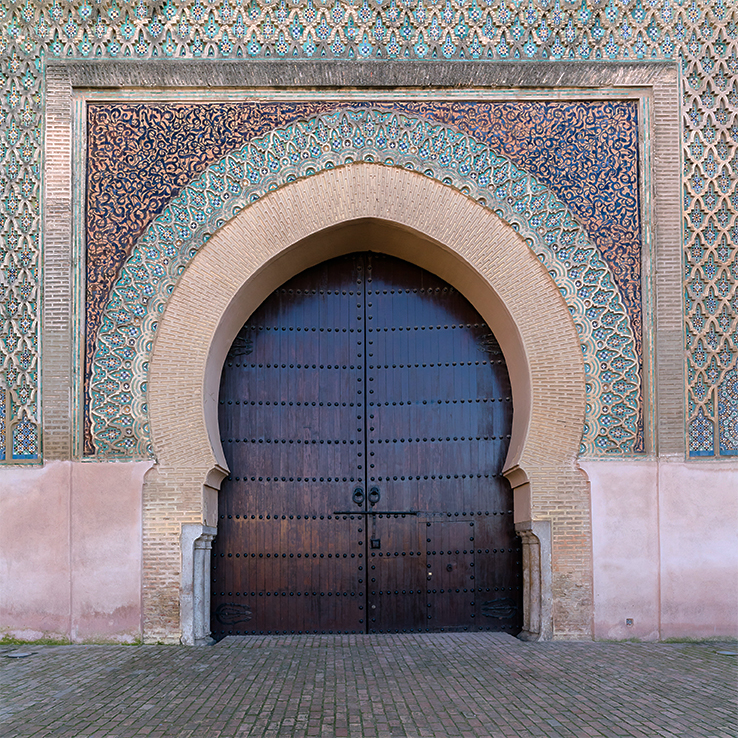 Meknes has 20 plus gates along its nearly 25 miles of outer walls, but it is the Bab Mansour Gateway that has been renown as one of the finest of the great gates of Morocco. Its original purpose was to pay homage to the sultan at the time. Built at the beginning of the 18th century, it was finished in 1732 by Moulay Abdallah, son of Sultan Moulay Ismail.
The gateway is lavishly decorated with zillij (ceramic mosaic) tiles. Each zillij tile is hand cut, individually chiseled geometric tiles set into a plaster base. Design elements include elaborate geometric patterns and ornamental Islamic calligraphy of Quranic verses.
Fez and Meknes are the production centers for zillij tiles due to the Miocene grey clay found in the Fez area. The clay from this region is primarily composed of Kaolinite. For Fez and Meknes, the clay composition is 2-56% clay minerals.
For centuries, the country has been influenced by a mix of cultures from African tribes, to its Arab neighbors, to European traders and colonizers. This dynamic combination has created a unique culture that is reflected in the country's architectural style. Yet, even though different design elements are found in buildings throughout Morocco, the strongest influence in its architecture remains Islam. Indeed, the specific decoration guidelines of Islam have been used to direct the construction and ornamentation of buildings in Morocco for centuries.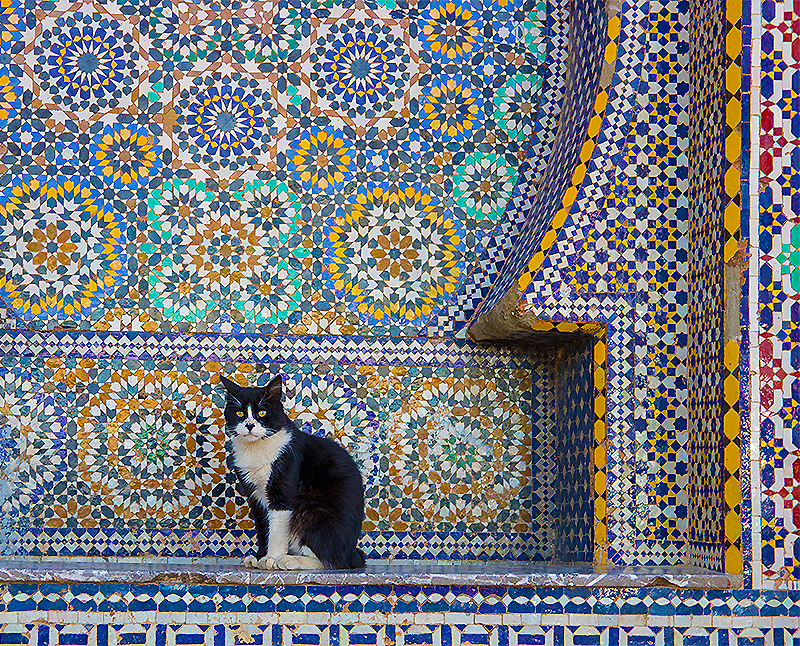 The colorful tiles are also used in traditional homes and palaces, called riads. As private residences, the spaces focus inward with a central courtyard with rooms and windows opening onto it. Courtyards often include fountains and fruit trees. Here, too, depending on the family's wealth, it may have elaborate zellij tile and stucco work.
This is a form of traditional Islamic art was and remains a hallmark of Moroccan architecture.
How about Shark Bay, Australia? This UNESCO World Heritage Site is on the coast of the state of Western Australia. Approximately 500 miles north of Perth, Shark Bay is home to one of the largest and most diverse seagrass beds in the world as well as the ancient colonies of microbial mats that form hard, dome-shaped deposits – these stromatolites are said to be the oldest life forms on earth. Stromatolites are scattered across the coasts of the world.
Some evidence suggests that about 1,000 years ago, cyanobacteria (blue-green algae) began building up stromatolites in the southern part of Shark Bay. These stromatolites are modern counterparts of the earliest signs of life on Earth, with fossilized stromatolites being found dating from 3.5 billion years ago at North Pole near Marble Bar, in Western Australia, and are considered the longest continuing biological lineage. They look something like groups of broccoli standing, waiting.
Shark Bay also boast rich marine life including a large population of dugongs, nicknamed sea cows and are related to the manatees we are lucky to have along the coasts of Florida. In fact, the bay is area of major zoological importance. It is home to about 10,000 dugongs, some 12.5% of the world's population. The dugong is the only sirenian in its range, which spans the waters of some 40 countries and territories throughout the Indo-West Pacific. The dugong feeds mostly on seagrass typically occurring in wide, shallow, protected areas such as bays, mangrove channels, the waters of large inshore islands and reefs. The northern waters of Australia between Shark Bay and Moreton Bay are believed to among the dugong's few remaining strongholds.
Another popular resident is the Indo-Pacific bottlenose dolphin. Some bottlenose dolphins in Shark Bay exhibit one of the few instances we know of tool use in marine mammals (in addition to sea otters). They use a sponge to cover the nose for protection while foraging in the sandy sea bottom to feed.
The area supports 26 threatened Australian mammal species, over 230 species of birds and nearly 150 species of reptiles. More than 323 fish species, many of them sharks and rays, inhabit these waters as well as passing humpback and southern right whales when migrating. Bryde's whales come into the bay sometimes to feed or rest and threatened green and loggerhead sea turtles nest on the bay's sandy beaches. The largest fish in the world, the whale shark, gather in the bay during the April and May full moons.
Shark Bay became Australia's first UNESCO World Heritage Area in Western Australia's first world heritage listed area in 1991 because of the unique natural wonders. You can encounter the bay's unique collection of marine life from shore, by snorkeling, swimming, diving, or from the deck of a boat. Enjoy fishing (outside sanctuary zones), windsurfing and swimming.
If you want to explore what Western Australia has to offer, consider our Australia Down Under Canvas adventure or we can help you craft your own including Shark Bay.
Farah Abouseif
"Do not go where the path may lead; instead, go where there is no path and leave a trail."
Born in Cairo, Farah Abouseif likes to start the morning with Turkish coffee at Oahwa, a favorite place near her home outside Cairo. She grew up in the city and around sports.
"I'm most passionate about kids and sports. Sports, for me, are an essential part of the day. I have to move, and I love watching it. Football/soccer is a big part of Egyptian culture, so I grew up seeing it everywhere," Farah states. "As for kids, I've always had an instant connection with children. And the love of sports made that connection easier and natural with them."
When not playing or watching sports, she was in school. She attended The American University in Cairo, earning a bachelor's degree in political science, international relations and political economy. That was followed by study in London at The American International University, where she was graduated with a master's degree in international relations.
At the time, she thought of getting into foreign affairs, where she could also make use of her Arabic, English and French language skills. So, after graduation, Farah worked with the United Nations UN WOMEN, an entity dedicated to gender equality and the empowerment of women. Ultimately, she decided governmental work was not for her.
But Farah kept up with her charity-related work with a group of women on a weekly basis. "We go to underdeveloped areas in Cairo and try to provide their basic needs through donations. We go to orphanages and children's hospitals and play with the kids," she added. This is when she developed her passion for service work. "Getting into volunteer work and working with children who don't have half of the privileges I had as a child makes me feel a sense of responsibility towards them – like I have to give back somehow."
She also became passionate about travel as a way to make a difference. In addition to the grand river and all the history that surrounds her every day, she believes it is just as important for travelers get to know the people. Egyptians are friendly and very hospitable. Farah shows visitors the city she knows and loves, taking them to places where her friends spend time – a local restaurant or a club. They have opportunities for authentic exchanges of ideas, learning firsthand about each other.
"That's what drives me. I'd hate to have just passed through my life with all these privileges without having done anything in return, even if it's as simple as connecting cultures and righting the conceptions some people have about my country, my religion and my people," Farah said.
She and Big Five's president, Ashish Sanghrajka, became friends when she was a teenager and Ashish was not much older. Farah began actively guiding for Big Five a dozen years ago and remains just as enthusiastic today about showing off her city to our guests. To Farah, the purpose of tourism goes well beyond the sites. For her, it's the people, the culture and the conversations she gets to have with others from all over the world.
"I think anyone coming to Cairo should come with an interest in learning about the people. We have so many cultures with different beliefs and principles," Farah said. "I've lived here all my life and I'm still learning."
Click here to meet Farah
« back