Travel Advisor Insider ~ Spring
Welcome to Travel Advisor Insider for news and information that will help you expand your business and your bottom line.  This quarterly newsletter you'll find information about upcoming webinars and other useful topics to assist you in building your business. We also will showcase an agent or agency that has used Big Five for their clients.
Webinar: Why I love Patagonia & why you should, too Date: Wednesday, April 13, 2016 Time: 12pm – 1:00pm EST
R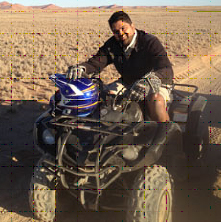 egister here for this informational webinar.  Join Ashish Sanghrajka, Big Five president, as he talks about the overlooked indigenous communities of Patagonia. Long ignored by government and the tourism industry, the Mapuche are spread out and separated into family clans that allowed them to resist the Spanish invaders for 300 years. That is also part of the reason they have not been generally included in the common society of Chile. Learn about why you should meet these fascinating people, who are striving to find that balance between tradition and the modern world.  The Mapuche communities collaborate with certain lodges who lease their land, offering the conservancy model in Chile that is known to be successful in Africa. That means that both the Mapuche and you benefit from this truly unforgettable encounter. Discover how, by simply choosing to explore places others have long overlooked, you become part of the solution – without donations, without volunteering.  Your choices truly matter, and your tourism dollars can make the difference between these cultures surviving or passing little noticed into history. Don't miss out on this webinar – your clients will thank you!
Agent Spotlight: Mimi Davenport  Travel Experts, Atlanta, GA
When people ask me to name my favorite trip, I do not hesitate to say Africa with Big Five.  Our guide had to be the best guide in Kenya.  A friend recently had an opportunity to accompany another friend who has a business in Peru.  I called Big Five and Gisela Polo called me back, and she made all the arrangements for him to travel by himself to Cuzco, Sacred Valley and Machu Picchu.  The fact that Gisela is from Peru and LOVES to book her home country results in an enthusiasm that can't be bought!  He had a wonderful trip. I delivered Big Five's book (I can't call it a brochure) to him and two other clients, including one couple who take a trip each year.  They take turns choosing a destination. Last year was her turn (Italy); and this is his year and he likes adventure. At first it was Atacama in Chile, then Morocco… That is when I delivered the Big Five (Navigator Series®) Book. Gisela was wonderful. She proposed several itineraries and several modifications.  They have booked a beautiful trip to Argentina. Gisela is a pleasure to work with.  I am looking forward to working with her on some new trips. Click on the link to explore Big Five's Argentina or contact us for more information.
What's New
Be sure to check our What's New Section for news and to learn about New Adventures as well as our President's Picks collection that encompass journeys that have been personally selected by Ashish as among his personal favorites.
For a three-way conversation, please contact your Big Five Destination Specialist
This is another fabulous tool in your arsenal – a conference call between you, a Big Five Destination Specialist and your clients.  Early in the quote/proposal process request this three-way conversation — it will  double your chances of closing a sale!
Big Five Travel Blog
Please visit our Travel Blog for more great ideas on places to go and things to do.

Big Five Tours & Expeditions Navigator Series® Edition II brochure
Our hardcover book continues to be popular with agents and travelers alike. It works best as a lead generator when hand delivered with a note and followed with a call to see how the clients responded regarding their next adventure.  To request your own copy of this brief letter that you can personalize with your contact information and logo, please contact info@bigfive.com and write Request Sample Letter in the subject line. To request a proposal/quote, you can contact us at that same email address, or call 800 244 3483, or contact your Big Five Destination Specialist.