We all have our favorite foods – comfort foods, dishes that recall a special time or event, foods we discovered in our travels. Food nourishes, maintains, strengthens and energizes us. Cultures around the globe have recognizable cuisine that incorporates a specific set of cooking traditions, spices and flavors that are unique to that culture. Foods also tell stories. Whether you're a gourmand or just appreciate fabulous foods in stunning locations, you may want to add these to your travel Must-Do list.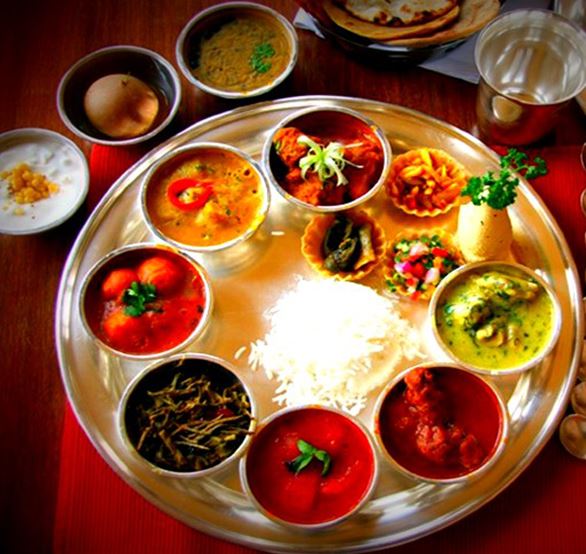 Mihir Garh
India
Mihir Garh is an exclusive nine-suite boutique hotel, a maze of luxury with private terraces, courtyards, plunge pools and Jacuzzi set in the expansive Thar Desert of Rajasthan. Here, you savor delectable cuisines that aim to please – from traditional Rajasthan dishes to the latest continental flavors. The maître d'hôtel overseeing your meal serves the same royal family his father and his father's father did – a proud tradition. Many of the traditional Rajasthani recipes and traditional cooking methods were also handed down to the current owner by his mother, the late Rani of Rohet. In this exquisite setting, you can enjoy your meal in any one of several places within the hotel with stunning views of the surrounding desert. Explore  Deserts of North India.
Hacienda of San Agustín de Callo
Ecuador
Since the 15th century San Agustin de Callo has served as Inca fortress, Augustinian convent and temporary home for the French Geodesic Mission whose scientific results helped to determine the true shape of the planet. It was built upon the site of an Inca palace, and is one of the two most important archaeological Inca sites in Ecuador. Ecuadorian cuisine here encompasses authentic high Andean dishes such as llapingachos, a type of potato cake, quinoa croquets, maize patties, and tamales (steamed corn maize stuffed with seasoned chicken, egg, chilies, olives, wrapped in achira leaves). Soups such as quinoa, timbushca, barely rice soup and the hacienda's famous "locro", a rich cheese and potato soup are served with slices of ripe avocado, and freshly prepared aji. Many of the specialties here use techniques  from Incan traditions and date back hundreds of years.  Enjoy the cuisine of Ecuador during our  Ecuador: Flavors of Ecuador.
Camp ya Kanzi
Kenya
There are many reasons to come to Campi ya Kanzi, which is set on about 400 square miles, and has room for 16 guests – that works out to some 17,500 acres per guest! This is the place to seek out Africa, with its extraordinary wildlife and the ancient Maasai culture. When it comes to food, the Maasai have long been famous for their traditional diet of raw meat, raw milk, and raw blood from cattle. More recently, the Maasai have expanded their diets to include maize meal, rice, potatoes, and cabbage (known to the Maasai as goat leaves). Big Five's president, Ashish Sanghrajka, grew in Kenya. Every time he returns, he seeks out one of his favorite Maasai dishes Ugali and Sukuma Wiki. "I was just at Camp ya Kanzi recently, and they know when they see me what I want to eat. I was delighted to be able to sit down with the Maasai chef and enjoy Ugali and Sukuma Wiki." Ugali, also sometimes called Sima, Sembe or Posho, is a dish of maize flour (cornmeal) cooked with water to a porridge or dough-like consistency. It is the most common staple starch featured in the local cuisines of the African Great Lakes region and Southern Africa. Sukuma Weekly, often referred to as kale, is vegetable has been eaten for at least 2,000 years, with evidence that the Ancient Greeks cultivated several forms of kale. It is lightly sauteed in oil until tender, flavored with onions and seasoned with salt, which can be served either as the main accompaniment or as a side dish. Savor a stay at Camp ya Kanzi on our Precious Journeys Kenya: Kids, Cats & A Tree House.
Bamarru Plains
Australia
Kangaroo skewers, crispy barramundi with finger lime salsa and Quandong ice cream – are just a few of the dishes conjured up in the kitchen of Bamurru Plains. A short charter flight from Darwin in the Northern Territory, it is on the edge of the Mary River floodplains, close to the coast and the western boundary of Kakadu National Park. Their exceptional chef conjures up imaginative meals that incorporate native and locally sourced produce to provide a gourmet experience integrating authentic, yet contemporary Australian recipes. From breakfast dishes such as a house blend bircher museli with Manuka honey, bush apple and a dollop of vanilla bean yoghurt, to canapés out in the wilderness, to a three-course dinner hosted by your field guide, Australian bush-inspired recipes are the star here. You can watch chef create his favorite bush spiced duck confit in the open kitchen from the dinner table.  Explore Bamarru Plains on our Wild Australia adventure.
Shinta Mani Club
Cambodia
The Shinta Mani Club is centrally located in the French Quarter of Siem Reap, between The Royal Gardens and the Old Market area. It is just 15 minutes from the fabled Angkor Wat. And Shinta Mani Club offers the best French food in all of Cambodia. Why? The Shinta Mani Foundation serves to educate young people in the Siem Reap community in all phases of the hospitality industry, including culinary, finance, front office, housekeeping, maintenance, restaurant, and spa therapy. In 2013, the foundation expanded its training program by setting up the Farming Development Center to help young Khmer villagers in the countryside surrounding Siem Reap. Trainees learn the most effective farming techniques to grow organic fruits, vegetables and herbs, as well to raise chickens, ducks and pigs. Graduates are helped to start and maintain their own farms as a sustainable means to rise out of poverty.  Discover the food and culture of Cambodia in the Rural Landscapes of Laos & Cambodia.
Chile has a wealth of well-established attractions for travelers – from the Colchagua Wine Valley, to mysterious Easter Island, to cosmopolitan Santiago, to remote Patagonia and the great Atacama Desert. But northern Chile also offers some delightful surprises for those looking for a serious getaway from it all – places to unplug from the office, unwire from the tablet, and detach from the cell phone. A break away gives us opportunities to reconnect and recharge in wonderfully unexpected surroundings. Here, we have selected some of our favorite Chile escapes that are mostly still under the radar.
La Capilla de Caleu
This may be the best kept secret in Chile! About an hour's drive from Santiago through small country villages is Caleu Valley, home to a small community of 600 people who still live in the colonial past. In 1834, a 23-year-old Charles Darwin, who lived in Chile for a time, hiked this area. This old "town of Indians", with its singular beauty, had a brief time of prosperity due to the now-defunct gold mines. Today, there are no newspapers, malls, public transportation. And no tourists! What it does have is a great escape into nature. Hike from the mountain village into the Natural Sanctuary Cerro El Roble. Known for its biodiversity, it is a listed world hotspot. Native flora and birds, even condors, may be your only company on the trek to the summit of Cerro El Roble at about 7,240 feet. The summit brags the most spectacular views of the Aconcagua Mountain with the Andes Mountains to the east side and the Pacific Ocean to the west. Re-energize in Caleu on this Patagonia, Atacama & Easter Island journey.
Pucón on Liucura River
Pucón is set in an extraordinary environment of lush native forest. It is also known as the "Entrance of the Cordillera" by local Mapuche. This region of forests, natural parks, lagoons, streams and dramatic volcanoes lets you set your own pace. If you are looking to veg out, you couldn't ask for a more scenic spot. But if your idea of a break means jumping into nature – hiking, climbing, horseback riding, kayaking, fishing, sailing, biking and exploring – then, this is the ideal starting spot for that adventurous spirit. The village is situated along the shores of the Villarrica Lake at the foot of the active Volcano Villarrica, and it still relatively unknown. In addition to the variety of active adventures, you can also learn about the local indigenous Mapuches, which translates to people of the earth. This ancient civilization has gone through a difficult history, continually facing opposition, but they have remained free and independent. Pucón has a small Mapuche Museum and many places where you can still explore the traditional Mapuche ways of living, eating and socializing. Incorporate this experience into your own personal Custom Chile adventure.
Marble Caves of Carrera Lake
The magnificent Marble Caves are partially submerged in the amazing turquoise waters of Carrera Lake in Patagonia. This is the second largest freshwater lake in South America, and one of the world's ten deepest lakes with a maximum depth of 589 meters/1932 feet. The system of caves is stunningly beautiful. The lake sits on the border between Chile and Argentina, with the caves located approximately in the middle, on the Chilean side. Three main caves – the Chapel, the Cathedral and La Cueva Cave – can be explored with a small boat or kayak. This rare natural and unspoiled gem is currently threatened by plans to build a huge dam in the area. Experience these remarkable formations on our Chile & Argentina Natures Wonders.
Huilo Huilo, Land of the Mapuche
The Patagonian Forest is a world away from your everyday routine. In addition to plenty of activities that encompass trekking, horseback riding, mountain biking, kayaking, sailing, fishing and more, this area is another locale to delve into the living heritage of the indigenous Mapuche. They accounted for about 85% of the indigenous people of Chile. Because they were spread out and separated into family clans, the Mapuche were able to resist the Spanish invaders for 300 years. They were never conquered. The Mapuche community today is working to maintain its proud heritage through a number of initiatives, including workshops that benefit local students such as art, painting, dance, wood carving, music, and baking and chocolate-making. Take time to interact with members of this community and learn about their traditions, customs and mythology. Explore Chile's Patagonia & Mapuche Culture
Iquique on the Coast
In July 1835, Charles Darwin, during his voyage on the Beagle, traveled to Iquique and described it as a town "very much in want of everyday necessities, such as water and firewood". This port city in northern Chile was founded in the 16th century. Its historic district boasts several houses and buildings that showcase the wealth came to this city with the saltpeter boom of the 19th and early 20th centuries. In addition to its rich history, Iquique is a magnet for paragliding enthusiasts, who come to this coastal town for its cliffs, large dunes, wind currents and fairly consistent weather that make it possible to paraglide nearly year-round.  If you want to jump into ancient history during your off-the-road getaway, petrogylphs carved into rocks, and geoglyphs, giant images carved into mountainsides, are found in several parts of northern Chile, including in the valleys of Azapa and Lluta near Arica, just 60 miles from Iquique. Add Iquique in to Patagonia, Southern Ice Fields & Northern Chile journey.
We call these the "Incredibles" because that most aptly describes the sensation you have when you experience them. They are China with a twist or off the beaten path. You can put your hand to the Great Wall or zip through Old Shanghia in the sidecar of a 1930s BMW M71 motorcycle. In Chinese, Kao Gu refers to the study of antiquities. Ruins, ancient sites and legenPingyaods of lost cities have long captivated archeologists, history buffs, world travelers and cultural enthusiasts. China is a delightful kaleidoscope of the past and the future – often in the same breath.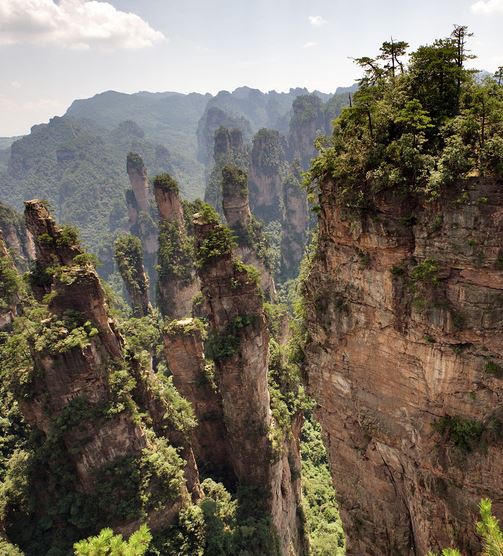 1. Wild Great Wall – Contribute to the restoration of the Great Wall
Great Wall is a symbol of Chinese civilization, and one of the wonders of the world.  Section of their magnificent monument are key national cultural relics, protected under the approval of the State Council in 1961.  UNESCO later listed this as a World Cultural Heritage Site.  Certain segments have also been included in the New Seven Wonders of the World.  The Great Wall is like a strong dragon winding its way along the mountain ridges.  Travel to an area where you have the unique opportunity to contribute to the restoration of this magnificent monument by personally placing a brick in the wall. China's Canal Cities features this and more adventures.
2. Pingyao – One of the best-preserved ancient cities in the known world
Pingyao's old town, the Rishengcan Bank, and Antique Street are well worth discovering for yourself.  During the Qing Dynasty, Pingyao was a financial center in China. Its history stretches back over some 2,700 years. It is one of the best-preserved ancient cities in the known world. A UNESCO World Heritage, the city has preserved Ming- and Qing-style residences that number close to 4,000. The streets and storefronts largely retain their historical appearance. In 1986, China designated Pingyao as one of the Chinese Historic and Cultural Cities.  Explore China's Captivating Visions & Timeless Horizons.
3. Xi'an – Xi'an City Museum
In addition to the seeing the breathtaking scale of the Terra Cotta Warriors, add a once-in-a-lifetime tour of a private room in the museum. Should special permission be granted, you will be provided a pair of special gloves and allowed special access to hold the relics within the private restoration room.  Kao Gu China offers fascinating opportunities to get off the well-trod pathways.
4. Zhangjiajie & AVATAR the Movie 
Yellow Stone Mountain has a cable car that climbs up the mountain, where the views encompass some of the most dramatic and breathtaking landscapes in China.  In the area, you see the origin of floating Mountain from the movie AVATAR. West of Zhangjiajie National Forest Park, Huangshizhai, (Yellow Stone Stronghold), is the biggest observation platform in the area region with an elevation of 1,080 meters/3,543 and an area of 16.5 hectares/40 acres. The peculiar peaks or stone shapes form distinctive landmarks such as TianShuBaoXia (a treasure box containing a book from heaven); WuHaiShenGui (tortoise exploring in the fog sea); and XiTianMen (West Heaven Door) – all in an exhibition of nature's incredible artwork. Craft your own ideal China journey. Visit Custom China including Tibet for more ideas.
5. Shanghai – Old Tech/New Tech
Travelers can discover old Shanghai from the sidecar of a replica of a 1930s BMW M71 motorcycle, driven by a professional guide. At the end of WWII, the BMW factory was moved from Eastern Germany to Siberia. During the 1950s, the technology was transferred to China under the name of Changjiang. The mechanics have hardly been modified in the past 50 years, which make the bikes unique and the most appropriate time machine to discover the streets of Shanghai.  On the New Tech side is the Shanghai Maglev Train. This is the first commercially operated high-speed magnetic levitation line in the world. The magnetic levitation train, or maglev, has a top operational commercial speed of 431 km/h/268 mph, making it the world's fastest train in regular commercial service. These experiences can be included in our China adventure.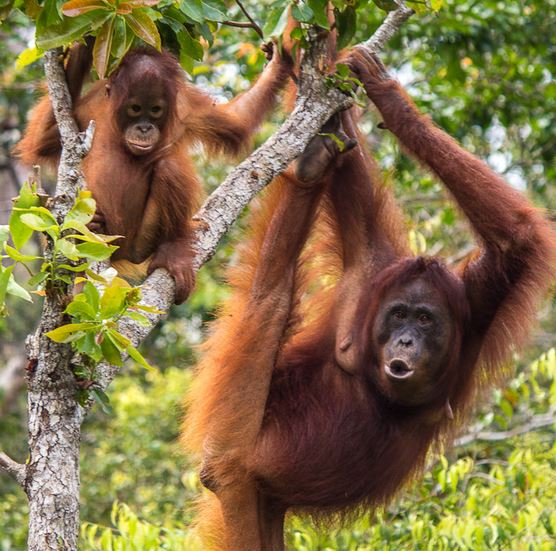 Imagine standing atop a Mayan pyramid in the Guatemala rainforest. The jungle surrounding you is a jumble of trees, plants and vines in a dozen shades of green and brown. As sunset settles over the jungle canopy, you become aware of a sound rolling through the trees. What in the world? Then, someone nearby whispers, "howler monkeys." This stunning sound comes from the depth of the forest and rolls through the trees in waves. You can even feel the rumble in your body and the spirit of the jungle in your soul.
Now imagine… your grandchildren may never be able to have this experience.
The world's tropical and temperate rainforests are quickly disappearing. Biologists have estimated that species are being driven to extinction by the tens of thousands. A quarter or more of all species on Earth could be exterminated within 50 years due to the destruction of the rainforests.
There are no easy answers but there is hope. People and groups around the world are working to save what rainforests remain as well as other endangered environments. Once you experience rainforests in adventures like those below, you may well want to add your voice to the chorus of those looking for solutions.
Orangutans in Tanjung Putting National Park, Indonesia
Native to Indonesia and Malaysia, orangutans are currently found in only the rainforests of Borneo and Sumatra. Among the most intelligent primates, orangutan are endangered, with the Sumatran orangutan being critically endangered. They are the most arboreal of the great apes, spending most of their time in trees. They use a variety of sophisticated tools and construct elaborate sleeping nests each night from branches and foliage. Human activities have caused severe declines in the populations and ranges, including poaching, habitat destruction, and the illegal pet trade. Several conservation and rehabilitation organizations are dedicated to the survival of orangutans in the wild. Explore the world of orangutans – Indonesia in Depth.
Australia's Ancient Daintree Rainforest
The greater Daintree Rainforest has existed continuously for more than 110 million years, making it possibly the oldest existing rainforest on the planet. It is the closest living counterpart to the forests that once covered the ancient supercontinent of Gondwanaland. The park is a vast area of tropical rainforest wilderness in the far northern region of Queensland, and is of immense biological value due to its incredible biodiversity and high levels of endemism, with its concentration of plant and animal species found nowhere else on the planet. The rainforest contains 30% of the frog, reptile and marsupial species in Australia; 430 (18%) bird species; 65% of Australia's bat and butterfly species; and more than 12,000 species of insects. Daintree National Park is part of the Wet Tropics of Queensland and a UNESCO World Heritage Site. Incorporate this fascinating ancient rainforest into your ideal Australia adventure.
Mashpi Rainforest of Ecuador
Ecuador has the first constitution to recognize the rights of nature!  Ecuador has 1,600 bird species (15% of the world's known bird species) in the continental area and 38 more endemic in the Galápagos. In addition to over 16,000 species of plants, the country has 106 endemic reptiles, 138 endemic amphibians, and 6,000 species of butterfly.  The Mashpi Rainforest Biodiversity Reserve is surrounded by lower montane rainforest and cloud forest that host a profusion of plant species, from ferns and bromeliads to hundreds of orchid species, many newly-discovered. Some 500 species of bird – including some 36 endemics – are estimated to inhabit this forest. Monkeys, peccaries and even puma make their homes inside the reserve that is crisscrossed with waterfalls. Ecuador is one of seventeen megadiverse countries in the world according to Conservation International, and it has the most biodiversity per square kilometer of any nation. Discover the magical world of Mashpi in our Private Sanctuaries of Ecuador.
Gorillas of Bwindi Impenetrable Forest, Uganda
Uganda shares the last remaining population of mountain gorillas with Rwanda. With about 700 gorillas left in the wilderness, only a handful of people will ever have the chance to encounter these incredible animals in their natural habitat. Bwindi Impenetrable Forest, a UNESCO World Heritage Site, is one of three parks that are home to these families of gorillas. The trekking can take from one to six hours, and the mountain trails can climb to altitudes in excess of 7,500 feet. The terrain is rough and, at times, muddy. Although the hike is physically demanding, the beauty of the forest and surrounding scenery make it worthwhile; and once trekkers have found the gorillas, all thoughts of fatigue vanish. Those who have spent time in the company of these gentle animals describe the encounter as the most profound natural history experience in the world. Others speak in terms of a spiritual experience. Whatever your reaction, you will be profoundly moved by the experience. Go in search of gorillas on our 11-day Uganda journey.
Peru's Fabled Amazon Rainforest
Peru shares the mythical Amazon River basin with Ecuador, Colombia, Brazil and Bolivia. It encompasses 60% of the country and is marked by a high degree of biodiversity. Peru has the second-largest portion of the Amazon rainforest after the Brazilian Amazon. Illegal logging has become a serious threat. In 2012, the World Bank estimated that 80% of Peru's timber exports were taken illegally. This uncontrolled deforestation will negatively affect the habitats of indigenous tribes as well as Peru's biodiversity. Discover this amazing ecosystem during our 7-day Peru's Amazing Amazon.
« back