Under the Dome
Date: June 7, 2018 | By: bigfive | Category: Travel Blog
Unlike the summer TV series from a couple of years ago, these domes will not entrap you. They will surround you with comfort, warmth and design in the rugged and incredibly beautiful landscapes of the Peruvian Andes.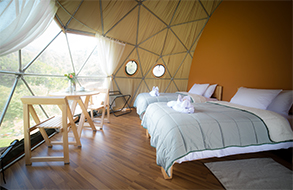 Much like the yurts of Mongolia, the domes are eminently practical. At the same time, roomy and bright, these domes have space enough for king or twin beds, wood burning stove and a private bathroom with toilet and hydromassage shower. Dinner and drinks are served in either the dining dome or lobby/bar dome. Each camp creates a fine gourmet dining experience in accord to each camp's altitude.
The sustainable Ecocamps plant organic gardens using solar energy and natural water sources. Each of the five camps is powered by solar energy and water turbine systems. The water is filtered and treated with UV light, so it is safe to drink the tap water, thus reducing the use of plastic bottles. Vegetables are produced with the help of the waste of fruits and vegetables from the kitchen and other organic fertilizers. The camp kitchens and bathrooms use organic non-detergent products. Indeed, the camps are fully self-contained, which limits pollution and reduces wear on the sites.
The best part of these camps is that all are on the route to Machu Picchu!
That's right, they are strategically placed along the Salkantay Trail, within the great Vilcabamba Mountain Range. Less known or used than the Inca Trail, the Salcantay's proximity to Machu Picchu makes trekking around it a beautiful alternative. And with fewer, and in places, no fellow trekkers to be seen. Salkantay was one of the ancient trade routes for coca and potatoes, and passes some recently discovered Incan storage facilities.
Peru Ecocamp offers the first private, sustainable luxury glamping experience that brings you in close contact with Andean culture as well as taking you hiking across pristine mountainsides, where condors still fly, passing glacial lakes such as Humantay, small villages and ancient Inca citadels. Every Ecocamp has eight 28 sq. m/300 sq. ft of space to snuggle up in after a good day's walk.
And you can hardly ask for more spectacular landscapes.
Big Five has a new adventure around this remarkable hiking and glamping experience, a 12-day Peru Adventure Trek.
Navigator Series® Edition III
Order your copy today
Brochure Order Form
Or contact us at 800 244 3483
« back