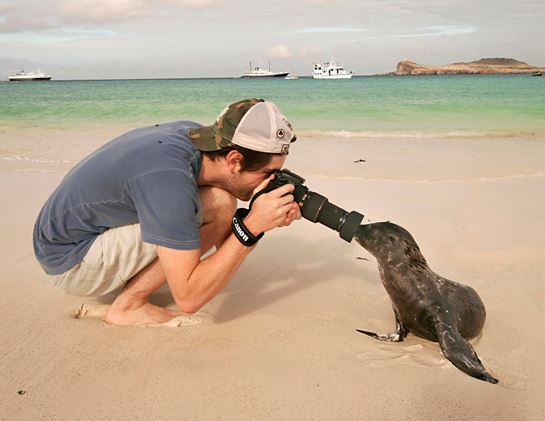 Today's travelers are ever more aware of all that is going on in the world and they want to be a part of it. They want to get closer, learn more, go farther, experience more than previous generations. That is especially true of animal lovers. Seeing the great East Africa wildebeest and zebra migration is an awesome experience, yet for some that is not quite enough. For them, an eye-to-eye encounter is what they seek. There are more opportunities for that kind of close contact now than ever before. Here are a few of them.
The Galapagos Islands
There are few places better on the globe for really close wildlife encounters than the fabled Galapagos Islands. They sit some 650 miles west of mainland Ecuador in the Pacific Ocean. Nothing quite compares to the thrill of observing wildlife on these natural volcanic islands, where the animals do not run or fly away when humans approach. The islands most famous visitor was, of course, Charles Darwin, who discovered conditions that helped shape his ideas on evolutionary theory. Life evolved on these islands in isolation, separate from the rest of the world. Distinctions exist even from one island to the next. You have options here to do a cruise of the islands, or actually stay on one of the islands – or both. Our Private Sanctuaries of Ecuador journey includes a stay at Galapagos Safari Camp on Santa Cruz Island for some land-based excursions and a five-night cruise aboard the M/C Athala II. You will come very close to amazing wildlife both on land and in the water including flightless birds, playful sea lions, a bounty of birds, reef sharks, rays and colorful reef fish – each specially adapted to the specific island habitat.
South Africa
Tswalu Kalahari is South Africa's largest private game reserve. The owners of Tswalu take conservation as an absolute priority. No more than 30 guests at a time are permitted. There are about 80 species of mammals and approximately 240 species of birds, but one of the perennial favorites here are the delightful meerkats. A group of meerkats is called a "mob", "gang" or "clan". The meerkat is a small carnivora belonging to the mongoose family. It is the only member of the genus Suricata. A clan often contains about 20 meerkats, but some super-families have 50 or more members. They stand on their back legs to survey their surroundings, and are very inquisitive. You can get uncommonly close to these little guys to photograph them. And, they have been known to climb onto a visitor's hat to get a better view. You also enjoy exciting animal encounters at Sabi Sands Game Reserve on our South Africa's Unique Lodges journey.
Tanzania
Namiri Plains is located within the Serengeti National Park in an area that has been inaccessible to the public for some 20 years. It is in a beautiful region of the Serengeti that has been a safe haven for cheetah breeding and research. Today, the area has an exceptional population of big cats and it is one of East Africa's best locations for observing cheetah. The Tanzania Cheetah Conservation has been carrying out the longest-running in-depth study of a wild cheetah population. Furthermore, as existing protected areas alone cannot ensure a long-term future for these beautiful cats, the project is investigating ways to help cheetahs and humans to co-exist in the larger landscape. Also the Tanzania Cheetah Watch Campaign is asking anyone who has photographs of cheetah in Tanzania to send them in, where they are matched with photos of cheetahs for identification, and as an additional aid to monitor the cheetah population size across Tanzania. You can get pretty close to cheetahs, and may end up, not unlike the meerkats, with a cheetah sitting on the roof of your safari vehicle. If you are staying at Namiiri Plains Camp, you will learn more about the academic research happening and various conservation projects supported throughout the region from the resident cheetah researcher. You can savor this exceptional safari experience on our Private Conservancies of Tanzania.
India
In the heart of Satpura National Park is the Panchmarchi Biosphere Reserve, which includes Bori Wildlife Sanctuary in the southwest and Panchmarhi Wildlife Sanctuary in the northeast. At Forsyth Lodge, the signature activity here is a Junior Naturalist Program, which is spread over three days, and is designed for children and interested adults, who want to learn the basic knowledge of jungle. The fun and interactive course led by the lodge's enthusiastic and knowledgeable young naturalists encompasses use of equipment, basics of ecology, learn how to identify different species, use field guides, make field notes and sketches and basics of nature photography. Learn to recognize tracks, including tigers, and signs of animal presence. See how to measure prints, identify droppings and other jungle skills. Our Precious Journeys™ India – Saving Tigers adventure also includes Tadoba National Park, a Project Tiger Reserve, so your chances of a close encounter with the rare and regal Bengal tiger are pretty good.
New Zealand
Snorkeling with wild New Zealand fur seals in the shallow waters of the beautiful Kaikoura Peninsula is a unique experience. It reminds you of the sheer magnificence of our natural environment and its amazing inhabitants. This breathtaking natural activity brings you close to these curious, friendly and playful marine creatures. The Kaikoura Peninsula rests on the rugged east coast of New Zealand's South Island, overlooked by majestic often snowcapped mountain. In addition to seals, you can also swim with Dusky dolphins that inhabit the coastal waters year round. These nature encounters as well as viewing a variety of whales, can be enjoyed on our 16-day New Zealand journey.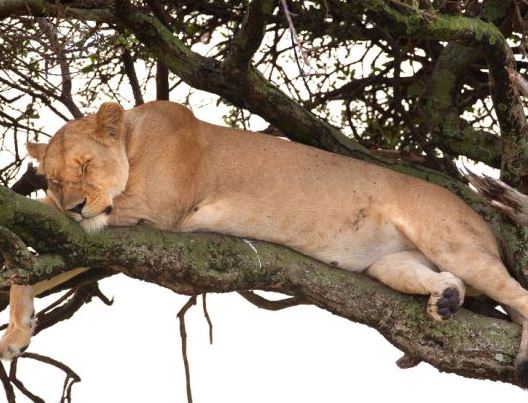 Most sources agree that time away from the job makes employees more creative and less stressed than those who forego taking time off. Adults are not the only one dealing with time constraints. Children, too, have tight time schedules. All this makes the family vacation a challenge to plan and carry out. Here are a few scenarios you will want to avoid.
The Napping Lion
You have dreamed of an African safari for years. And, here you are on safari in Kenya. Your first encounter with African wildlife, however, isn't quite what you expected. Your guide spots some action and your driver quickly heads to the place only to find a dozen other vehicles have beat you to it. Now you have one poor lion surrounded by vehicles and all he wants to do it sleep.
The Remedy: Private Conservancies
In East and Southern Africa, private conservancies offer authentic encounters with wildlife where you are the only vehicle around for miles. You have time to just be in the company of the animals and watch their interactions with other wildlife and their surroundings. This is the safari you hoped for. Explore Private Conservancies of Kenya & Tanzania
More People than a Shopping Mall
Most of us have had the experience at least once of overcrowding at prime tourist sites. You've waited a long time to see the phenomenal ancient ruins of Ankgor Wat, only to discover you selected the same time as everyone else and are engulfed in a sea of people.
The Remedy: A Great Plan
A Destination Specialist with in-depth knowledge and firsthand experience can plan an itinerary that insures you will have the best experience, even in the most popular sites. Your specialist will work to craft the perfect journey that fits your needs. He or she can suggest the best times to visit and can offer alternatives or additions. For example, in the Rural Landscapes of Laos & Cambodia, you'll set out on an adventure by quad bike to the secluded Banteay Ampeul Temple. You head off the beaten track into the forest to reach this temple site that few tourists ever see as the trail is impassable for anything but quad bikes. Your specialist might also recommend visiting Koh Ker, another ancient Angkor site that remains relatively unknown.
More Souvenirs than Villagers
Travelers often love to shop but shopping for authentic souvenirs abroad can be tricky business. India, for example, is well known for fabulous shopping opportunities – everything from furniture to jewelry. Unfortunately, it is also known for guides who steer tourists to specific shops for profit.
The Remedy: Trustworthy Advice
Too often, travelers expect their guides to bargain for them. That is a double-edge sword in the best of situations. Guides must live, work and function within their community long after travelers have returned home. In India, the current system obligates guides to stay out of the shopping cycle. It can create a conflict of interest, and it puts them in a very awkward position with the shopkeepers and guests alike. So we removed the guide from the equation, and they now simply offer you tips on getting a fair price. Our country manager can also help you with basic guidelines on shopping in some of the great markets in India such as in Mumbai, Kabini and Mysore in our India – Gujarat & Karnataka.
Kids are more Bored on Vacation than at Home
You've seen families on the road with kids still glued to their smart devices and ignoring what's going on around them; or younger children running a bit wild with pent up energy. Traveling with the family does not have to be an ordeal.
The Remedy: Precious Journeys™
We launched Precious Journeys™ because we saw a decided lack of authentic adventures are focused on children. They are geared towards families with children, approximately five to 11 years old, and include engaging and fun educational experiences. They encounter other cultures, and meet other children as well as fascinating people working on real-world solutions. They learn what the sustainability movement means from a global perspective, and have opportunities to experience fields ranging from archaeology to conservation to organic farming. In Kenya: Kids, Cats & A Tree House, you walk among elephants in the wilderness of Tsavo East National Park. Your family learns about world of elephants and the vital work being carried out by David Sheldrick Wildlife Trust and others to save these magnificent and intelligent animals.
Follow the Crowd
We have all seen them – those annoying pop-up flags that signal beware large group, and those visitors trailing after the guide as though they were goslings following a mother goose. You certainly don't want to be at the back of the pack, continually asking "What did he say?" This herd mentality can defeat the most promising of adventures.
The Remedy: The Specialist
You have planned this vacation for a long time. You don't want to be lost in the crowd. Agreed. Our idea of group is as few as two people. You want to travel with a company that puts as much value on your journey as you do, and has the specialist guides to help you explore your interests individually, and not as part of a pack. In Kyoto, Japan, you can enjoy an exclusive evening with long-term Kyoto resident, Peter MacIntosh. This Canadian former professional soccer player traveled to Japan and settled in Kyoto. He has spent time studying traditional arts, photography and documentary film making, focusing on the geisha culture. He also spends his time searching out new restaurants and/or watering holes. He will take you to his favorite places, including out of the way establishments full of colorful local characters, where you can even try your hand at cooking your own food! Peter is fully bilingual in English and Japanese and is sure to give you a unique perspective on the ancient capital. Discover unique Japan. 
For feline lovers that's usually enough to get their attention. Cats occupy a place in millions of households across the US and Canada. There is something appealing about the way cats move through the world with equal parts grace and mischief. For many cat people who travel, the opportunity to encounter some of the world's great cats is high on their bucket lists.
Africa naturally comes first to mind when talking about big cats.  The continent is blessed with many members of the cat family, even though the numbers are dramatically dwindling. But other regions in Asia and Latin America have their felines as well. While seeing them in the wild is becoming increasingly difficult, there are still wild cat experiences to be had.
Kalahari's Black Mane Lions
The Kalahari Desert is home to the legendary black-maned lions. These desert-dwelling lions are sometimes larger than their golden-mane counterparts. They are striking for the contrast between their tawny bodies and the long black manes that surround the face. They inhabit part of this immense desert of scrub and sand that lies between South Africa, Botswana and Namibia. There is nothing more magical than catching a glimpse of one of these amazing lions at a waterhole before it sets off on a hunt. You can go on safari in search of black-mane lions as well as springbok, buffalo, kudu, hyena, meerkat, cheetah and antelope, at the Tswalu Kalahari Game Reserve in the Kalahari grasslands of the Northern Cape, the largest private game reserve in South Africa, and the historical home of the Bushmen (San) people. South Africa's Unique Lodges
Tree climbing lions of Queen Elizabeth National Park
Unlike leopards, lions, for the most part, do not climb trees. In fact, there are only two populations in Africa where lions are known to regularly scamper up trees as part of their behavior. One of these populations is found within the Ishasha sector in the south section of Queen Elizabeth National Park within Uganda, while the other is found the southern part of Tanzania. While there is no definitive reason for this behavior: some believe they do it to protect themselves against the swarms of biting tsetse flies on the ground level, and others to escape from the heat on the ground. Whatever the answer, you will marvel as you spot them sleeping on branches in the afternoon. Discover the lions of Uganda as well as its magnificent gorillas on our 11-day Uganda
Masai Mara and the Caracal
The caracal is actually distributed across Africa, the Middle East, and Southwest Asia into India. It can be found in dry savanna and woodland areas, scrubland and rugged terrain in mountainous regions. In Africa, the historical range of the caracal is similar to that of the cheetah; both overlap with the range of several small desert gazelles. It resembles the lynx with its characteristic dark tufts on its large, pointed ears. It is often called the African lynx or desert lynx, however the caracal is not closely related to the true lynx species. It can survive for long periods without water, as it gets moisture through its prey. Much like leopard, the caracal will sometimes store its larger prey up in the lower limbs of trees and return to feed on its kill over several days. It is also well known for using its agility and superior jumping ability to catch birds just after take-off. Be warned, spotting a caracal is a rare experience and one to be relished for those who do. A good place to look for this shy cat is on our Northern Kenya & Masai Mara safari.
Leopards of Jawai
Many people are not aware there India has leopards. Indeed, the leopard is one of the five big cats found in India, apart from Asiatic lion, Bengal tiger, snow leopard and clouded leopard. Like so many other endangered species, including others mentioned here, a significant immediate threat to wild leopard populations is the illegal trade in poached skins and body parts between India, Nepal and China. In addition to poaching, it has been classified as Near Threatened since 2008 due to habitat loss and fragmentation and persecution due to conflict situations. You can still encounter these great cats while staying at Jawai Leopard Camp on our Deserts of North India adventure.
Jaguars of Manu National Park
The jaguar is the only living member of the Panthera species native to the Americas. It is the third-largest cat after the tiger and the lion, and the largest in the Americas. Peru's Manu National Park was established in 1973 and is a designated a UNESCO World Heritage Site. Manu is internationally acclaimed as one of the most biodiverse areas on earth. Manu's jaguars share the reserve with more than 200 other species of mammals including puma and ocelot and in its heart indigenous peoples as yet untouched by civilization. The jaguar is the principle predator of the Amazon jungle and is at the top of the food chain. The biggest threat that jaguars face is habitat destruction. It is difficult to estimate the amount of jaguars living in the whole of the jungle, but you have chance of spotting this feline that resembles a leopard in this protected national park. You might even catch sight of one relaxing on a river bank basking in the sun. The best month to see these beautiful cats is May, June and July. They are both nocturnal and day creatures and their territory covers a huge amount of ground. They have a large variety of vocalizations from a roar to a purr. An exploration of Manu National Park can easily be incorporated into your Peru itinerary such as the Peru – Amazon, Andes & the Coast.
Family Focused Adventure Travel
Your alternative to family tolerant travel
It's been a pretty exciting week here for us at Big Five. We are delighted to share with you that our ground-breaking Precious Journeys programs are really getting attention. We were featured in the July 8th edition of The Wall Street Journal. in an article about family travel today. Of course, we love the wonderful recognition, but even more important to us is the reception we are receiving from you.
Judging by your reaction, we know we are traveling in the right direction. You have let us know how much you appreciate adventure travel that places kids at the center of the equation; journeys that take place in the mind and spirit as well as in reality.
The primary reason that Precious Journeys came into being was because we looked around at the current adventure travel landscape, and realized that there was a dearth of genuinely kid-oriented journeys. What was available were kid leftovers, if you will. By that, we mean that what was labeled family friendly was, in almost every case, merely child tolerant. There is a world of difference in those two phrases.
Simply repackaging an already existent product or service and calling it child friendly does not work with today's families.
Just about everywhere you look these days, someone is touting their products as good for kids. That includes not only in touring, but you see it in promotions for accommodations, restaurants and activities. But slapping on a new coat of paint or a new name is rarely, if ever, effective. Today's consumer are too sophisticated for that.
We build each Precious Journeys itinerary from the ground up, with plenty of input from our own families as well as with the help of other kids. We have lofty aspirations for these journeys… we hope to inspire passion and purpose for the next generation.
For more information and articles, please visit our media center.
« back