When grandparents plan the vacation
Date: August 13, 2015 | By: bigfive | Category: Travel Blog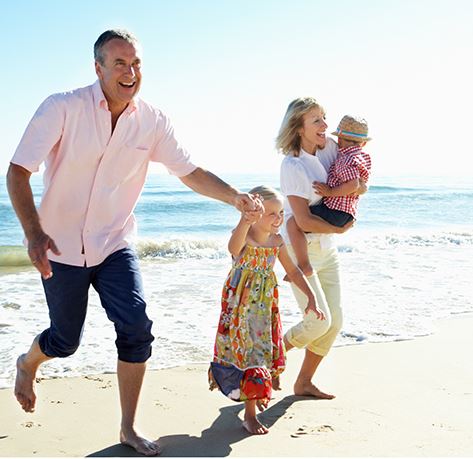 Casa Today's grandparents defy the stereotypes of yesterday. They are often younger and have more money, time, energy and enthusiasm than many previous generations. They enjoy spending time with their grandkids. Indeed, 60% of grandparents live close to their grandchildren and 46% wish they could live even closer. Well over half, 66%, travel with their grandkids, and 81% have their grandkids for part or all of summer vacation, according to American Grandparents Association. And, they frequently plan and pay for the family getaway.
So, where do you go when grandparents plan the vacation? You could end up anywhere from China to South Africa. We can suggest some fabulous villas and cottages that make a great escape for the entire family.
Mateya Safari Lodge
Madikwe Game Reserve, South Africa
South Africa is made for family adventures – from the Winelands to cosmopolitan Cape Town to safaris in the bush, there is something for all ages. One of the lesser known game reserves, Madikwe is the fifth largest game reserve in South Africa and is home to many animals including the 'big five' and some 340 species of birds. This hidden gem has the benefit of being situated in a malaria -free area, which can be an important consideration, especially for younger grandkids. Mateya Safari Lodge is a private game lodge with just five suites set among the rocky outcrops of Gabbro Hills. Here, you can relax in your private infinity pool at your suiChiante and enjoy spectacular views over the surrounding plains and the waterhole. Each thatched suite is air-conditioned and is designed to be part of a radial configuration around one of the hills. Here you can do game drives in custom-built, 4×4 vehicles; or explore the reserve on foot with Mateya's specialist rangers and trackers. Kids enjoy getting a closer look at some of the smaller creatures and flora of the bush. The lodge also has a wellness center, with cardiovascular gym, a Jacuzzi, and offers body and facial treatments. Share stories of the day around a roaring fire on our South Africa, Botswana & Zambia adventure, a journey guaranteed to create a lifetime of memories.
Banyan Tree Hangzhou
Hangzhou, China
Hangzhou grew to prominence as the southern terminus of the Grand Canal and has been a prosperous city for much of the last millennium. People are drawn to the area's beautiful natural scenery, historic relics and West Lake, a UNESCO World Heritage Site. Adjacent to the lake is a scenic area which includes historical pagodas and cultural sites in addition to its natural beauty. Xixi National Wetland Park is in the western part of Hangzhou, and covers 1,150 hectares/2,800 acres. It has a history stretching back some 1,800 years, and was the original site of Chinese South Opera. On our 12-day China's Canal Cities your family can enjoy a first-class train ride between Shanghai and Hangzhou, which takes about an hour and a half. Once thereColombia  .  CC Hangzhou. The Presidential Villa celebrates your family's arrival with an exclusive in-villa banquet served in the time-honored tradition of Chinese feasts. The villa's 380 square meters/4,090 square feet of living space encompass three regal bedrooms, with bathrooms, living and dining areas, allowing for plenty of elbow room. After a day of exploring, watching an authentic and ancient tea ceremony and a visit to a pagoda, you are ready to enjoy the sanctuary of your private villa while the dining team prepares your meal and attend to your every need as you relax in the company of your family.
Wolgan Valley Resort & Spa
Blue Mountain, Australia
West of Sydney, the valley was inhabited by Indigenous Australians for thousands of years before the first European settlement developed. Within the Wolgan Valley there are several significant Aboriginal sites. At Wolgan Valley Resort & Spa, a broad range of guided tours and activities include hiking nature trails, discovering the countryside on horseback, touring by four-wheel drive, mountain biking through forests, or gazing at a canopy of stars. The area is also known for rock-climbing. The resort also tailors private tours to your family's specific interests. The three-bedroom Wolgan Suite is tucked away in a private corner of the resort with panoramic views of the Greater Blue Mountains. It offers an expansive space 410 square meters/4,413 square feet and is a completely self-contained lodge. Featuring a beautifully landscaped garden with private terraces and swimming pool, it is the ideal accommodation for a family vacation. The generous living, dining room and equipped gourmet kitchen make entertaining a pleasure. Butler service is available at no extra charge to guests in the Wolgan Suite. Enjoy private pool, courtyard garden, private staff quarters or additional guest bedroom, central air-conditioning, LCD TVs, DVD player and sound system, international TV channels, high-speed Internet access, six mountain bicycles, and more. It is worth noting that Wolgan Valley Resort & Spa is the first carboNZero©™ certified resort in the world as well as the first carbon neutral resort in the world to be certified through an internationally accredited greenhouse gas program. Note: Due to the secluded setting of the resort, mobile coverage is not available on the property but complimentary Wi-Fi is provided. You can explore this wonderful region on our 18-day Australia journey.
Casa San Agustin
Cartagena, Colombia
Cartagena, Colombia is a great getaway for the family fairly close to home. It has a wealth of history to discover and markets to explore. The Walled City was declared both Mankind's Heritage and a Colombian National Heritage by UNESCO. Its narrow streets are adorned with antique doorways, flower-filled balconies, colonial streets and the Cathedral of Cartagena. And, the Casa San Agustin is a wonderfully historic property overlooking the streets of the Old Town. It has 24 beautifully decorated guest rooms and six spacious suites. Many of the rooms and suites can be configured into two- or three-bedroom suites, making them ideal for families. The Suite Del Virrey features two guest rooms with spacious balconies and terraces flooded by natural light. The suite has high ceilings with wooden beams and a private Jacuzzi. Each room includes a flat screen HDTV with surround sound, DVD player, Bose CD player, and an iPod dock with alarm clock. WIFI is complimentary and iPads are available upon request. The Suite Del Virrey 170 square meters/1830 square feet.  Your family will thoroughly enjoy this Colombia adventure.
Kasbah Tamadot
Atlas Mountains, Morocco
Branson's lavish Moroccan hideaway delivers haute luxe, haute cuisine and haute montagne in equal measure, Kasbah Tamadot is near the town of Ouirgane in the Moroccan Atlas Mountains, about 45 minutes from Marrakech. In 1998, Richard Branson's mother, Eve, first came across this Kasbah perched dramatically on a hilltop and surrounded by the peaks of the High Atlas. At that time, it belonged to an Italian antiques dealer who had opened it up to his friends. But she saw the potential of a luxury North African retreat to complement Virgin's existing Necker Island and Ulusaba Game Reserve. After 7 years of negotiations and top-to-bottom refurbs, it finally opened to guests seeking the ultimate luxury in the heart of Morocco's most spectacular mountains. The extensive gardens are now carefully landscaped with rose, fruit and cactus plants; the indoor pool and courtyards remodeled into a 5-star spa, and the suites redecorated to combine contemporary design with colorful Moroccan antiques. There was also the small addition of a stunning infinity pool and plentiful sundecks. A separate mini-Kasbah for families is found on a path just beyond the pool, at the bottom of the garden and has 3 bedrooms perfect for a family group. Explore Marrakech, less than an hour away; drive over the breathtaking Tizi'n'Test pass, stopping to visit the 12th-century mosque of Tin Mal; walk down the Ourika Valley to the waterfalls and Berber hamlet of Setti Fatma; or select guided excursions, including hikes, based on your family's interests. This delightful property can easily be incorporated into a Custom Morocco journey.
« back