Traveling to these Tree Houses Bring Out the Child in You
Date: April 9, 2015 | By: bigfive | Category: Travel Blog
There is something about a tree house that stirs the kid in us.  It seems such a simple pleasure many of us savored in childhood.  But today's tree houses have come a long way from the make-shift clubhouses we may have had in our backyard treetops. Today, people build tree houses to serve as full-time residences or getaway cottages – some quite elaborate.
Tree houses can also make a luxury family tour that much more special.  Here are a few of the coolest we've found.
Silky Oaks Lodge
Daintree, Queensland, Australia
Silky Oaks Lodge offers you the opportunity to savor time in a luxury tree house setting. Curl up in a hammock on your private balcony overlooking the forest; canoe or swim the Mossman Gorge River; take a yoga class; or venture out with the family (minimum age 8) to the nearby Kuranda Skyrail Rainforest Cableway.  The lodge is also home to the award-winning Healing Waters Spa, for some pure relaxation.
Create your own Custom Australia adventure that includes this romantic tree house lodge.
Hotel Costa Verde Vintage 1965 Boeing 727 Tree Top 
Costa Rica
This vintage 1965 Boeing 727 was salvaged from San Jose airport resting place and was converted into an exclusive hotel suite 50 feet up in the jungle canopy. The former passenger jet has two luxurious air-conditioned bedrooms with queen sized beds, ocean view terrace and surrounding gardens.  It is a unique kind of tree house and a delightful way to get away from it all. You can incorporate a stay in the airplane in our Costa Rica Adventure for All
The Nest
Masai Mara, Kenya
What could add to an East African safari?  How about spending a night in "The Nest"?  After a day watching lions, elephants, zebras, wildebeest and all many or African wildlife, a special excursion awaits you. Out on a limb high up in a lone Warburgia (Elephant Pepper) tree overlooking the Mara River sits "The Nest." With two double nests and space for a couple more bedrolls, the Nest is fitted with state-of-the-art, night vision cameras to monitor what happens after dark using infrared technology. The Nest offers an amazing nighttime experience for the adventurous family with kids, or as a perfect chill out spot after a bush walk with a picnic breakfast or lunch.  Imagine hot soup under a brilliant night sky with the sound of grunting hippo or a lion roar in the distance. Take advantage of this extraordinary experience during your Kenya adventure, perhaps on our with our  Kenya: Kids, Cats & A Tree House 
Hapuku Lodge
Kaikoura, New Zealand
Nested 30 feet above the ground in the canopy of a native Manuka grove, your Tree House retreat is waiting with spectacular views of Kaikoura's dramatic mountains and surf-washed Pacific coastline.
The Tree Houses are meant to be a contemporary complement to the natural environment. Their exteriors are clad in native woods and copper shingles. Large windows bring the tree canopy right into the bedroom. Interior furnishings were crafted by local woodworking friends. You have the choice of a one bedroom Tree House or the two-floor family Tree Houses that include the upper bedroom Tree House for the parents, with a lower bedroom connected by an interior staircase for the children. New Zealand Geographic calls Kaikoura, "A maritime Serengeti," so rich is the marine life here.  Hapuku Lodge is a great base whale watching, giant albatross encounters, swimming with dolphins and seal swimming, sea kayaking, and deep-sea fishing are available year round. Natural New Zealand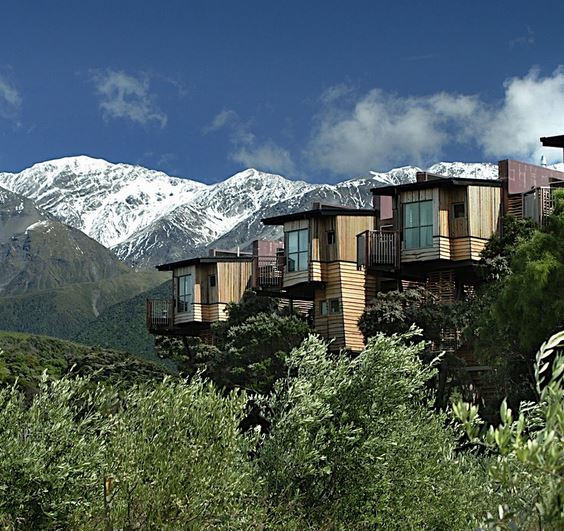 Treehouse Lodge
Amazon Rainforest, Peru
At Treehouse Lodge, you'll see the rainforest from an entirely new perspective that most visitors to the Amazon never experience. From the comfort of your treetop bungalow, watch monkeys and birds at eye level as every morning as you wake up to a jumble wildlife even before you get out of bed. You enjoy a range of amazing experiences in this ancient setting – from swimming with dolphins, to meeting members of indigenous rainforest communities and discovering their traditional way of life, to exploring the waterways in dug canoes.  Explore Peru's natural and cultural treasures on our new Peru – Amazon, Andes & the Coast
« back