The challenge accepted
Date: October 11, 2019 | By: Deborah Kilcollins | Category: Travel Blog
Mt Kilimanjaro. The name conjures up images of the Dark Continent, of stories by W. Somerset Maugham and Hemingway, and the challenge of climbing this legendary volcano, the highest mountain in Africa. One of the Seven Summits, the highest peaks on the seven continents, Kilimanjaro lies within the 292-square-mile Kilimanjaro National Park in Tanzania in East Africa. It rises from its base approximately 16,732 feet, making it the tallest free-standing mountain in the world.
In 1889, the first non-African people known to have reached the summit were Hans Meyer, a German mountaineer and geographer, and Ludwig Purtscheller, who pioneered climbing without a mountain guide and who climbed more than 1,700 mountains.
These days some 30,000 people climb Kilimanjaro each year, with three-quarters reaching the summit. One of those who did is one of Big Five's own. Tatiana Johnston, one of our senior destination specialists, just successfully completed the climb this month. She shares her experience.
I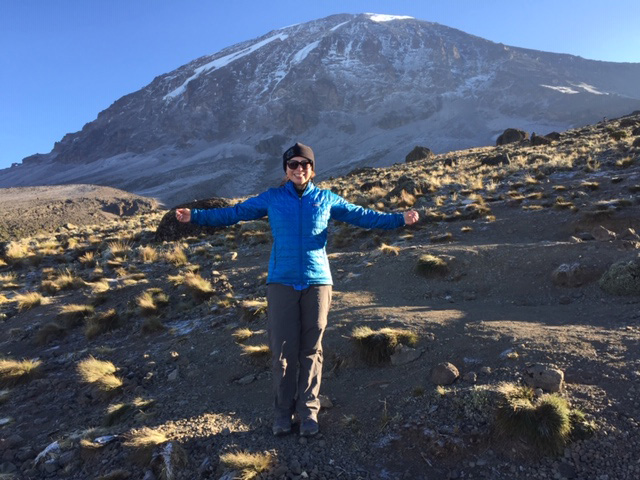 am back home in Pueblo and happy to report that I made it to the summit of Mt. Kilimanjaro! I have to admit that it was more difficult than I thought but I am so proud that I did it. I took the eight-night Shira route, which gave me two extra days to acclimatize – that is the secret to a successful climb. The second key is to follow all the guide's instructions thoroughly, which included drinking at least four liters of water every day, (not easy even though I usually drink a lot of water). He also stressed hiking slowly from the first day to let your body adjust to the altitude and avoid altitude sickness. This is actually more difficult than you might think for people like runners. Altitude sickness is the major reason many don't make it to the summit. I saw three helicopter rescues caused by altitude sickness.
Our climbing team consisted of 28 porters carrying tents, food and everything we needed for the next eight days, plus a chef, a waiter, one main guide and two assistant guides – 33 people for four climbers. They made this experience so easy and comfortable. We always hiked with one of the guides and a porter carrying oxygen, first aid equipment and a stretcher. Luckily, we never had to use those.
Every day, we hiked between five and 15 kilometers but "pole pole" ('slowly' in Swahili). When we arrived each day at the lunch site, the chef had lunch waiting — a nice light meal such as a grilled sandwich with French fries, or avocado toast. One day, we even had pizza! We continued hiking to our camp in the afternoon. The porters had set up the tents and dinner was waiting. Every night, we had something different: spaghetti, beef with rice, chicken with coconut sauce and always a delicious soup. Our guide told us that we needed to eat well on the first few days since the higher we would go, the less appetite we would have. And this was true. The night prior to our summit climb, I lost my appetite completely. I didn't eat anything for dinner that night, and nothing for breakfast or even lunch on summit day.
We slept in tents. The first couple of nights were difficult because the wind was so strong. It was cold outside, but my sleeping bag kept me warm and comfortable.
Most people set out for the summit right after midnight, starting the seven-hour climb in the dark with very low temperatures. Our guide recommended we start at 5:00 a.m. instead, when the temperature was better, and we would only hike in the dark for the first hour.
At the beginning of the climb, I had so much energy and excitement, thinking: This is it! This is the day that counts after all the training and the months of preparation. Then, the higher I went, the thinner the air became and the less oxygen my lungs and brain received. This, of course, slowed me down, and the only thought I could keep focused on was "One foot after the other". I made several stops to catch my breath and drink more water, but we are warned not to stop too often… that we had to keep the body moving.
In the final hours, I saw the summit getting closer – but still not close enough. I reached Stella Point (18,651 feet) by noon. I was finally in the roof of Africa but not at the highest point. I had to keep going, walking in the rim of the volcano's crater to Uhuru Point (19,341 feet). This last part was the most difficult for me. This is when my mind experienced the hardest challenge. This is when the climb is no longer solely a physical task but becomes a mental test.
I finally reached Uhuru Peak at 12:41 p.m. on August 3, 2019, after seven hours and 41 minutes of hiking. The odd thing was that during those moments, I did not really comprehend what I just did. It took me 24 hours to begin to feel the euphoria from the climb and what I had accomplished.
But then I had to leave the top and begin to go back down, which took another four hours. We came to an area that was very sandy and steep. The guides encouraged us to just slide down. And that was so much fun. As I began to reach lower altitudes, I was able to take more air into my brain and lungs, which was making for easier hiking. That night I ate a lot and slept from 6:30 p.m. to 6:00 a.m. the next day.
Looking back after a few days, I learned about being genuinely humble in the face of the mountain. Kilimanjaro doesn't care who you are, how old you are, your gender or how many marathons you ran.
The mountain tells you to go slowly, be constant, respect the weather and make mental connections with your inner self.  I am convinced that climbing Kilimanjaro is 65% mental and 35% physical.
One of the first questions I get now is "How did you train?" I owe reaching the summit to my yoga practice. Yoga helped me during this climb. At night, when I couldn't sleep, I relaxed myself the same way I tell my yoga students to relax. This helped me to fall asleep easier. While hiking, I used the type of breathing that I use to hold yoga poses longer, inhaling and exhaling through my nose, which helps with more energy and staying better hydrated. Core exercises that I practice in yoga helped me during the trek to avoid stumbling or falling. My yoga mental strength pushed me to reach the summit of Kilimanjaro.
My exhilaration has not diminished yet. Every day, I still wake up exhilarated and proud. I always knew I was strong, but the mountain has taught me that I can do anything, climb any mountain.
We all have challenges, mountains to conquer, in our lives, be that a tough job, a bad relationship, ill health or unfortunate circumstances. That is when each of us needs that gather strength, both physical and mental, to confront our own mountains and reach for the top.
Is Mt Kilimanjaro on your Must-Do List?  Tanzania & Kenya: The Challenge and the Promise.
« back