Oh, to be a kid again
Date: September 24, 2015 | By: bigfive | Category: Travel Blog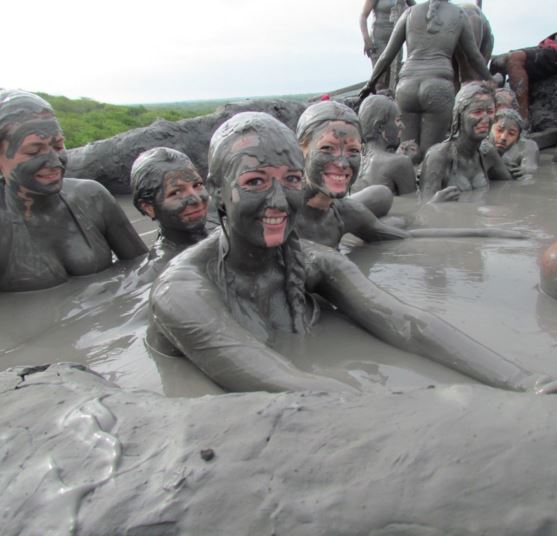 Are you one of us? Many of us never grew up… entirely. We still have a fondness for fun and for new experiences. We never forgot our silly side or how to play. And when we travel, we keep a sharp eye out for opportunities to indulge the kid in us. Want to play?
Glacier hop by helicopter
New Zealand
One of the most fun and thrilling flying experiences at any age has to be helicopters. Explore South Island's dramatic glaciers, high country sheep and cattle farms, spectacular Mount Aspiring National Park. Experience luxurious high country hospitality by spending a night at Minaret Station Alpine Lodge, set at the head of a spectacular glacial valley within the untouched landscapes of the Southern Alps. This exceptional lodge offers a rich menu of other experiences, and can be added to your South Island adventure such as on our Natural New Zealand program.
Get muddy in a volcano
Colombia
Getting muddy isn't just for children. Adults visit luxury spas around the world for the experience of being covered in mud. Go to the next level – sit in a Mud Volcano! You can treat yourself to a thermal mud bath at the Totumo Mud Volcano, northeast of Cartagena. Both restorative and fun, you climb up a 15-meter/49-foot stairway along the side of the volcano to the crater. Here the sulphur, phosphates, magnesium and other elements bubble through the mud, and the mud's density means you will float on the surface. Then, head to the freshwater Totumo Lake nearby for a cleansing dip. Try out this unique mud bath on our Volcanos of Latin America adventure.
Play Tarzan in Thailand
You will not want to miss Thailand's original zip line canopy experience in Chaing Mai. Up here in the treetops, you come into contact with rare wildlife in the towering trees of an old growth forest. You may hear a family of primates marking their territory with amazing vocalizations. You fly through the treetops along 7 km/4.4 mi of zip lines that includes Asia's longest single 'flight' (800m/2625ft). Travel to 33 stations, some suspended up to 70m/230ft above the valley floor. In addition to enjoying the forest canopy, bird life and other wildlife, your treetop adventure helps support a conservation project to re-introduce gibbons monkeys back into their native forest! Go for a swing in Chaing Mai on our Thailand – A Natural Adventure. 
Go on safari… at night… on the back of an elephant
South Africa
Camp Jabulani offers an extraordinary night safari on elephant back. Under the stars amidst the night sounds and dwellers, you savor this truly original experience and you sweep the potent battery-powered spotlight across the landscape. Feel the swaying rhythm of the elephant as you move through the inky dark beneath a sky cluttered with the stars of the Milky Way. You may catch a glimpse of glittering eyes in the surrounding bush as you move through the forest. You return to the stables and witness firsthand the mutual respect and genuine fondness between the elephants and their tenders. One thing is certain – you cannot help but be changed forever by your encounter with Camp Jabulani's exceptional elephants. You can incorporate this remarkable experience in you Custom South Africa adventure.
Ride bikes with your Maasai friends
Tanzania
Overlooking the Great Rift Valley and Ngorongoro Forest, Gibb's Farm in northern Tanzania was established as a coffee farm in the late 1920s. It imparts a sense of well-being in a warm, rustic luxury environment. The farm is deeply rooted in African culture and community. From here your family can explore the back roads of the local village by bicycle in the company of Maasai, or take a mountain bike day trip to explore rural Tanzania. You can also delve deeper into the world of traditional Maasai on intriguing hikes such as the walk through the Ngorongoro Forest to learn about herbs commonly used by tribal healers in the farm's healthcare center and throughout Tanzania. A visit to Gibbs Farm can be included in a Tanzania exploration such as on our 15-day Kenya & Tanzania journey.
« back