Night Lights
Date: June 16, 2016 | By: bigfive | Category: Travel Blog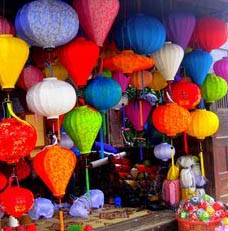 Stroll through the charming old town of Hoi An, Vietnam any evening and you notice them glowing outside restaurants, shops and hotels along the street – the city's famous silk lanterns. They light up the entire town, especially the night market.
There are lantern festivals such as the Full Moon Festival, on the 14th of every lunar month, one night before the full moon, when the Old Town becomes even more festive, and festooned with colorful lamps along every lane. Another one is the Mid-Autumn Festival – held on the 14th of the August lunar month. Last but not least, the Lantern Festival, the most enchanting and special one in Hoi An, which is when colorful hanging cloth and paper lanterns are hung on the 15th of every lunar month. On that night, all electrical equipment is turned off, leaving the Old Quarter bathed in the warm glow of these charming lights.
Hoi An lanterns carry distinctive cultural values of the town and hold a deeper meaning for locals. They believe that hanging lanterns in front of their houses will bring luck, happiness and wealth to the family living in the house.
Traditionally the lanterns were only made of silk and in certain shapes. But today lantern makers have diversified the shapes to include lotuses, diamonds and triangles. Materials now encompass glass, cardboard and nylon fibers in addition to the traditional silk.
You can spend an entertaining afternoon in a lantern-making workshop in Hoi An to learn this traditional craft. Explore the many fascinating faces of Hoi An and Southeast Asia on our new President's Pick: Incredible Indochina.
« back