Décor Morocco Style
Date: February 27, 2020 | By: Deborah Kilcollins | Category: Travel Blog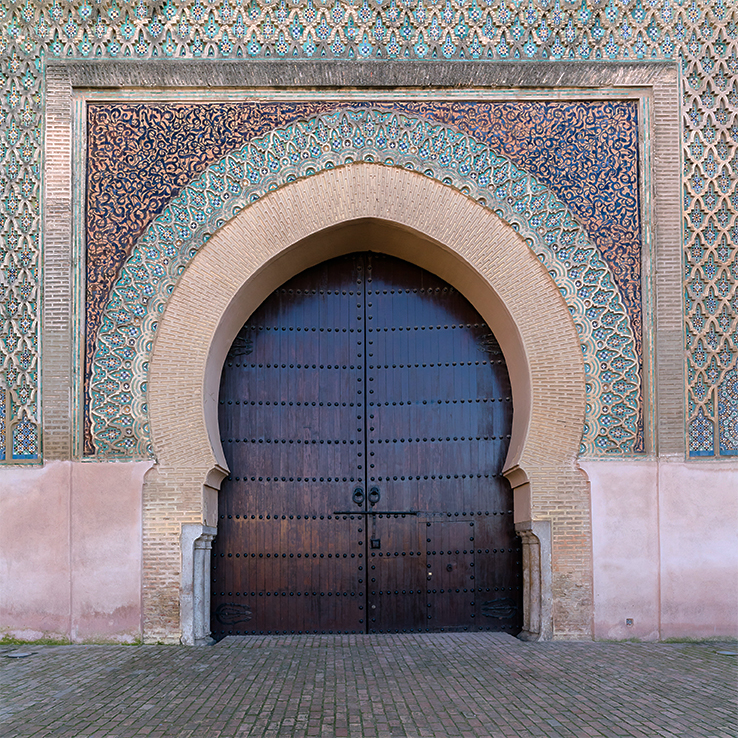 Meknes has 20 plus gates along its nearly 25 miles of outer walls, but it is the Bab Mansour Gateway that has been renown as one of the finest of the great gates of Morocco. Its original purpose was to pay homage to the sultan at the time. Built at the beginning of the 18th century, it was finished in 1732 by Moulay Abdallah, son of Sultan Moulay Ismail.
The gateway is lavishly decorated with zillij (ceramic mosaic) tiles. Each zillij tile is hand cut, individually chiseled geometric tiles set into a plaster base. Design elements include elaborate geometric patterns and ornamental Islamic calligraphy of Quranic verses.
Fez and Meknes are the production centers for zillij tiles due to the Miocene grey clay found in the Fez area. The clay from this region is primarily composed of Kaolinite. For Fez and Meknes, the clay composition is 2-56% clay minerals.
For centuries, the country has been influenced by a mix of cultures from African tribes, to its Arab neighbors, to European traders and colonizers. This dynamic combination has created a unique culture that is reflected in the country's architectural style. Yet, even though different design elements are found in buildings throughout Morocco, the strongest influence in its architecture remains Islam. Indeed, the specific decoration guidelines of Islam have been used to direct the construction and ornamentation of buildings in Morocco for centuries.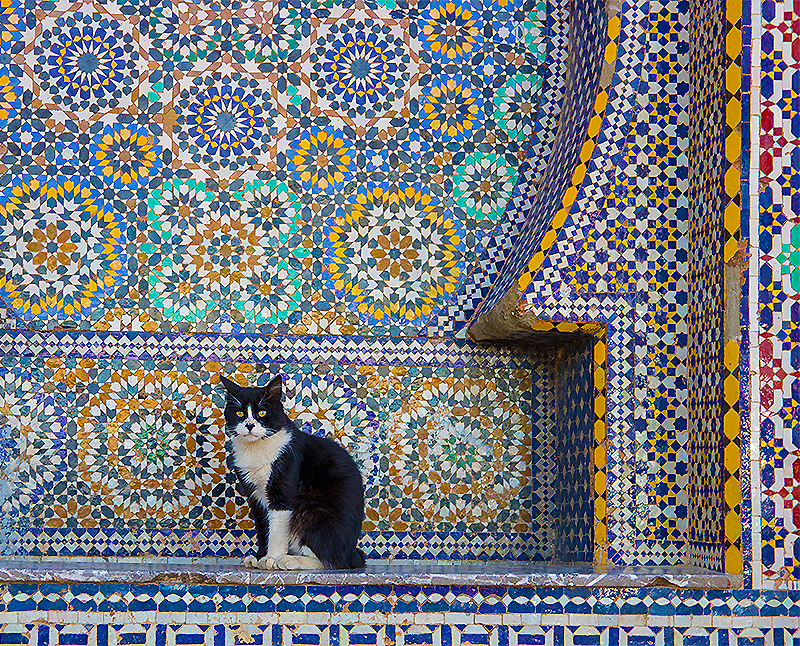 The colorful tiles are also used in traditional homes and palaces, called riads. As private residences, the spaces focus inward with a central courtyard with rooms and windows opening onto it. Courtyards often include fountains and fruit trees. Here, too, depending on the family's wealth, it may have elaborate zellij tile and stucco work.
This is a form of traditional Islamic art was and remains a hallmark of Moroccan architecture.
« back