5 Reasons You Should Visit Tantalizing Tanzania
Date: July 24, 2014 | By: Enid Glasgow | Category: Travel Blog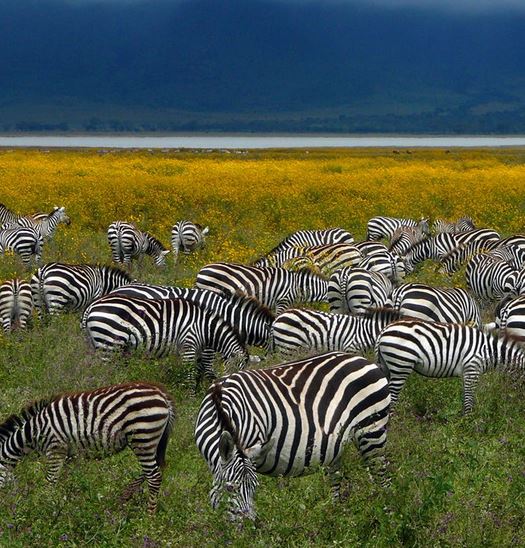 In 2012, the New York Times ranked Tanzania as the 7th best travel destination in the world. Tourism to the area is growing, but it is not yet so swarming that you will miss out on the best scenes, activities, and attractions as you compete with crowds. There is much to see, do, and enjoy in this gorgeous African country.
Prime game viewing. One quarter of Tanzania is devoted to game reserves, controlled areas, and national parks. The Selous, the largest game reserve in Africa, for instance, sprawls over 21,000 square miles. This is your chance to see cape buffalo, hippos, elephants, crocodiles, and African wild dogs, among other inhabitants of nature. You might see more density at the smaller Gombe Stream reserve, which is famous for its chimpanzee population. Of course, the Serengeti National Park and its annual, massive migration of wildebeest and zebra are worth a visit.
To be able to say, "I climbed Mount Kilimanjaro." Even if you are not an avid climber, you can find a route that suits your fitness level and schedule. Hike through various ecosystems and enjoy the stunning scenery. If you do not make it to the top, you will still have the most remarkable experience!
Fun and sun. Reward your hard work with a day of relaxation at a Tanzanian beach. Achingly blue water and white sand stretch for miles, and at beaches such as Ushongo in Tanga, you will not be bothered by development or overcrowding. At Uroa Beach, you can swim, kitesurf, and try your hand at beach volleyball, tennis, and bowling.
Adventure around every turn. If lounging on a beach is not your cup of tea, you can dive, take a ride in a hot air balloon over Serengeti National Park, fish, boat, canoe, shop, and hit the town after dark. Try a chimpanzee safari at Gombe, visit Maasai homesteads, or hike through the wildlife-dense, "8th wonder of the world," Ngorongoro Crater.
A taste of Tanzania city life. Bustling markets, such as the Kariakoo Market in Dar es Salaam, are prime people-watching spots and offer you a chance to bargain for great deals. Zanzibar, Arusha, and other cities have unique personalities and feels. Explore them and learn more about Tanzanian culture.
There are myriad reasons to visit Tanzania. The question isn't "why?" It is "Why not!"
« back