Nina Boys is our guest blogger this week. Nina is an avid explorer and passionate traveler whose journeys have taken her across five continents to some of the world's most beautiful natural and cultural wonders. She has served as a judge for the National Geographic World Legacy Awards, honoring the planet's sustainable travel visionaries, and has a knack for finding unique travel experiences wherever she goes. She is known to seek out up-and-coming art scenes, local delicacies at street food stands around the world, and opportunities to scuba dive on vibrant coral reefs, all while blogging about her off-the-beaten path adventures for publications including Virtuoso.com, Huffington Post and Roads & Kingdoms.
A plume of smoke rises dramatically from a sunken pit in the ground, carrying the smoky essence of earth and sea as my local friend Andrés peels back the wrinkled nalca rhubarb leaves to reveal a

treasure trove of steaming mussels and clams. The team who has prepared this subterranean feast descends on the earthen oven, diligently removing more layers to reveal a medley of plump sausage, juicy chicken and native potatoes, followed by more shellfish, until finally reaching the hot stones that cooked the traditional underground curanto. Andrés waves for me to dig into his home's culinary heritage.
"The first evidence of curantos here dates back 6,000 years," he explains while pouring our glasses full of Chilean Carménère, "To not participate in one is to not truly know Chiloé Island." The primal cooking technique reminds me of the seaweed-steamed lobster bakes of my New England upbringing, but as the conversation turns to local folklore involving brujo witches and forest gnomes while a sinking sun bathes the mighty Andes mountain range in an ethereal glow, this little-known pocket of Patagonia begins to reveal just how unique it really is.
Most travelers visiting Chilean Patagonia head straight to the surreal peaks and turquoise icebergs of Torres del Paine National Park, but venturing to the northern part of the region and jumping on a ferry will land you in one of South America's most fascinating and far less explored destinations. For what Chiloé lacks in popularity, it more than makes up for in a distinct character woven from the independent spirit of its seafaring residents – a vivid world of local mythic folklore and vernacular architecture that includes the stilted wooden palafito fishing shacks teetering above its rugged shores. In stark contrast to the landscapes of the south, here lush rolling hills are dotted with agricultural fields and rural salt-cured villages that resisted colonization and clung to their way of life for centuries. The result is an alternate reality where pagan traditions still thrive and where wanderers are richly rewarded for their explorations.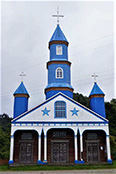 Adorned with bold stars and cobalt blue spires reaching towards the heavens, the church paneled in tejuelas shingles before me is unlike anything I have ever seen. It is one of over 150 iconic wooden churches sprinkled across the archipelago, thanks to Jesuit and Franciscan missionaries who arrived once Chiloé was colonized in the 16th century. Sixteen of the brightly colored holy buildings are now UNESCO-designated World Heritage sites and an integral part of the island's eccentric culture. Pushing open its heavy front doors, I immediately notice a ceiling that mimics the shape of an upside-down ship hull; a photogenic confluence of Old World maritime traditions and New World colonial ideals.
Its identity is deeply tied to the churning waters that isolated it from outside influence for years. I notice the power of the ocean in everything around me while wandering a quaint seaside village. I hear it in the playful sounds emitted by native dolphins frolicking alongside penguins in the icy currents; I see it in the hand-knit woolen mermaids I purchase from a local artisan;, and I taste it at the lone oyster stand that appears to be the only place open in the quiet community. Andrés summons a shucker seemingly out of the fog who begins to pry open the pearly bivalves, inviting us to toss back the sea-kissed expressions of Chilote merroir, making me feel connected to this singular island and archipelago of the same name. The deeper that I dive into Chiloé, the more I discover the raw magic of this hidden side of Patagonia where goblins loom just out of sight and ghost ships may disappear from the choppy seas before my eyes.
To explore this eccentric island, please consider President's Pick An Adventurer's Chile