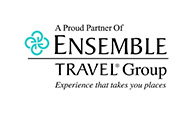 Every year, we look forward seeing old friends and making news ones at Ensemble events. It is always  a pleasure sharing what's new at Big Five. We understand that our meetings do not necessarily offer enough time to get into everything happening at Big Five, so we created this page especially for you, our Ensemble partners, as an information resource for your convenience as well as showing you how we can help you grow your business.
What You Need to Know
Big Five does sustainable, luxury, land FITs to Latin America (including Colombia) and Africa (including Morocco), Asia (including Japan), and the South Pacific (Australia & New Zealand)
Our client is the high-end, bucket-list traveler likely going to "this" destination for the first and only time
We don't sell "direct" to consumers … since we don't compete with you, Big Five can honestly say we're your partner so our quote process is radically different from other luxe FIT suppliers … we encourage video conference calls with clients prior to sending itineraries … ask us how we get a 70% close rate
Our itineraries feature out of the ordinary, out of the box, off the beaten path experiences designed to maximize the destination for your clients
Change is a wonderful thing, except when it comes to the stability of your travel provider. Big Five has been under the same ownership since our founding in 1973. We pay commissions on time in relation to departure date not return date. We prepay all ground services prior to your clients' arrival in country, enjoying a wonderful relationship with every hotel, guide, and driver we work with. We encourage the use of client credit cards for all our journeys without any extra fees
What You Should Know
Big Five has Morocco, Madagascar and Colombia, places where your trust normally waivers, down to a perfect science . We operate in these countries with the perfection we operate with in more established countries
Big Five is one of only 3 companies to win an international Sustainable Tourism Leadership Award twice from a major industry travel network
Big Five created this dedicated landing page for all things Ensemble for your convenience
Big Five is pioneering family travel with the revolutionary Kids Kouncil™ and the associated Kids Kouncil™ Approved family programs
Book with confidence and trust. Big Five pays commissions on time. you are never waiting for months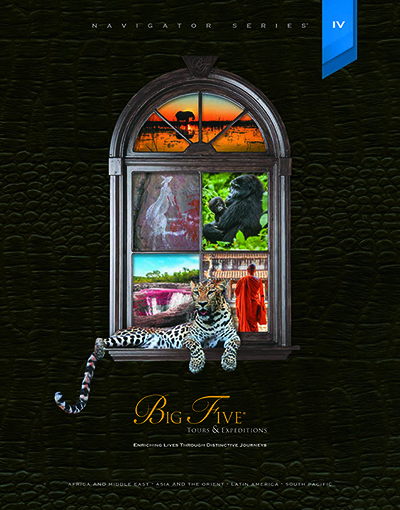 How To Get Started
To request a quote with Big Five … info@bigfive.com or 1 800 244 3483
Navigator Edition

® 

Edition IV 
Big Five's newest "brochure" helps you build your luxe client base and close more sales

You and your clients will fall in love with Big Five's elegant and colorful coffee table book. Its distinctive take on 40+ countries is designed to give your clients a world of ideas for their next grand travel adventure. When hand-delivered to clients, this unique video-laden hard-cover book will result in quote requests and bookings.
Click here to order you copy today.
More for you
The links below will lead you to our cutting-edge ideas and itineraries and show you how to request a webinar presentation, and more
Your Travel DNA
See yourtraveldna.com an innovative approach to trip planning puts the traveler's interests first. Instead of trying to fit the client into the destination, discover the traveler's passions and interests in more detail and find the destinations that match those interests.  Visit yourtraveldna.com and  try it out.  It's fun and a great tool for you to use with your clients to further the conversation.
Our goal is always to provide you with exciting, cutting-edge, and out-of-the-box ideas and journeys for you to offer your clients.
President's Picks
With President's Picks,  we challenged our ever-on-the-road president to share some adventures that he is personally passionate about. We asked him to look far afield to discover locations and activities that will charm, delight and surprise you. Let his personal picks inspire you to create your own personal  let us help you plan yours.
Precious Journeys®
As you may already know, Big Five is also passionate about families. Our Precious Journeys® family-focused adventures introduce younger children to new places, people and experiences such as a hands-on peanut butter workshop in Guatemala presented by peanut farmers in their homes, and going out with local fishermen to learn about sustainable fishing techniques.
Precious Journeys® College Edition focuses on the next steps for our future leaders as they begin to discover their own identities. These adventures allow young adults to explore with their families, and, at the same time, begin to use the knowledge and skills they have gained. They offer young adults opportunities to investigate more complex interests such as graffiti in Buenos Aires, Colombia and elsewhere; a trek in Australia's amazing wilderness; and a climb up Sri Lanka's 12th-century Sigiriya Rock Fortress.
Big Five Webinars
For useful information about destinations, travel trends, how Big Five can be even more useful to you, please sure to check out some of our past webinars through This Link. If you are interested in having Big Five do a webinar for your company, please contact Paul Dorgan, VP Sales, email: paul@bigfive.com, or (800) 244 3483, ext. 2206.
Media Center
For more information and articles about Big Five visit Media Center