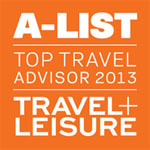 AUGUST 26, 2013 (Stuart, FL) — Travel+Liesure  named three of Big Five Tours & Expeditions Destination Specialists among the top travel agents on its 2013 "The A-List."
This year's award features 161 top agents, and is bestowed on those who demonstrate exceptional knowledge and skills in their specialties.   Tatiana Johnston, a native of Ecuador, has been involved in the tourism industry both as a national guide and as a tour operator for more than 17 years.  Judges recognized her expertise in Ecuador and in her secondary specialty in Peru.
Volker Altvater, with 26 years in travel, was cited for his extensive knowledge for planning and executing extraordinary safaris, and for his experience in his secondary specialty, South Africa.  He also brings his personal knowledge of family group travel and his skills as a trained sous chef to further help his clients experience an once-in-a-lifetime African adventure.
Ashish Sanghrajka, Big Five's president, who has 13 years in the field of travel, also made the list for his intimate understanding of India as well as for his secondary specialty, Kenya, where Sanghrajka was born.
"We are honored to be in the top five percent of A-List companies," said Mahen Sanghrajka, founder and CEO of Big Five.  "The Big Five team excels at looking beyond today's horizon to discover the next great adventures for our guests."
This is the fifth year that Big Five's Destination Specialists have been included on this list of the best of the best in the industry.
With more than 40 years experience in luxury adventure travel, Big Five Tours & Expeditions offers luxury guided travel to Africa and the Mediterranean, Asia and the Orient, South and Central America, and South Pacific.
For more information, contact Big Five, (800) 244 3483, or email: info@bigfive.com.   For information about Big Five and sustainability, visit www.bigfive.com/40ways.