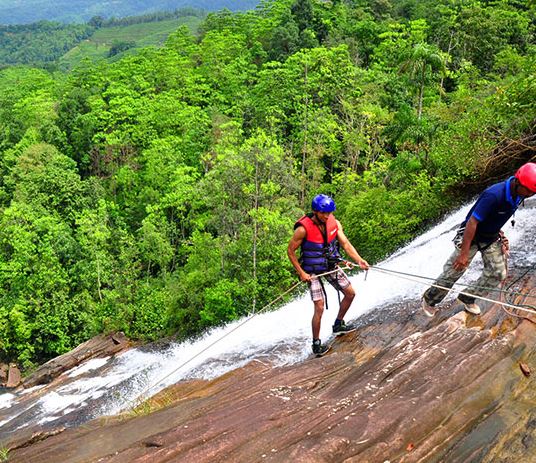 That's right, the countdown is on and time flies by at rocket speeds. Before you know it, you will be looking for that once-in-a-lifetime gift for the person in your life who has it all. So, what have you planned? Well, here are a few ideas that will make you a gift-giving rockstar.
Jaguar Tracking
Guatemala's Jungles, Jaguars & Peanut Butter
To the ancient Mayans, the jaguar was a god that protected the crops and fields. This large cat, also called balam, is an important animal to the indigenous people such as the Mayans, and has played a role in the mythological lives of the people. Jaguars are nocturnal hunters and are very hard to sight under the best of conditions. But at sundown, you go on a thrilling scavenger hunt for jaguar footprints with your guide, and will likely spot some of the jungle's other nocturnal residents.
Island Abseiling
Sri Lanka Adventure
Go beyond just enjoying the views of a stunning waterfall, go inside it. Go abseiling, also called rappelling, down into the 46-meter/150-foot tall waterfall in Kitulgala. But that's not all. You can go whitewater rafting, searching for whales and dolphins, and mountain biking.
A Round of Polo
Argentina
Learn how polo horses are selected, their blood lineages and how they are trained. See how they are cared for, its feeding and how the horse is prepared for the polo game. Then, you have the pleasure of attending a professional live polo game with four chukkers, or innings. More than 30 horses can be used in just one match. Your guide will explain the fundamentals of the game, its rules and techniques. Then, try your hand at it! After some training, you get to test your own skill at this adrenaline-sport as you finish your day sharing a mini polo game that will make you feel like a professional player. This activity can be easily incorporated into an Argentina program such as the one noted here.
Take a Sacred Trek
Kenya Highlands
Setting off at dawn for the sacred mountain of Ololokwe. Begin your climb with your guides. Whatever your pace, your guides will be at your side throughout, teaching you about the mountain and all of its wonders. Once you have climbed Ololokwe, you are honored by becoming an adopted member of the Samburu tribe. It is an awesome experience that can be added to your Kenya adventure such as the Kenya Highlands journey.
Cliff Hanging
Peru: Adventure in the Andes
No sleep walking here! Hang from the side of a mountain – overnight, with once-in-a-lifetime views of the Peru's Sacred Valley. That's right! You sleep within a completely transparent hanging bedroom at 1,312 feet on the side of a mountain. And you zipline to get to your room! You 'room' offers you to appreciate the impressive views of the Sacred Valley by night and the endless Milky Way above – an unforgettable experience of a lifetime.
Every classroom across the globe shapes its own space, whether that's a thatched, open-sided hut in Ecuador or a kitchen in Cambodia. Education is the most powerful tool available that offers practical, measureable means to bring about change in the world and reduce crippling poverty. A child in Ecuadorean rainforest learns for the first time the concept of money; an impoverished teen in Cambodia begins to see a real future for her life; a young Maasia learns how to share his rich heritage and traditions with outsiders. Whatever shape the classroom — a university or a clearing in a field, people are coming together to learn how to create lives for themselves and their families.
Waorani Village
Amazon Rainforest, Ecuador
Deep in the Amazon rainforest of Ecuador, the villages of the Waorani stretch along the banks of the Shiripuno River. The traditional Waorani are historically a fiercely territorial people. They have lived for centuries in near isolation, except for regular skirmishes with neighboring tribe. They have never even traded with those outside their traditional lands. Everything they have ever wanted has provided by the river and the forest. Until recently. International oil companies found oil under the feet of the Waoranis, so they were thrust into the 21st century – ready or not. This community, which had no previous concept of money, is now learning about ecotourism and the larger outside world while they struggle to protect the forest and their way of life. With the help of a few outsiders, they are learning how to run an exquisitely simple, small-scale eco lodge – Huaorani Lodge – deep in the jungle that can only reached by dugout canoe. One of those outsiders serves as a teacher who makes the rounds of the villages ever few months, setting up his 'classroom' – a giant writing pad propped against a tree or wall and magic markers. To witness this amazing venture, explore our 15-day Ecuador's Galapagos & Amazon, which is part of our family focused Precious Journeys.
Sala Baï Hotel & Restaurant School
Siem Reap, Cambodia
Sala Baï Hotel & Restaurant School was founded in 2002 by the French NGO Agir pour le Cambodge. Meant exclusively for young Cambodians from underprivileged families, the school has helped more than 1,000 young people, 70% are girls, change their lives and their futures. Girls usually drop out of school earlier than boys to help at home, go to work or get married. Few vocational training opportunities are open to young women, even less when they have little prior education. Vocational training such as that offered here is one of the fastest and most cost-efficient ways to fight poverty and the scourge of human trafficking at the grass roots level. Each year, the school, trains 100 young disadvantaged Cambodians in four main hospitality related fields – restaurant waiter/waitress, cook, receptionist, and housekeeping. During 12 months, the school covers all the training fees (lessons, school supplies, books, uniforms), and daily expenses (accommodations, food, bicycle, insurance and medical expenses) for the students. The training lasts 11 months from September to July, with the 12th month, August, dedicated to helping the graduates find their first jobs. You can opt to visit this school while you are in Siem Reap, such as during our 12-day Rural Landscapes of Laos & Cambodia.
Koiyaki Guiding School
Southern Kenya
Human settlement in prime wildlife habitats of East Africa has reduced animal populations and altered ancient migration routes. Bush fires, poaching for meat, ivory and skins, illegal tree cutting and small-scale farming are all on the rise. The Koiyaki Guiding School on the Koiyaki Group Ranch is a neighbor of the Maasai Mara National Game Reserve in southern Kenya. Established in 2005, the school educates Maasai youth in the tourism industry and other nature-based enterprises in order to provide employment opportunities while also promoting and encouraging the long-term conservation of the unique Masai Mara ecosystem. By taking a holistic approach to conservation that includes local residents as stakeholders, the school provides an outlet that can help manage the region for the mutual benefit of both the community and its wildlife. Many of Kenya's finest guides have come through this school, and many of them now work with camps in private conservancies such as the Mara Porini Camp that is included in our 10-day Private Conservancies of Kenya & Tanzania.
Injalak Arts & Crafts Association
Gunbalanya, Australia
Injalak is a non-profit, community enterprise that began in small shed used for screen printing. Today this indigenous community art center plays a vital role in the artistic and cultural life of traditional Aboriginal artists living in remote communities. Serious social and health issues often plague traditional communities all over the world, who have few resources and are vulnerable to alcohol and drug problems. They often have little education or training. One effective way to promote healthy Aboriginal communities is through arts center programs that enable Aboriginal people to generate independent income, which remains in their communities. Injalak Arts has over 200 members made up of artists and weavers from Gunbalanya and surrounding outstations. They are Kunwinjku, Mengerrdji and Erre people, all of whom today speak the Kunwinjku language. Within these cultural groups, all artists belong to a kunmokurrkurr or clan, which influences the stories and Djang, ancestral creation stories or 'Dreamings', that they are allowed to represent. The center offers classes and training to these local artists, and all are paid up front for their work. You can explore this center during one of our programs that includes Arnhem Land such as this 14-day Wild Australia adventure. (Note that permits to visit Gunbalanya must be arranged in advance.)
Huilo Huilo Biological Reserve
Huilo Huilo, Chile
The Huilo Huilo Biological Reserve is located in the middle of the Chilean Patagonian Rainforest, under the majestic Andes Mountain range. This is a unique project because of its commitment to the conservation of nature and local culture. The Huilo Huilo Foundation´s mission is to develop flora and fauna conservation projects and to involve the local community and local entrepreneurs in this work. The foundation has extensive network of public and private collaborators, who are committed to the area's natural and cultural sustainability. There are projects for the dissemination of educational materials. One project is the creation of story books of Magical Tales that are associated with the flora and fauna. The books are distributed and used to teach reading to local children and adults as well as to teach them about their heritage through stories about the land and all its elements. Other illustrated educational materials include those that educate them about the species of birds and other aspects of the forest. You can explore this magical environment on our 14-day Chile's Patagonia & Mapuche Culture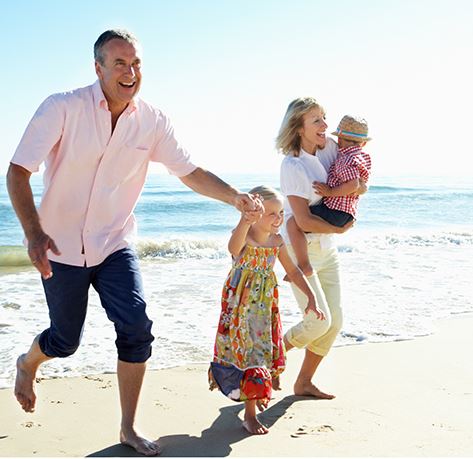 Casa Today's grandparents defy the stereotypes of yesterday. They are often younger and have more money, time, energy and enthusiasm than many previous generations. They enjoy spending time with their grandkids. Indeed, 60% of grandparents live close to their grandchildren and 46% wish they could live even closer. Well over half, 66%, travel with their grandkids, and 81% have their grandkids for part or all of summer vacation, according to American Grandparents Association. And, they frequently plan and pay for the family getaway.
So, where do you go when grandparents plan the vacation? You could end up anywhere from China to South Africa. We can suggest some fabulous villas and cottages that make a great escape for the entire family.
Mateya Safari Lodge
Madikwe Game Reserve, South Africa
South Africa is made for family adventures – from the Winelands to cosmopolitan Cape Town to safaris in the bush, there is something for all ages. One of the lesser known game reserves, Madikwe is the fifth largest game reserve in South Africa and is home to many animals including the 'big five' and some 340 species of birds. This hidden gem has the benefit of being situated in a malaria -free area, which can be an important consideration, especially for younger grandkids. Mateya Safari Lodge is a private game lodge with just five suites set among the rocky outcrops of Gabbro Hills. Here, you can relax in your private infinity pool at your suiChiante and enjoy spectacular views over the surrounding plains and the waterhole. Each thatched suite is air-conditioned and is designed to be part of a radial configuration around one of the hills. Here you can do game drives in custom-built, 4×4 vehicles; or explore the reserve on foot with Mateya's specialist rangers and trackers. Kids enjoy getting a closer look at some of the smaller creatures and flora of the bush. The lodge also has a wellness center, with cardiovascular gym, a Jacuzzi, and offers body and facial treatments. Share stories of the day around a roaring fire on our South Africa, Botswana & Zambia adventure, a journey guaranteed to create a lifetime of memories.
Banyan Tree Hangzhou
Hangzhou, China
Hangzhou grew to prominence as the southern terminus of the Grand Canal and has been a prosperous city for much of the last millennium. People are drawn to the area's beautiful natural scenery, historic relics and West Lake, a UNESCO World Heritage Site. Adjacent to the lake is a scenic area which includes historical pagodas and cultural sites in addition to its natural beauty. Xixi National Wetland Park is in the western part of Hangzhou, and covers 1,150 hectares/2,800 acres. It has a history stretching back some 1,800 years, and was the original site of Chinese South Opera. On our 12-day China's Canal Cities your family can enjoy a first-class train ride between Shanghai and Hangzhou, which takes about an hour and a half. Once thereColombia  .  CC Hangzhou. The Presidential Villa celebrates your family's arrival with an exclusive in-villa banquet served in the time-honored tradition of Chinese feasts. The villa's 380 square meters/4,090 square feet of living space encompass three regal bedrooms, with bathrooms, living and dining areas, allowing for plenty of elbow room. After a day of exploring, watching an authentic and ancient tea ceremony and a visit to a pagoda, you are ready to enjoy the sanctuary of your private villa while the dining team prepares your meal and attend to your every need as you relax in the company of your family.
Wolgan Valley Resort & Spa
Blue Mountain, Australia
West of Sydney, the valley was inhabited by Indigenous Australians for thousands of years before the first European settlement developed. Within the Wolgan Valley there are several significant Aboriginal sites. At Wolgan Valley Resort & Spa, a broad range of guided tours and activities include hiking nature trails, discovering the countryside on horseback, touring by four-wheel drive, mountain biking through forests, or gazing at a canopy of stars. The area is also known for rock-climbing. The resort also tailors private tours to your family's specific interests. The three-bedroom Wolgan Suite is tucked away in a private corner of the resort with panoramic views of the Greater Blue Mountains. It offers an expansive space 410 square meters/4,413 square feet and is a completely self-contained lodge. Featuring a beautifully landscaped garden with private terraces and swimming pool, it is the ideal accommodation for a family vacation. The generous living, dining room and equipped gourmet kitchen make entertaining a pleasure. Butler service is available at no extra charge to guests in the Wolgan Suite. Enjoy private pool, courtyard garden, private staff quarters or additional guest bedroom, central air-conditioning, LCD TVs, DVD player and sound system, international TV channels, high-speed Internet access, six mountain bicycles, and more. It is worth noting that Wolgan Valley Resort & Spa is the first carboNZero©™ certified resort in the world as well as the first carbon neutral resort in the world to be certified through an internationally accredited greenhouse gas program. Note: Due to the secluded setting of the resort, mobile coverage is not available on the property but complimentary Wi-Fi is provided. You can explore this wonderful region on our 18-day Australia journey.
Casa San Agustin
Cartagena, Colombia
Cartagena, Colombia is a great getaway for the family fairly close to home. It has a wealth of history to discover and markets to explore. The Walled City was declared both Mankind's Heritage and a Colombian National Heritage by UNESCO. Its narrow streets are adorned with antique doorways, flower-filled balconies, colonial streets and the Cathedral of Cartagena. And, the Casa San Agustin is a wonderfully historic property overlooking the streets of the Old Town. It has 24 beautifully decorated guest rooms and six spacious suites. Many of the rooms and suites can be configured into two- or three-bedroom suites, making them ideal for families. The Suite Del Virrey features two guest rooms with spacious balconies and terraces flooded by natural light. The suite has high ceilings with wooden beams and a private Jacuzzi. Each room includes a flat screen HDTV with surround sound, DVD player, Bose CD player, and an iPod dock with alarm clock. WIFI is complimentary and iPads are available upon request. The Suite Del Virrey 170 square meters/1830 square feet.  Your family will thoroughly enjoy this Colombia adventure.
Kasbah Tamadot
Atlas Mountains, Morocco
Branson's lavish Moroccan hideaway delivers haute luxe, haute cuisine and haute montagne in equal measure, Kasbah Tamadot is near the town of Ouirgane in the Moroccan Atlas Mountains, about 45 minutes from Marrakech. In 1998, Richard Branson's mother, Eve, first came across this Kasbah perched dramatically on a hilltop and surrounded by the peaks of the High Atlas. At that time, it belonged to an Italian antiques dealer who had opened it up to his friends. But she saw the potential of a luxury North African retreat to complement Virgin's existing Necker Island and Ulusaba Game Reserve. After 7 years of negotiations and top-to-bottom refurbs, it finally opened to guests seeking the ultimate luxury in the heart of Morocco's most spectacular mountains. The extensive gardens are now carefully landscaped with rose, fruit and cactus plants; the indoor pool and courtyards remodeled into a 5-star spa, and the suites redecorated to combine contemporary design with colorful Moroccan antiques. There was also the small addition of a stunning infinity pool and plentiful sundecks. A separate mini-Kasbah for families is found on a path just beyond the pool, at the bottom of the garden and has 3 bedrooms perfect for a family group. Explore Marrakech, less than an hour away; drive over the breathtaking Tizi'n'Test pass, stopping to visit the 12th-century mosque of Tin Mal; walk down the Ourika Valley to the waterfalls and Berber hamlet of Setti Fatma; or select guided excursions, including hikes, based on your family's interests. This delightful property can easily be incorporated into a Custom Morocco journey.
The world is indeed small, and getting more so as our daily lives become ever more connected in this age of the internet and expanding global technologies. But these connections and crossovers are hardly new to the human family. From the very beginning, we have sought out each other – whether to conquer, to trade, to influence, or to share.
One such connection weaves its many threads between much of Southeast Asia and India, which had established trade and cultural and political relations with the kingdoms in Burma, Thailand, Indonesia, Malay Peninsula, Cambodia and Vietnam. That influence is said to have started as early as 200 BC. As India grew in prominence so did its power to impact other cultures. Indian traders, adventurers, teachers and priests continued to be the dominating influence in Southeast Asia until about 1500 CE. These traders brought with them their civilization, cultures and religions. Indian leaders even ruled over some of the earliest states in these regions. Hinduism and Buddhism both spread to these states from India and for many centuries coexisted. Not limited to religion, they also brought new ideas about the arts, foods, architecture, engineering and more.
Angkor Wat, Cambodia
The Khmer Empire inherited several earlier influences from India. Numerous impressive temples and monuments were built in successive centuries in order to praise the Hindu gods; and often including engineering techniques learned from Indian builders. The temples of the Angkor area near Siem Reap number more than 1,000. They range in scale from tumbled down piles of rubble like that found in much of the Koh Ker temple ruins to the stunning temples of Angkor Wat. These fabled, once-list temples are, and rightfully should be, on many travelers' bucket lists. Explore the Rural Landscapes of Laos & Cambodia.
Batu Caves, Malaysia
Many aspects of Indian culture penetrated Malaysia, and traces can be found in the language and food. Indian food is commonly spicy, including curry and chilly. These ingredients are also used in everyday cooking here. Indian coffee stalls are popular with everyone. Here, you might see many people crowding at the shops to enjoy the 'Teh Tarik' known to many as the unofficial official drink for Malaysians. One of the most noted Indian-influenced sites is Batu Caves, home to a series of caves and cave temples north of Kuala Lumpur. This is among the most honored Hindu shrines outside of India. In 1890, the site was promoted as a place of worship by an Indian trader, who dedicated a temple to Lord Murugan within Temple Cave, which now includes several Hindu shrines beneath its high vaulted ceiling. Since 1892, the Thaipusam festival has been celebrated in the Tamil month of Thai, which falls in late January/early February. Wooden steps up to the Temple Cave were built in 1920 and have since been replaced by 272 concrete steps. Temple Cave.  Begin here to plan a Custom Malaysia adventure.
Nakorn Ratchasima, Thailand
For more than a thousand years, India and Thailand have been neighbors, so it's no surprise that these two share many things. India was the stronger force and therefore had a more prominent influence on Thailand, which resulted in an adaptation of Indian culture, language and religion. They have also adopted typical Indian traditions in cuisine, art and clothing styles. The single most significant factor was India's introduction of Buddhism as early as the 3rd Century BC by Buddhist monks. Nakorn Ratchasima, commonly called Korat, was, prior to the 14th century, under Khmer empire. Indeed, the Phimai Historical Park protects one of the most important Khmer temples of Thailand. The temple marks one end of the Ancient Khmer Highway from Angkor. Most buildings are from the late 11th to the late 12th century, built in the Baphuon, Bayon and Angkor Wat style. However, even though the Khmer at that time were Hindu, the temple was built as a Buddhist temple as Buddhism in Khorat area dated back to the 7th century. Our Central Thailand journey explores this dramatic region.
Bagan, Myanmar
As happened in the much of Southeast Asia, Myanmar, formerly Burma, experienced contact with the Indian merchants, who had traveled the region to trade, bringing with them their cultures, customs and religions. Under this increasing influence, the local Burmese began to practice a blend of Buddhism and Hinduism while holding on to many of their own beliefs and customs. Myanmar is home to the Bagan, a spectacular plain stretching away from the Ayeyarwaddy River, dotted with thousands of 800-year-old temple ruins. During Bagan's height between the 11th and 13th centuries, more than 10,000 Buddhist temples, pagodas and monasteries were constructed here. There are some 2,200 temples and pagodas that still survive to the present day. Imagine seeing this incredible site on an early morning hot air balloon ride? You can do that on our 10-day Myanmar adventure.
Central Bhutan
Another neighbor, Bhutan has had close links to India for centuries. Buddhism was originally introduced from India in the 8th century, although the Buddhism of today's Bhutan is more Tibetan in character. About 75% of the Bhutanese practice Buddhism and about 25% practice Indian- and Nepalese-influenced Hinduism. An Indian military training camp has been established there since the early 1960s and India provides financial aid. But influences come from both India and China. You find Northern Indian cuisine in Bhutan often mixed with the chilies of the Tibetan area. Spices, fruits, and vegetables are cooked with beef, chicken, pork, and dried yak, and resemble Chinese and Indian cuisine. The legal system is based on English common law and Indian law.  Discover this amazing country on our Central Bhutan exploration.
« back