This Theater Without Words Is Not For Kids
Date: January 28, 2020 | By: Deborah Kilcollins | Category: Travel Blog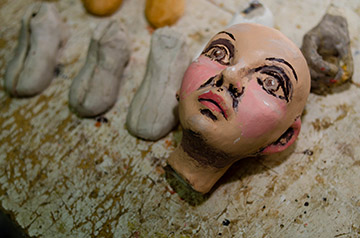 In 1995, a coalition of talented Latin artists and academics founded the Teatro Círculo in Paraty, Brazil. It was created as a place to preserve classical 17th Century Spanish theater as well as support new works by contemporary Latin artists.
What makes this theater unusual is that its performances are wordless and its actors are a bit stiff, but that is to be expected when your players are puppets of wood and cloth. And, this is a theater for adults… 14 and older, so no little ones.
From its inception, Teatro Círculo has been committed to preserving and promoting Latin cultural heritage through creative theatrical works.
Teatro Círculo encompasses four primary areas: the Mainstage Season, showcasing award-winning classical, contemporary and original plays; a national and international touring program that includes classical competitions and performances to Spanish-speaking communities lacking local theater; a school program engaging students in learning about their heritage through workshops and visiting performances; and professional master classes for emerging and established artists led by world class directors like Antunes Filhio from Brazil, Luis Jiménez from France and Floyd Rumorh from the U.S.
For nine years, it has hosted an international festival, Contatos Cênicos, bringing to Paraty more than 18 international companies of dance, theater and circus. In 1991, they created the Latin American Network of Independent Producers of Contemporary Art (La Red), which today has representation in 47 countries. In addition to the performances by the resident group, the theater is home to the cultural activities developed by its members.
In the last decade, the company has won more than 50 awards for excellence in the Hispanic theater, including an OBIE for touring classical work, and numerous ACE Awards and HOLA Awards.
The regular schedule of Teatro Espaço, "Em Concerto" is presented Wednesdays and Saturdays, 9pm, for adults. Several important Brazilian and Latin music, theater and dance performers have played this stage such as Paulo Autran, Paulo Moura, Joyce, Denise Stoklos, Antonio Nóbrega, among many others.
Travelers from the U.S., New Zealand, Norway and beyond have found their way to this unusual 90-seat  theater to see the hour-long show, and have left moved.
"This is one of those experiences you should try if you've got time. It lasts only an hour, and every seat in the theater is a good one. Also, language isn't a barrier. The puppets are beautiful. The scenes are vivid, and the creators weren't afraid to explore a variety of adult topics ranging from an elderly couple and their simple but fulfilling love, a suicide, an Indian woman in a bathtub, and ending with a woman and self-love. It isn't appropriate for children for sure, but if you are an adult and you go, be sure to keep an open mind."
"Unique, creative. WOW! While it won't be everyone's cup of tea, this was a pure joy to watch. 7 small skits, each under 10 mins, together make an amazing show. You really 'feel' the emotion of the puppets (you are sad for them … or happy), and totally unique. If you like live performances, and like something different, you won't be disappointed."
Teatro Círculo brings a contemporary attitude to an art that dates back to 1000 B.C.  The theater sits in the heart of Paraty, a historic city three hours from the center of metropolitan Rio de Janeiro. If you crave unique cultural experiences in your travels, then you might like to experience Teatro Círculo. Depending on your itinerary, we can arrange for you to take in the show during your Brazil adventure such as in our new President's Pick Brazil Discovery In Depth.
« back