Disney to Tuli
Date: January 16, 2020 | By: Deborah Kilcollins | Category: Travel Blog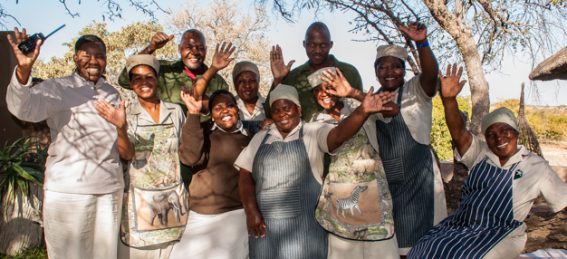 A lifelong Disney fan, I was not surprised to learn that Disney stretched all the way to Botswana! Walt always had a global outlook. I'm not sure he could have looked this far ahead.
In a diverse landscape of expansive plains, grassland, riverine forests, rocky hills, marshland and sandstone ridges in the eastern extremity of Botswana, there snuggled into the landscape is Mashatu Tent Camp within the Northern Tuli Game Reserve. The Tuli Safari Area encompasses a national park in Zimbabwe and the Mapungubwe National Park, a World Heritage Site in South Africa. Mashatu shares unfenced borders with both the South African and Zimbabwean national parks in the south and north. This vast area forms part of a cross boundary wildlife conservation area protecting the substantial biodiversity of fauna and flora in this region.
Mashatu Tent Camp has just eight private tents are spacious, comfortable and large enough that adults need not duck for fear of bumping their heads in. Each is mounted on a concrete platform and has its own private outdoor en-suite facilities to shower under the stars.
Okay… so what about Disney?
No less than seven members of the Mashatu staff have spent a minimum of 12 months at the Disney entertainment complex in Orlando. FL as part of an exchange program offered to the citizens of Botswana. The Mashatu staff – two camp managers and five other staff members – spent a year training and learning the wide-ranging facets of hospitality. This is a rare opportunity to be part of Disney International Programs and experience a once-in-a-lifetime opportunity to learn from one of the world's most innovative entertainment companies. Living and working at Walt Disney World® Resort allows participants to connect with people from across the globe, create lifelong memories and be immersed in an English-speaking environment. They learn leadership, presentation and customer service skills. They continue to pass on what they learned to other Mashatu employees. To experience all that Mashatu has to offer, from the staff's hospitality to the phenomenal landscape and wildlife of the region, consider Africa South, a 14-day adventure that includes Mashatu Tent Camp in Botswana.
I suspect Walt would be pleased.
« back