Rock singer Bono said during a concert in Madrid days after the terror attacks there, "We must remember, to beat the monster we cannot become a monster."
Whether you like his music or not, that comment made sense. Yet, here we are years later having the same discussion after the horrific events in Paris. We deeply mourn the loss of human life, but we must remember that challenge. It offers a chance to build and grow stronger.
We stand in unity with the people of France – we are with you, we cry with you, we rage with you, we will heal with you, and, eventually, we will laugh with you. This may be an opportunity to find our unified vision and speak in a unified voice to say, "We are still standing. We will keep getting up no matter the obstacle."
George Santayana famously said in 1905, "Those who cannot remember the past are condemned to repeat it." We seem to be in the same place 110 years later. When does it end? Politicians and world governments are saying the right things – that we must fight back.
Yes, we must fight back, however, who are we fighting? Do we even know? What exactly is ISIS? Can we contain it or defeat it?
Has anyone actually thought about the end game? What is the ultimate vision for our world beyond erasing terrorism? The unified vision cannot start or with defeating ISIS. It must be about preventing another group like it from taking its place. And until we recognize that, there will always be another group. There is no one easy answer, but we must certainly start by addressing the challenges that are creating the disenfranchised youth in troubled areas around the globe.
With Hitler, with Mussolini, with Amin, with Milosevic, we knew where to take our fight. That no longer exists with groups such as ISIS. They are more fluid and not easily definable. Yet we seem to be stuck using strategies from the past that no longer apply.
I suggest we take a lesson from the people of Colombia. For decades, they had their own terror nightmare in the form of drug cartels with elected leaders, who were either in collusion with them or faced death if they resisted. It took decades for Colombia to finally understand that the solution was not in defeating the powerful cartels, but in dealing with the farmers who grew the drugs. They were on the lowest rung on that ladder, yet they carried all the burden. Not until their needs were starting to be addressed, was real change possible.
Answers will come when we begin to find that lowest rung in ISIS, the one that carries all the weight; and begin to speak to their problems.
In these dark days, it is important to remember that there are signs of positive changes in powerful fashion such as the landmark elections in Myanmar. Aung San Suu Kyi, on the eve of her party's victory, said, "It's important to implement the people's will in a peaceful manner for the sake of the country." And, the positive new direction India is heading in under Prime Minister Narendra Modi. A few days ago, Prime Minister Modi spoke to 60,000 followers chanting "India" at Wembley Stadium. His message was equally simple – England and India as partners, must take a zero tolerance approach to terrorism and find the root causes together.
What do these leaders have in common?
An ideal that an overwhelming majority of their citizens can believe in – that the sake of the country and its citizens must rise above political gain.
We will never discover who we are fighting until we begin to solve the issues that engender the troubled youth of the world to join them in the first place. That should be our unified vision.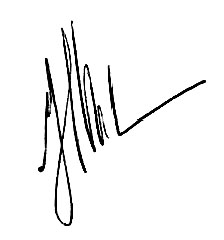 Ashish Sanghrajka
President
Answer: Zipaquirá's Salt Cathedral, one of the most notable achievements of Colombian architecture.
The impressive underground Salt Cathedral was first built in 1954 in salt mines that had been used for centuries. But structural problems and safety concerns led the authorities to close the sanctuary in 1990. The present church was built between 1991 and 1996 and is about 200 feet below the original shrine. It uses hallways in inactive parts of the salt mines. The result is interlinked rooms of  different sizes that contain 14 small chapels representing the stations of the cross. Each station has a cross and several kneeling platforms carved into the salt structure. 
The largest area is the actual cathedral, which is 59 feet tall and about 246 feet in length. It is said to be able to hold 8,400 people.  The central cathedral's cross is more than 52 feet high.  The salt cathedral attracts visitors from around the world, with as many as 3,000 on Sundays. The complex includes an interesting museum of mining, mineralogy, geology and natural resources, and is located in the town of Zipaquirá about 30 miles north of  Bogota.  Zipaquirá's Salt Cathedral is included in many of our Colombia journeys such as Colombia's Colonial Cities, Coffee Culture & Coast.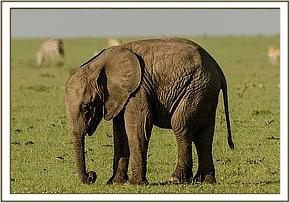 Young Roi was just 10 months old when she arrived at The David Sheldrick Wildlife Trust elephant orphanage. She had been spotted in the Olare Orok Conservancy in the Maasai Mara, scared and confused beside her dead mother, killed by ivory-seeking poachers. Roi was still with the rest of the herd, but the milk-dependent little calf would likely not survive with the group if she could not get enough milk. She was rescued by the Sheldrick team. A year later, Roi has adjusted well to her new life with other orphans at the sanctuary, and may one day return to the wilderness. But there is little doubt that she will remember that awful day for a very long time.
Elephants are intelligent, and share many of the same emotions and cognitive behavior as humans. They grieve for lost loved ones. They feel fear, joy and empathy. And, they remember!
Elephants' memory is key to their survival. They recognize more than 200 different individuals, necessary when females depend on one another to help raise their young. Like our human family, elephants form complex bounds in their society. When two elephants meet they emit a "contact appeal." If they recognize each other's appeal, they respond and approach. If, however, they do not, they become agitated and defensive.  We do not yet know just how long elephants can retain memories, but it has been shown that a recording of a dead animal can attract the attention of its relatives and even its descendants.
Memory has its downside, however, such as when a matriarch leads her family to a place where once good feeding grounds have been taken over by humans for crop cultivation or other uses. When it comes to human-elephant conflicts, elephants most always lose.
But there are people working to save these gentle and intelligent creatures such as the team at Sheldrick elephant orphanage. We are proud to support the orphanage by fostering elephants in honor of our guests. An after-hours visit to this sanctuary to meet some of the rescued residents is included in many of our custom Kenya journeys.
Please take a moment to watch this touching new video from Sheldrick. And remember… ivory = iworry.
Visit iworry.org to learn more.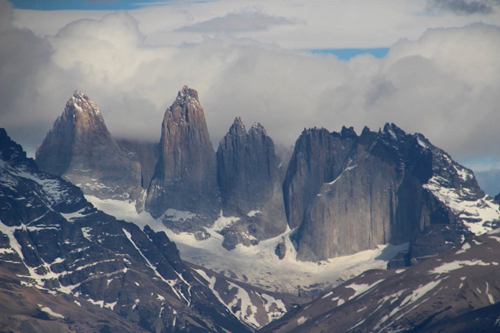 Dear family and friends,
We are back in the modern world at least for a bit after being out of touch while on our adventure to Tierra del Fuego and now in Patagonia's Tierra del Fuego National Park in Southern Chile. If you don't see photos in this blog you will shortly being receiving them separately.
In any case we were on the ship Stella Australis from Ushuaia and successfully landed on Cape Horn which was a major objective! We had 80 kph winds, snow, rain, and ice, climbed the several hundred meters from the sea to the Cape Horn Monument and explored the island of theCape for about an hour before the weather drove us back to the ship. We then went to Wahliaia Bay, a major nature preserve and former indigenous Indian Colony (Yaghans). We were not able to stop off at Aguila Glacier because of severe weather but the Captain pushed a bit to get us to Magellan Island to observe the Magellan Penguin population.
We disemabarked our ship at Puntas Arenas and drove 6 hours to Torres Del Paine National Park. We have taken three hikes, the two yesterday were a bit more tough for yours truly but we saw magnificent views and wildlife – large numbers of condors, guanaco (llama relative), rhea (ostrich relative), fox, many beautiful birds, etc., etc.
This afternoon and tomorrow we do another hike and then are going to do a glacier via boat on the largest Patagonian lake. Weather largely determines our activity. In general we have sun, 40's F, but HUGE amounts of wind which typically blows between 60 – 80 kph. This morning's hike activity was cancelled while we were on our way because of high winds – don't know exactly but were told up to 130 kph. Needless to say we could lose Marie-Jo in a wind like that! We try again this afternoon. Will try to catch up again if we find internet access. Next stops are Lima, followed by Sacred Valley, Machu Pichu, Cusco, Quito, and the Galapagos.
We hope you are all well and much love to you all,
Grandpa and Grandmere
« back