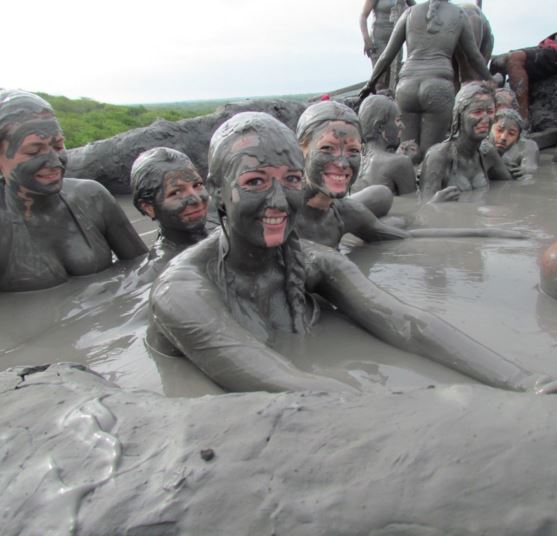 Are you one of us? Many of us never grew up… entirely. We still have a fondness for fun and for new experiences. We never forgot our silly side or how to play. And when we travel, we keep a sharp eye out for opportunities to indulge the kid in us. Want to play?
Glacier hop by helicopter
New Zealand
One of the most fun and thrilling flying experiences at any age has to be helicopters. Explore South Island's dramatic glaciers, high country sheep and cattle farms, spectacular Mount Aspiring National Park. Experience luxurious high country hospitality by spending a night at Minaret Station Alpine Lodge, set at the head of a spectacular glacial valley within the untouched landscapes of the Southern Alps. This exceptional lodge offers a rich menu of other experiences, and can be added to your South Island adventure such as on our Natural New Zealand program.
Get muddy in a volcano
Colombia
Getting muddy isn't just for children. Adults visit luxury spas around the world for the experience of being covered in mud. Go to the next level – sit in a Mud Volcano! You can treat yourself to a thermal mud bath at the Totumo Mud Volcano, northeast of Cartagena. Both restorative and fun, you climb up a 15-meter/49-foot stairway along the side of the volcano to the crater. Here the sulphur, phosphates, magnesium and other elements bubble through the mud, and the mud's density means you will float on the surface. Then, head to the freshwater Totumo Lake nearby for a cleansing dip. Try out this unique mud bath on our Volcanos of Latin America adventure.
Play Tarzan in Thailand
You will not want to miss Thailand's original zip line canopy experience in Chaing Mai. Up here in the treetops, you come into contact with rare wildlife in the towering trees of an old growth forest. You may hear a family of primates marking their territory with amazing vocalizations. You fly through the treetops along 7 km/4.4 mi of zip lines that includes Asia's longest single 'flight' (800m/2625ft). Travel to 33 stations, some suspended up to 70m/230ft above the valley floor. In addition to enjoying the forest canopy, bird life and other wildlife, your treetop adventure helps support a conservation project to re-introduce gibbons monkeys back into their native forest! Go for a swing in Chaing Mai on our Thailand – A Natural Adventure. 
Go on safari… at night… on the back of an elephant
South Africa
Camp Jabulani offers an extraordinary night safari on elephant back. Under the stars amidst the night sounds and dwellers, you savor this truly original experience and you sweep the potent battery-powered spotlight across the landscape. Feel the swaying rhythm of the elephant as you move through the inky dark beneath a sky cluttered with the stars of the Milky Way. You may catch a glimpse of glittering eyes in the surrounding bush as you move through the forest. You return to the stables and witness firsthand the mutual respect and genuine fondness between the elephants and their tenders. One thing is certain – you cannot help but be changed forever by your encounter with Camp Jabulani's exceptional elephants. You can incorporate this remarkable experience in you Custom South Africa adventure.
Ride bikes with your Maasai friends
Tanzania
Overlooking the Great Rift Valley and Ngorongoro Forest, Gibb's Farm in northern Tanzania was established as a coffee farm in the late 1920s. It imparts a sense of well-being in a warm, rustic luxury environment. The farm is deeply rooted in African culture and community. From here your family can explore the back roads of the local village by bicycle in the company of Maasai, or take a mountain bike day trip to explore rural Tanzania. You can also delve deeper into the world of traditional Maasai on intriguing hikes such as the walk through the Ngorongoro Forest to learn about herbs commonly used by tribal healers in the farm's healthcare center and throughout Tanzania. A visit to Gibbs Farm can be included in a Tanzania exploration such as on our 15-day Kenya & Tanzania journey.
"Every 2 minutes today we snap as many photos as the whole of humanity took in the 1800s," according to 1000memories.com.
That seems a staggering thought at first, but not really all that startling when you look around at the proliferation of picture-taking gadgetry available today. On a trip to China a few years ago, I was a bit surprised to see a woman using her rather large tablet as a camera, only because of its size and her awkwardness in handling it. It seemed so cumbersome then.  But our electronics have gotten smaller, faster, smarter.  As the continue to evolve, they change the way we experience our world. From Facebook to family albums, we love our photos.  Surprise that special photographer in your life with an amazing photo journey he or she will never forget.
Australia
Sydney Harbor Bridge
If adventure photography is on the agenda, then Australia should suite your photographer perfectly. How about photographing Sydney's famous harbor from atop its iconic Harbor Bridge? Yes, climb stairs and catwalks never before opened to the public, and wind through a tangle of hatchways and steel girders suspended above the traffic. At the top of the bridge, he or she will climb between the arches to the summit, 134 meters/440 feet above the water and capture photos of a view of Sydney friends will envy. But that's not all. On our new Australia's Ancient Landscapes, go diving on the famed Great Barrier Reef, explore Daintree, the world's oldest forest, explore Tasmania's rugged coasts, and Australia's deepest lake, St Clair, at Pumphouse Point. And then there is the incredible night sky filled with a billion stars. With the incredible photographic opportunities on this journey, your photographer may very likely run out of two memory cards.
South India
Orange County Resort
Inspired in design by the tribal villages, this resort is bordered on two sides by the Kabini River. The backwaters of the Kabini are very well suited for wildlife photography, especially when the water levels recede, making the region more like an open plain rather than a tropical forest – which means an abundance of light! As you explore the area, your guide will get you to the right place at the right time to capture stunning images, such as at the Mastigudi Watchtower. You will savor encounters with Kabini's elephants, gaur, deer, spoonbills and a host of other birds. If you are lucky, you may even meet up with a leopard or a tiger. On our 17-day South India journey, you explore the area including Nagarhole National Park.
Botswana
Zarafa Camp – Photographers very welcome
Developed by National Geographic filmmakers Dereck and Beverly Joubert, it is no wonder that this intimate camp with only four, luxury tents is a photographer's dream. It is set on a private 320,000-acre reserve in one of the premier game viewing sites to be found anywhere. On it offers special incentives for photographers: Each room receives complimentary use of Swarovski HD binoculars and a professional Canon 5D camera with 28-135mm lens and 100-400mm lens. You may carry your own memory card, or photographs can be burned to CD by camp when using their loaner cards. The 6-seater 4×4 Land Cruisers are custom designed by the Jouberts to offer all-year viewing with detachable open-top and comfy bucket seats. This is the photo safari of a lifetime. Upgrade you safari in the private Selinda Game Reserve to Zarafa Camp on a Custom Botswana adventure.
Jordan
Petra by Night
The 2,000-year-old Rose City was carved out of rock canyon walls. It has long been admired for its massive architecture and ingenious complex of dams and water channels. This UNESCO World Heritage Site is compelling and incredible photogenic by day… But at night it takes on a magical glow of 1,800 candles! Travelers walk through the narrow canyon, known as the Siq, to the Khazneh following a candlelit path while you hear the enchanting and haunting music of the Bedouins. The images taken this night will last a long time. Take a step back with our Jordan: A Journey Back in Time, to experience the desert kingdoms and dramatic landscapes from Wadi Rum to the Dead Sea.
Morocco
Atlas Mountains
The Atlas Mountain Range stretches across a northwestern stretch of Africa extending about 2,500 kilometers/1,600 miles through Morocco, Algeria, and Tunisia. Jebel Toubkal, the highest peak in North Africa. The area is well known to hikers, skiers and those interested in culture. The Berbers tribesmen have played a role on the north coast of Africa for at least 5,000 years. The Arab invasion in the seventh century forced them to assimilate or take refuge in the nearby mountains. The villages are strongholds of Berber culture, preserving their music, lifestyle, spirituality and art. Here are opportunities to delve into the rich culture found in the ancient villages and traditional communities of these ancient mountains. Morocco itself offers rich possibilities for the photographer – from the beaches of Casa Blanca to the sands of the Sahara. Create a Custom Morocco adventure that will be the talk of the photo club.
Remember, 94 days until the holiday season is in full swing…
Many of us know at least one person who seems to have absolutely everything. How do you shop for these folks? Well, there is everything, and then there is everything else, and that's where we come in. Travel truly is the gift that keeps on giving. It has the power to change lives for both the visitor and the visited. It can bring about new understandings, new attitudes and new connections. Done right, travel also involves a touch of magic – perfect for the season.
Swim with Sea Lions, Galapagos
One of the most compelling adventures for animal-loving travelers is close-up encounters with the wildlife of the world. Few better places offer opportunities for this kind of meeting than do the Galapagos Islands. Here, you savor time swimming, snorkeling and diving with sea lions as well as with rays, sharks, penguins, and a myriad of other marine animals. That doesn't even include blue footed boobies, iguanas, soaring seabirds and sea turtles. This could become a one-of-a-kind family gift on our The Galapagos Islands: Of Fish & Fishermen, geared towards families with young children, and is full of engaging and fun educational experiences for both parents and children.
Come eye to eye with Orangutans, Indonesia
Native to Indonesia and Malaysia, orangutans are currently found in only the rainforests of Borneo and Sumatra. They are among the most intelligent of the primates and known for their use of sophisticated tools. They construct elaborate sleeping nests each night from branches and foliage. An encounter with these remarkable creatures is the experience of a lifetime. Tanjung Putting National Park is home to four research centers devoted to orangutans, including Camp Leakey, a rehabilitation center for orphaned orangutans. Camp Leakey, established in 1971 by Dr. Biruté Galdikas and named after the legendary anthropologist, Louis Leakey. In addition to orangutans, the park is home to incredible animals including proboscis monkeys, gibbons, macaques, clouded leopards, sun bears, wild boars, porcupines and Sambar deer. Indonesia in Depth is the gift of adventure.
Barossa Valley Master Wine Class, Australia
The Barossa Valley is renowned as one of the premier wine producing regions in Australia. Within this picturesque landscape are dozens of the country's most celebrated wine labels. Learn the true art of wine appreciation at a wine masterclass with some of South Australia's leading experts. As part of this unique wine tasting experience, you have the opportunity to put your new skills to the test as you sit down to a two course gourmet lunch with complimentary wines. For the aspiring wine aficionado in your family, this is the perfect gift – an afternoon in the beautiful Barossa Valley that can be incorporated into this 18-day Australia adventure.
Vintage Motorcycle Ride in Cape Town, South Africa
Motorcycle fans would love a ride along the spectacular South Africa peninsula in a vintage World War II sidecar. They can enjoy a unique perspective on this unforgettable day touring the majestic Cape Point Nature Reserve, Cape Town, Cape Point, the historic Malay Quarter and the stunning coast. Sidecar trips make outings with a touch of adventure, and can be tailored to make it the ideal gift. This experience can be included in one of our South Africa journeys such as South Africa – Cape Town & Eastern Cape.
Receive a private blessing on the banks of the Ganges, India
A rare gift for the spiritually minded is a trip to Rishikesh, north of Haridwar, is known as a pilgrimage town and regarded as one of the holiest places to Hindus. Indeed, Hindu sages and saints have visited Rishikesh for centuries in search of knowledge. Here the river Ganges leaves the Shivalik Hills in the Himalayas and flows out into the plains of northern India. Big Five can arrange for a private blessing by a monk on the banks of this fabled river. Here, too, is a wonderful place to witness an aarti ceremony and see the golden reflections of flowers floating on the Ganges at twilight. The experience is unlike a typical tour of India, as is our Heritage of a Nation that mixes the rich heritage with a spiritual ambience found in temples and ashrams. This compelling journey could very well prove to be the gift of a lifetime.
« back