In any travel decision, the most critical question is "Where?" But that is closely followed by "When?" The answer: now! July is one of the best times to visit beautiful Singapore. Not only is the weather ideal for exploring the many pristine beaches, but it is the time when this Southeast Asian nation intensifies its love affair with food. The Singapore Food Festival celebrates the country's rich diversity and multifaceted culinary heritage, offering the visitor a fascinating glimpse into this wonderful culture.
Since 1994, Singapore has hosted its Food Festival as a way to allow its people and visitors to explore through food. Honoring local food, multicultural heritage, and gastronomic creativity, the month-long festival is celebrated throughout Singapore and offers a taste of everything from BBQ and streetfare to haute cuisine. Foodies can sample not only the host country's favorite dishes, but those of China, India, Malaysia, and more. So, what's on the menu this year?
Nonya Mobile
If you have a craving for classics – and for exquisite interpretations of those old favorites – keep an eye out for the Nonya Mobile. This restaurant-on-the-go will make stops throughout the island, featuring dishes created by Peranakan chefs. Try chicken pong the, a stew with mushrooms and potatoes, or skip to the buah keluak ice cream.
The Nonya Mobile will also offer interactive exhibits and demonstrations. A must on any food-lover's itinerary.
Indian Cuisine
Little India's Suvai is the place to go for Indian cuisine. Infused with contemporary style, diners will be treated to dynamic dishes created by celebrity chefs. Visit Chef Balasundram at this "carnival"; he promises that the grilled roulade prata, mutton biryani, and other fare will showcase both the diversity and modern transformation of Indian cuisine. Also on the menu: a chef competition, cooking classes, fruit and vegetable carving demonstrations, and live band performances.
A Trip to Chinatown
Taste the best of China, all within the stretch of a single street. Everything from chicken rice balls to yam paste with gingko nuts will be available in Chinatown. This venue seeks to recreate the allure of Singapore's "bygone era" and will feature live performers.
BBQ on the Beach and Pop-Up Stores
Giving the festival a modern vibe, the popular BBQ on the Beach features delectable dishes, including sambal stingray and spiced meat. The pop-up ION Orchard will feature favorites with a contemporary flavor. Try the burgers filled with beef rendang or curried chicken.
The flavors and festivities of the Food Festival change each year- but one aspect remains the same: this is the best way to explore Singapore's culture, heritage, and history. You will enjoy yourself thoroughly, and give your taste buds the trip of a lifetime.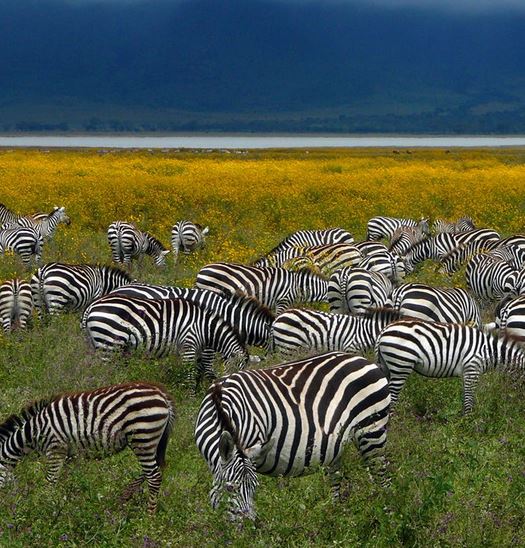 In 2012, the New York Times ranked Tanzania as the 7th best travel destination in the world. Tourism to the area is growing, but it is not yet so swarming that you will miss out on the best scenes, activities, and attractions as you compete with crowds. There is much to see, do, and enjoy in this gorgeous African country.
Prime game viewing. One quarter of Tanzania is devoted to game reserves, controlled areas, and national parks. The Selous, the largest game reserve in Africa, for instance, sprawls over 21,000 square miles. This is your chance to see cape buffalo, hippos, elephants, crocodiles, and African wild dogs, among other inhabitants of nature. You might see more density at the smaller Gombe Stream reserve, which is famous for its chimpanzee population. Of course, the Serengeti National Park and its annual, massive migration of wildebeest and zebra are worth a visit.
To be able to say, "I climbed Mount Kilimanjaro." Even if you are not an avid climber, you can find a route that suits your fitness level and schedule. Hike through various ecosystems and enjoy the stunning scenery. If you do not make it to the top, you will still have the most remarkable experience!
Fun and sun. Reward your hard work with a day of relaxation at a Tanzanian beach. Achingly blue water and white sand stretch for miles, and at beaches such as Ushongo in Tanga, you will not be bothered by development or overcrowding. At Uroa Beach, you can swim, kitesurf, and try your hand at beach volleyball, tennis, and bowling.
Adventure around every turn. If lounging on a beach is not your cup of tea, you can dive, take a ride in a hot air balloon over Serengeti National Park, fish, boat, canoe, shop, and hit the town after dark. Try a chimpanzee safari at Gombe, visit Maasai homesteads, or hike through the wildlife-dense, "8th wonder of the world," Ngorongoro Crater.
A taste of Tanzania city life. Bustling markets, such as the Kariakoo Market in Dar es Salaam, are prime people-watching spots and offer you a chance to bargain for great deals. Zanzibar, Arusha, and other cities have unique personalities and feels. Explore them and learn more about Tanzanian culture.
There are myriad reasons to visit Tanzania. The question isn't "why?" It is "Why not!"
There are many, many reasons to visit Asia, which are not limited to seeing amazing wildlife in their natural habitat, tasting unique cuisine and exploring everything from bustling cities to tranquil beaches to gorgeous countrysides.
Asia is also known for it's world-class shopping that caters to all types of interests and budgets.  From Bangkok's bargain prices on quality items to the massive shopping malls of Kuala Lumpur, there are several Asian cities that are a shopping lover's dream.
If you love to shop while on vacation, here is an infographic about the four Asian cities you MUST check out!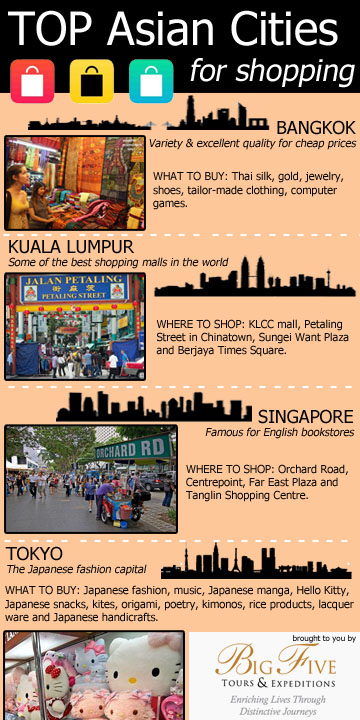 Bangkok
Bangkok is known for it's variety & excellent quality items for cheap prices.  Some of the best things to shop for in Bangkok are Thai silk, gold, jewelry, shoes, tailor-made clothing and computer games. If you're heading to Bangkok, be sure to check out MBK Mall, Central World Plaza, Chatuchak Market, Pratunam and Bobae markets, and any street stall to score some good deals.
Kuala Lumpur
Kuala Lumpur is known for hosting some of the biggest and best shopping malls in the world.  Some of the best things to shop for in Kuala Lumpur are t shirts, belts, computer games, DVDs and CDs, costume jewelry, books, designer brands, Malaysian handicrafts, batik, wood carvings, and electronics. If you're heading to Kuala Lumpur, be sure to visit KLCC mall, Petaling Street in Chinatown for a huge night market, Sungei Wang Plaza and Berjaya Times Square.
Singapore
One of the main things that Singapore is known for is it's selection of English bookstores. Some of the best things to shop for in Singapore aside from the books are clothing, Oriental rugs, unique accessories, eyewear, fine arts, and Chinese handicrafts. If you're heading to Singapore, be sure to visit Orchard Road, Centrepoint, Far East Plaza and Tanglin Shopping Centre.
Tokyo
Tokyo is known as the fashion capital of Japan.  Shop in Tokyo for Japanese fashion, music, Japanese manga, Hello Kitty, Japanese snacks, kites, origami, pottery, kimonos, rice products, lacquer ware and Japanese handicrafts. Some of the best places to shop in Tokyo are the Shibuya area for fashion, Omotesando for international fashion, and the 100 Yen Store (dollar stores).
Have you been shopping in any of these Asian cities?  What did you think?
The words "wonder" and "awesome" have become so overused that everything can be described with these adjectives – and nothing quite lives up. For intrepid travelers, though, the Great Migration reminds us just how wondrous and awe-inspiring nature is – and how it can render even the most jaded speechless. This July, journey to the Mara River, where swarms of wildebeest fight against more than just the currents to reach safety, and crocodiles snap hungry jaws in a riveting tale as old as time.
Each year, millions of herbivores, including an estimated 1.5 million wildebeest, migrate from Tanzania's Serengeti National Park to Kenya's Maasai Mara National Reserve – and back again in a never-ending cycle as they chase food and water supplies. And what's chasing them? Predators, including lion, hyena, leopard, cheetah, and, of course, crocodile, keep a sharp, ravenous eye out for stragglers.
The thrilling climax to this epic trek comes in July, when great herds of wildebeest face their biggest – and deadliest – obstacle: the Mara River, infested with crocodiles the size of canoes. Razor sharp teeth and powerful jaws lie in wait as, on the banks, thousands of wildebeest begin to "build" or to gather. Strength in numbers.
The "leaders" on the banks sniff the air, dip a hoof into the water, gauging whether or not it's time to cross – and teasing wildlife watchers on the sidelines who are impatiently waiting for the great beasts to cross. And then, with a signal only the wildebeest can comprehend, it begins. It looks quite orderly, like a queue of schoolchildren, but then pandemonium breaks out. Speed, nervous braying, wildebeest launching themselves through the air, clouds of dust, and constant thundering of hooves.
A wave of animals crashes through the river; the purpose of "building" is to overwhelm predators with sheer numbers. But crocodiles, too, take advantage: the chaos and noise allows them to kill at will, waiting for the right animal and clamping onto it until it drowns.
Most survive, making it to the other side. After the dust settles, literally and figuratively, the scene suddenly shifts, and the herds of wildebeest appear quite tranquil as they graze.
As a visitor, nothing can compare to the sights and sounds of the Great Migration river crossing at Mara. When you book a tour with a reputable travel company, you'll be able to get the photos – and memories – of a lifetime, without interfering with this truly awesome and wondrous event.
Kenyan officials recently passed aggressive legislation, the Wildlife Bill and Policy, which will boost conservation efforts, streamline wildlife management, and create tougher laws and consequences for poaching. Over the past 15 years, scores of landowners have volunteered over 6 million acres to conservation efforts, building a refuge for endangered animals. Not only does this protect the wildlife, it protects a crucial industry in Kenyan: tourism. The most exhilarating way to view this country and its special inhabitants is through a safari, and thanks to Kenya's efforts, visitors will be able to spot awe-inspiring animals in natural habitats.
If you are lucky, if you are paying attention, and if you have a knowledgeable guide and a great location, you may be able to see the world's most magnificent animals. Lion, cheetah, rhino, wildebeest, eland, cape buffalo, elephant, giraffe, hippo, leopard, hyena, crocodile, and an impressive list of bird species roam Kenyan preserves.
A key consideration is when to go to Kenya. A prime time would, of course, be during the annual migration on the Serengeti. Millions of zebra and wildebeest travel across the plains, following the lush vegetation that springs up after the rains. And, following these hungry herbivores, are equally veracious predators, including the big cats. July to October is the best time to witness the show.
Weather is important because you don't want to get caught in torrential rains; as well, many roads and areas will become inaccessible. Most people visit during the hot, dry months: December and January; or the cool, dry months, June through August. The silver lining of visiting during the rainy months, March through May, is that prices are lower, and crowds are sparse. You can find lodges and attractions that remain open and enjoy them without feeling as though you are in a tourist trap!
When you are there, plan your day around the movement of the animals. Game drives are best in early morning, mid-morning, and late afternoon. For night owls, an after-dark safari offers an exciting opportunity to spot some nocturnal animals. These are not allowed everywhere, so be sure to check if that is a "must" on your itinerary.
To make the most of your trip to Kenya, bring a camera, field guide so you can explore the flora and fauna, a pair of binoculars, and sunscreen! From there, just keep your eyes and ears open. Half the fun is in learning to spot animals – catching a splash in the water or hearing a change in the birds. The other half, of course, is seeing your efforts pay off as you spot a giraffe, hippo, or big cat in its natural surroundings.
Test your knowledge of world geography, food and culture in our latest travel quiz, "What's Your Travel IQ?" Whether you're a frequent flyer or a travel amateur, you're bound to find some great inspiration for your next vacation. Take our quiz and begin planning your next trip!
Guatemala's capitol city is the most modern and cosmopolitan city in Central America. Guatemala City is a vibrant and fast paced city that blends old and new with a distinct Latin charm. It location, facilities and the "La Aurora" airport make it a great starting point for visits to all areas of the country. Founded in 1776, Guatemala City came about after an earthquake destroyed the former Spanish capital of Antigua. This city is very prone to earthquakes as it is sitting on top of three tectonic plates.
If you are hoping to get a taste of Guatemalan culture, then Guatemala city is where you want to go! There are There are seven museums, including the National Museum of Modern Art, the National Museum of Archeology and Ethnology, and the National Natural History Museum. There are also more than 30 galleries showing Guatemalan artists in painting, photography, engraving and sculpture. One particularly interesting cultural site is the "Torre El Reformador". This is the only scale replica of the Eiffel Tower in the world.
While the cultural aspect of Guatemala is very enriching, sometimes we all get the urge to just get out and dance. Guatemala City's nightlife is very alive and active. The Zona Viva is the city's center for nightlife, offering everything from causal bars to booming discos. Expect lines at the more popular places, but in a colorful place like Guatemala City, people watching in line can also be very fun.
No matter when you decide to visit Guatemala City, there is sure to be something exciting going on. Get a feel for all the culture and excitement that Guatemala City has to offer by planning a trip very soon. It is sure to be full of laughs and memories.
Soccer is more than a game to billions of people around the world; it is a source of immense national pride. In South Africa, soccer was introduced to the colonies by their conquerors. African players, and their fans, took the sport as their own, driven to beat the Europeans at their own game. While it may have originated elsewhere, soccer is, in many ways, a truly South African game. So elegant in its simplicity, so egalitarian in its play, all you need is a ball and some willing participants. And there are many, many willing participants here!
South Africa hosted the 2010 World Cup Games, the first African nation to do so. Games were played at 10 venues, including 5 newly constructed stadiums. The eyes of the world were on South Africa as teams competed for the honor of being the best at the world's favorite sport. While the 2010 World Cup has long been won, soccer remains a terrific draw for visitors to this African nation.
The architecture itself is impressive, as is immediately apparent when visiting FNB Stadium in Soweto. "Soccer City" as it was called during the 2010 Games, has 94,000 seats and is one of the biggest stadiums in the world. Visitors can enjoy soccer matches, rugby games, concerts, and tours in the stadium. It is fast becoming a favorite South African attraction. There are other venues scattered across the country, and they offer some of the best playing surfaces in the world.
When attending a game, be prepared for as much action off the field as on. Safety is always a consideration, but fortunately, South African fans tend to be very welcoming and jovial. Of course we all like our teams to win, but rioting and chaos is not part of the experience here.
Instead, fans are loud and exuberant. They often accompany game play with vuvuzelas, or plastic horns. If you watched the World Cup on television, you remember their distinctive sound! When the national team, or Bafana Bafana, play, many fans wear replica shirts and proudly paint the national flag on their faces. Whether watching the national team or the many local teams, the same level of excitement is apparent. Enjoy – and make some noise!
In 2010, over 309,000 foreign visitors arrived in South Africa for the World Cup. Ninety percent said they wanted to visit again. If you come for soccer, chances are you'll fall in love with the country's many other charms!
« back