1. Ben Duoc Temple, Ho Chi Minh City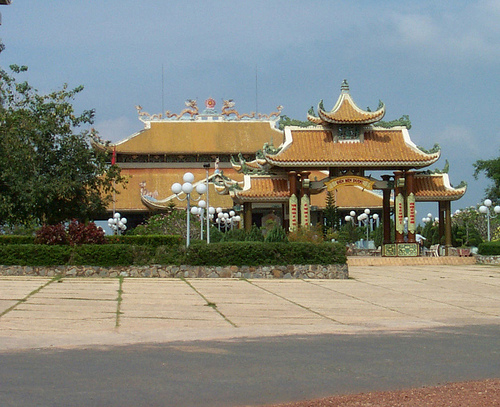 Duoc Temple is a monument to the fallen soldiers and civilians of the Saigon, Cho Lon, and Gia Dinh battlefields. While a stark reminder of Vietnam's past, the architecture epitomizes harmony and balance.
2. Chinese Temple, Ho Chi Minh City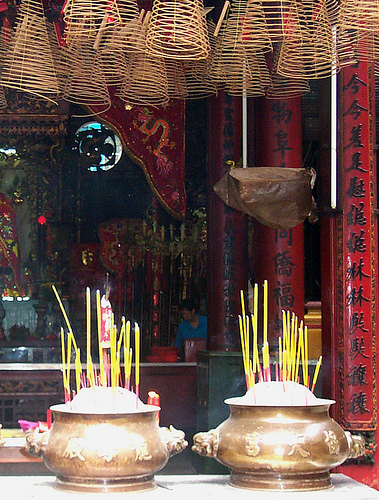 In the Chinese temples of Ho Chi Minh City, incense from urns and hanging coils prepare the faithful for worship and create a full sensory experience for visitors.
3. Ha Long Bay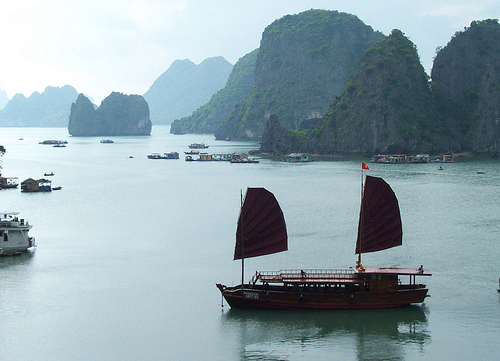 A UNESCO World Heritage Site, Ha Long is a massive bay, featuring thousands of limestone karsts (rock formations), limestone inlets, incredible biodiversity, and many endemic plant and animal species.
4. Ha Long Bay (2)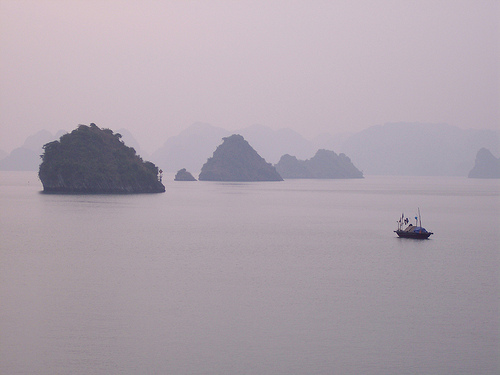 A popular tourist attraction, visitors to Ha Long Bay will be enchanted by its stunning beauty. The immensity of the bay and its many limestone formations create a lasting impression.
5. Hamong Family, Sa Pa Vietnam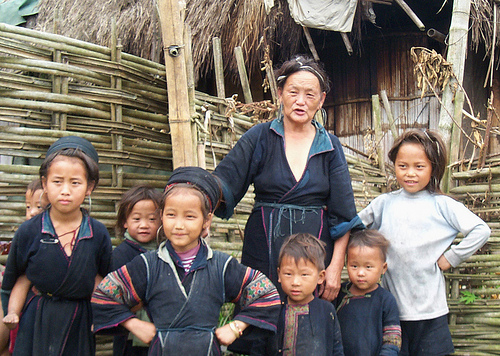 The Hamong people typically live in the mountains. Intrepid visitors make the trek on market days to buy handcrafted items, which provide essential income for Sa Pa families.
6. Phan Thiet Landscape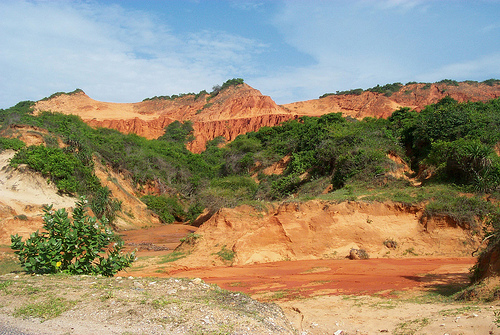 Phan Thiet is a world away from crowded Ho Chi Minh City with dazzling water and stunning desert landscapes. Be sure to sample the local seafood and fish sauce!
7. Lang Co Beach, Danang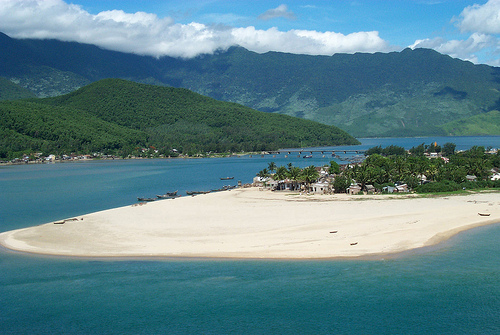 Pristine beaches against a verdant mountain backdrop: Lang Co is a sun-worshipper's paradise. Crowds are sparse; relaxation and views are plentiful.
8.  Lang Co Beach Coastline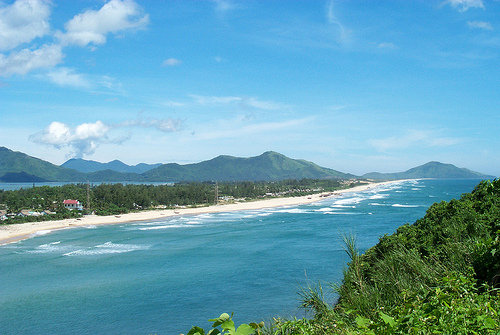 Visit from April to July for terrific weather. This is coastline that has, so far, escaped commercialism and tourist trappings.
9. One Pillar Pagoda, Hanoi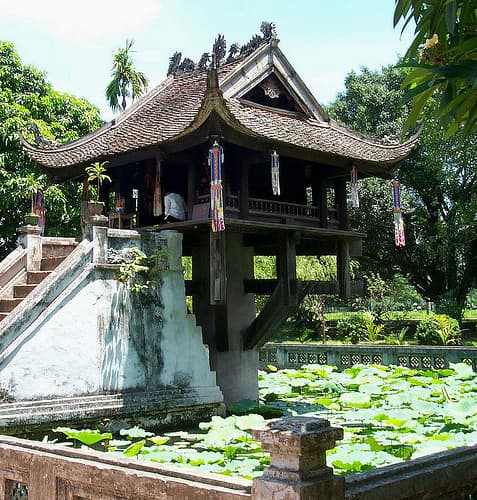 Visitors to One Pillar Pagoda, one of Vietnam's most famous temples, believe prayers here are answered with well-being and prosperity. Its name Diên Hựu tự  means "long-lasting happiness and good luck."
10. Perfume River, Hue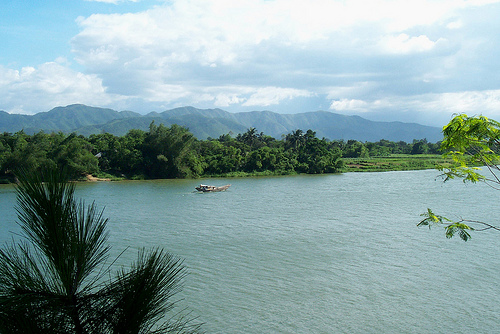 The best way to tour Hue is a relaxing boat ride on the tranquil Perfume River.  Try an autumn trip when the air is infused with sweet scents from the orchards.
11. Rice Field, Hanoi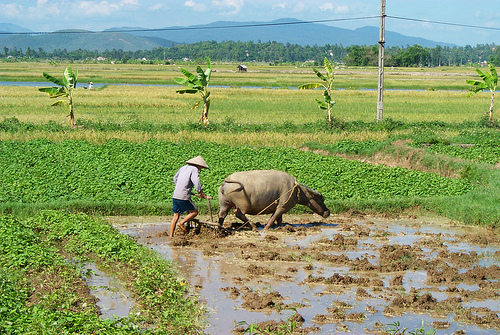 provide essential income for Sa Pa families.
12. Saigon River, Ho Chi Minh City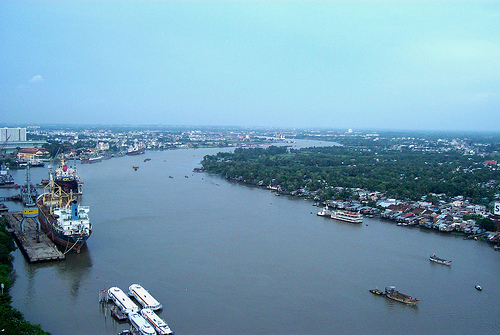 The Saigon River meanders along Vietnam's most significant sites, including Cu Chi tunnels, the Mekong Delta, and the Can Gio Biosphere Reserve.
13. Tram Fon Pass, Sa Pa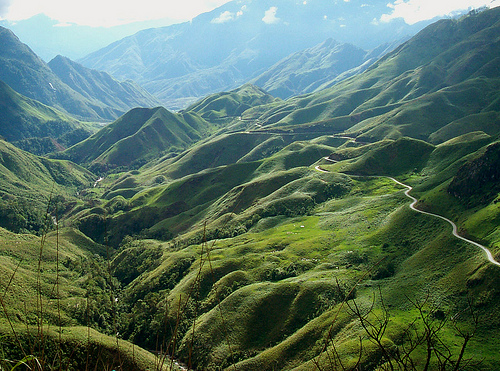 Tram Fon Pass, Vietnam's highest pass, offers an endless expanse of soft rolling mountains and intriguing mists make for a unique and unforgettable experience.
14. Vinh Trang Pagoda, Mekong Delta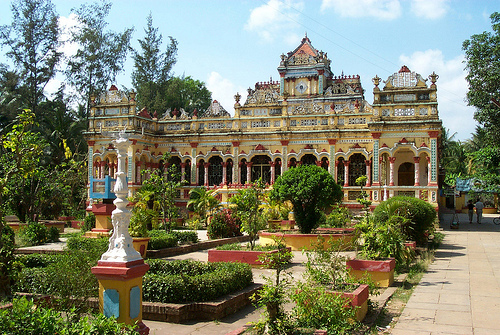 Amazing architecture, marvelous bronze and wood statues of Buddhas, and meticulous upkeep make Vinh Trang Pagoda a serene stop in any Vietnam tour. 
Thirty short years ago, it would have been unthinkable to plan a trip to Vietnam for a vacation. War, occupation, liberation and more war troubled the country. However, the chaotic past of this country has given way to a more pleasant and peaceful time.  Currently, Vietnam has a thriving tourism industry and offers travelers a chance to get to know a beautiful country with a rich history. Some of the more popular destinations for travelers are Halong Bay, Hue, Hoi An, Ho Chi Min City, and Hanoi. These locales are great, but there are a few less traveled destinations that beg to be explored!
1. Da Nang
Da Nang was a place that American soldiers traveled to for R&R during the Vietnam War. It' easy to see why, as it boasts some of the most clean and dazzling beaches in the world. While Da Nang does see a decent amount of visitors every year, it largely remains a hidden treasure just waiting to be discovered as most of its memorable spots are tucked away. Some great places to explore are the Cham Museum, Cham Island, Ba Hill Na Station and the Marble Mountains.
 2. My Son Museum
This museum commemorates the horrific My Lai Massacre of 1968. During this event, over 500 people were killed by American soldiers. As terrible as it is to see  this brutality, this museum is very educational as it has very detailed and graphic exhibits. This is one of the most emotional destinations in the world.
 3.Cham Island
After the drama of the My Son Museum, a trip over o the Cham Island might be in order. This paradise is just an hour off the coast and is home to expansive coral reefs. The colorful spectacle of fish make this and ideal destination for snorkelers and divers. Visitors can chose to camp out on the beach or stay at the islands guest house.
Vietnam is filled will history and traveling off of the beaten past can feel like traveling back in time. It is definitely an experience that will provide memories that will last a lifetime.
Many travelers are excited to see the marvelous sites of Guatemala but are hesitant because it is perceived to be a dangerous country with high levels of violence. Nearly two million people visit Guatemala each year, and the great majority does not encounter anything but a spectacular visit. When you take safety precautions, and have an understanding of where to go and where tourists should generally avoid, then you can have the trip of a lifetime. Guatemala offers a host of benefits for travelers.
Often, Guatemala is seen from the plane window as tourists head to Mexico or Belize. Here are five (of many!) reasons why you should make the stop:
1. Mayan Ruins of Tikal
Remarkable for the sheer amount of ruins – 3000 – and for its locale – in the midst of a dense, lush jungle, Tikal is not to be missed. The beautiful contrast of soaring architecture and primal landscape is striking enough to be a highlight of the trip. But take it further and start climbing. Some of the temples extend beyond the tree line so beware!  And wear comfortable shoes. Stay for the gorgeous sunset, which lets loose the cry of the howler monkeys. You won't forget the ruins – and you certainly won't forget that screech!
2. Chichicastenango
Perched in the mountains about 87 miles (140 kilometers) from Guatemala City, Chichicastenango is a world away. Not only are the views stunning, the shopping is extraordinary! Famed for its twice-weekly market, the city brings those who want to load up on pottery, jewelry, placemats, textiles, and much more at unbeatable prices. The handicrafts are all unique; no two are alike, and all make wonderful souvenirs and gifts. Remember to save room in your luggage and bring cash.
3. Antigua
Tourist trap that it is, Antigua is still well worth a visit. The colonial architecture is interesting and charm fills the central plaza, cobblestone streets, and the beautiful Cathedral de Santiago. Its locale is perhaps most interesting: Antigua is surrounded by three volcanoes!
4. Volcanoes
Speaking of these infernos, they are a perfect reason to visit Guatemala. Volcan Pacaya will give you memories that will last a lifetime. Molten lava so close you could touch it – but don't! If you crave a good hike (or a nasty, hard hike!) go to Volcan Santiaguito, which erupts every 45 minutes or so.
5. The prices
The budget-conscious traveler can use every dollar – or quetzal – to its fullest advantage. Guatemala is affordable; you can treat yourself to a longer vacation or do more (and shop more) than in more expensive locales. You can climb volcanoes, visit authentic marketplaces, look into the turquoise water of Semuc Champey, and visit "pricy" Antigua without breaking the bank.
One other reason to visit Guatemala: its people. They will make the sights, sounds, tastes, and experiences of this unique country all the better and more vibrant.
More and more, travelers don't want to spend their vacations lying down on the beach; they want to live it up on mountaintops, through rushing rivers, in ancient ruins, or soaring over the scenery in a helicopter, on a zip line, or with a parachute. Whether your adventure involves cycling, wildlife watching, kayaking, skiing, climbing, or caving, Latin America is a prime locale. Thrill seekers, get ready and put one, two, or all five of these destinations on your itinerary.
1. Galapagos
Not only is this region of the world incredibly rich in wildlife, including many endemic species, it offers a variety of fun ways to enjoy the local scenery. Visitors can cruise, walk, hike, snorkel, swim, kayak, and cycle as they absorb the sights and sounds of nature. You can accommodate any fitness level, from children to extreme mountain biker, at this stunning destination.
2. San Salvador
Gorgeous scenery and interesting architecture greet visitors to El Salvador's capital, which is just a short trip to sites like Joya de Ceren. This Mayan complex invites you to step back in time and explore ancient culture. Also close are beaches, ripe for canoeing, swimming, surfing – and even some lounging after a tough day of exploring volcanic rock cliffs.
3. Costa Rica
Take a "canopy" tour, which is an exhilarating zip line ride over the rainforest; go for a night jungle walk (with a guide!) to see the nocturnal animals most visitors miss; and ride the rapids. There are leisurely raft rides for families – and terrifying white water versions for old pros. Either way, soak in the scenery. Literally! Reward yourself for hanging on with a soak in a mineral-infused hot spring.
4. Peru
If adventure means meeting diverse and interesting people, Peru is for you. Peru hosts over 3,000 festivals each year, and most celebrate the culture and religion of its people. One of the most exuberant is the feast of the Virgen de la Candelaria. Held in Puna in February, visitors will witness the famous "Devil Dancers," bright, colorful costumes, dance groups, lively music, and a procession featuring an image of the Virgin.
5. Wine Tours of Argentina and Chile
If adventure is trying new things, why not indulge in culinary thrills? Find a tour, or create your own, that winds through the backcountry and cities of Argentina and Chile. Along the way, you will sample not only the finest wines and foods, but nature's best as well as the beautiful scenery glides by.
Latin America has something to offer everyone, no matter what their definition of "adventure"!
Nestled in the Himalayas, Bhutan features stunning landscapes, friendly people, and a rich and fascinating culture. Like a soft mist clinging to the mountains, there is an overarching sense of sacredness and deeply ingrained respect for spirit, people, and land that is immediately evident to visitors. Bhutan is a destination like no other; it offers a rare glimpse into another world, one that has been compared to Eden.
It's the Happiest Place on Earth!
Watch out, Disney. Bhutan is the real magic kingdom! The tiny nation is arguably the happiest on earth. As a whole, its people have enough in economic terms, but they have more than enough in wellness, community spirit, strong governance, environmental policies, and spirituality. It is the only country that measures its progress by its "gross national happiness." Being surrounded by some of the world's most beautiful scenery certainly doesn't hurt either! This contentment and satisfaction shines through and makes interactions with the native peoples that much more rewarding and enjoyable.
Bhutan practices strict crowd-control.
Until the 1970s, visitors were not allowed to enter Bhutan. Now, the number of visitors is limited, and each must obtain a travel visa and book their tours via an authorized tour operator. It is not a tourist destination, and, of course, this only makes the savvy world traveler want to explore its mystical nooks and valleys all the more. Those lucky enough to gain access (only about 105,000 per year) can enjoy a host of activities, from lively festivals to mountain trekking to kayaking, without jostling crowds.
An effortless blend of culture and environment.
"Ecotourism" is a growing trend, but it is no fad in Bhutan. It is a way of life that has thrived since time immemorial. Its people enjoy lives that are literally carved into the mountainsides. They make their livings from the land and its animals. Further, Bhutan is a biodiversity "hotspot" and hosts a variety of endemic and exotic animals, including snow leopard, elephant, blue sheep, tiger, golden langur, water buffalo, and over 770 species of birds. A variety of medicinal, edible, and ornamental plants and flowers bloom all over the kingdom. Bhutan is committed to protecting its biodiversity and its traditional way of life.
Bhutan is a prime destination for any traveler who wants more than a typical vacation; if you want to experience a country and its people at their most authentic, choose Bhutan.
When planning a world vacation, many travelers stick to the beaten path. Italy, France, Japan, Mexico…all beautiful, all worthy of visits, all magnificent and unique. But if you long for a destination whose path is less trodden by the masses, Uganda and Rwanda may be ideal for your next journey. While their pasts are mired in conflict, these nations are surging forward with renewed hope, and with a little help from Mother Nature.
1. Uganda is an epicurean dream
While other factors may have drawn you to Uganda, the food is certainly an unexpected – and delicious – perk of any visit. Source Café, on Main Street in Jinja, for instance, was founded with the goal of "Providing a space for locals and foreigners to connect over a meal." And over coffee. A model of ethical business, Source Café is your source for delightful, light cuisine and equally delightful Ugandan culture and company. Other choices include the best Chinese in Uganda, at Fang Fang, and international cuisine at the Black Lantern. Try the spare ribs!
2. Kigali, Rwanda has a great arts scene
Kigali is the cultural heart of this country. Nestled amongst mountain peaks and valleys, the Rwandan capital presents a bustling cityscape. Prominent to any visitor are the many memorials commemorating the genocide that scourged Rwanda's past. While paying homage to history, Kigali also builds its future with a thriving art and culture scene. There are theaters, museums, and an incredible diversity of talent.
Music is especially important to Kigali. Each year, it hosts Kigali Up, a fabulous festival that celebrates and promotes Rwandan artists and fosters collaboration with international artists and technicians. Festival-goers can enjoy traditional music, reggae, funk, blues, hip-hop, and other genres in fun, outdoor settings.
3. Uganda and Rwanda are thriving ecotourism destinations
Nature has provided these two African nations with glorious scenery and an abundance of wildlife. With a guide, visitors can watch magnificent, and massive, mountain gorillas from meters away or witness a family of chimpanzees at play. Beautiful national parks dot the landscape, as do herds of zebra and buffalo.  Keep your eyes open as safari landscapes and lush rainforests allow a wide range of natural beauties to thrive.
Discover the beauty, both natural and manmade, that Uganda and Rwanda have to offer. You may be surprised at just how stunning these destinations are and how indelible their mark on your memory.
If you are the type that wants to go on a trip to spend lazy days lounging around, then Zambia might not be for you. However, if you are an adventurous traveler who is in search of excitement, then definitely consider planning a trip! Zambia has been called a diamond in the rough; all it needs is for an intrepid traveler to carve it out and shine it up. When planning a trip to Zambia, it is very important to know where the best sights are. Here are three options of great places you should visit while in Zambia.
Victoria Falls
Victoria Falls is a very popular tourist destination in Zambia. There might be crowds of other travelers, but it is worth wading through them to see the spectacular views of the thundering mile wide falls. The spray from the falls can be seen from miles away and the roar of 546 million cubic meters of falling water per minute will stick in your mind for years to come.
South Luangwa National Park
The South Luangwa National Park is known as one of the greatest wildlife sanctuaries in the world. The concept of the walking safari was born here and it is a great way to observe some of the 60 different animal species and 400 bird species that roam the park. See antelope, hippopotami, baboons, giraffe, zebra, buffalo, elephant, storks, red chested cuckoos, and more.  Nature lovers will love a visit to the South Luangwa National Park.
Lake Kariba
With so many beautiful natural wonders in Zambia, it might sound odd to visit a manmade destination. However, Lake Kariba is definitely worth a visit. This is the largest artificial lake in the world and hosts a thriving ecosystem. There are numerous fish species, birds and larger animals that call Lake Kariba home. Its possible to spot Nile crocodiles, hippos and sometimes even elephants. Fishing is a major attraction here, so be sure to look into taking a fishing safari.
There is almost an endless list of amazing things to see and do in Zambia. However, Victoria Falls, South Luangwa National Park, and Lake Kariba are among the most exciting. Be sure to include them in your to-do list when visiting Zambia.
We have now had 2 lovely days in Melbourne, one driving along the Great Ocean Road in all its loveliness, and today in the gorgeous Yarro Valley. Although we have enjoyed all of it, including the great food and wine, we are most thoroughly (and not surprisingly) charmed by the furry and feathered residents. Yesterday, our guide stopped at a golf course and led us to an area where kangaroos were resting in the bushes, just as deer would be around U.S. Golf courses. We were able to get very close to them without alarming them, and particularly admired an adorable joey (young kangaroo). We later stopped at a park area where we saw more koalas in the trees, and hand fed amazingly-colored parrots. We plan to wander around Melbourne this evening, and then we leave for Aukland New Zealand tomorrow. This blog site, unfortunately, is not speaking to photos from the IPad, so we will continue to email you occasional pictures. Love you all.
Lisa and David
We are having a splendid time in New Zealand, although the internet is a little spotty, hence the lack of report. Auckland was wonderful, and David and I are happy that we will have another day there next week before heading back. We spent the past two days in Rotorura, which is midway into the north island, and is the center of geysers, hot springs and the Maori culture. Yesterday was magical, beginning with a sheep and dog show at the Agrodome, which was vastly more entertaining than it sounds. We then visited with the kiwis (the birds), saw the amazing geysers and then finished with the Maoris and a fascinating show they performed for us. Today, we are on our way to Queenstown on the South Island. Our friends are headed back on Sunday, and we will head on to Wellington. Given the weather we hear about in Cincinnati, we are happy to be staying with the Kiwis (the humans) for a while longer. We have never met friendlier and more welcoming people than we have encountered in Australia and NZ — just delightful.
Lisa and David
Victoria Falls, Zimbabwe Side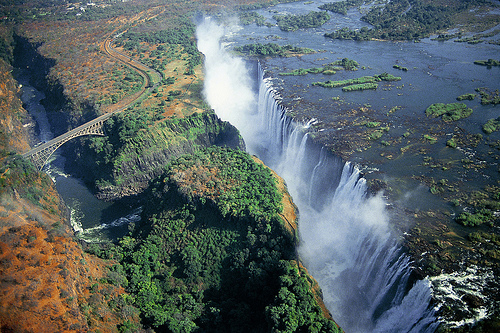 Many claim the Zimbabwe side of Victoria Falls is superior with its wonderful full-frontage vistas. The Falls offer great views and plenty of opportunity for hiking, rafting, kayaking, bungee jumping, and much more.
Chikwenya, Zimbabwe Wilderness Safaris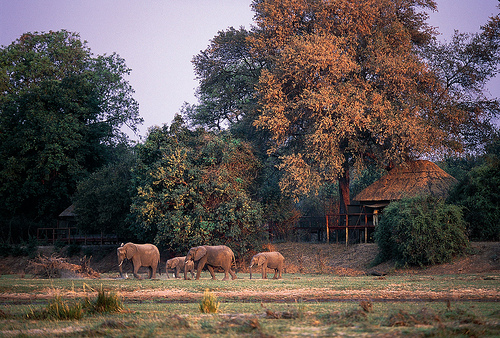 On the banks of the Zambezi River, Chikwenya offers luxury safari accommodations and prime big game viewing. Try game drives, night drives, bird watching, fishing, and other exciting excursions into the wild!
Leopard at Ruckomechi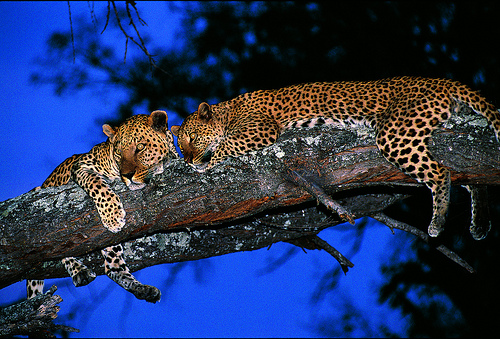 At Ruckomechi Camp, in the heart of Mana Pools National Park, you'll have the chance to spot elephant, buffalo, lion, cheetah, and maybe the elusive leopard.
Lions in Hwange National Park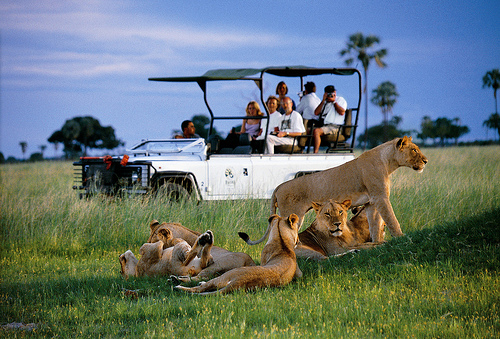 During the dry season, hungry predators haunt the watering hole, hoping for a good meal. Not to worry: these lionesses look fairly content!
Canoeing in Mana Pools National Park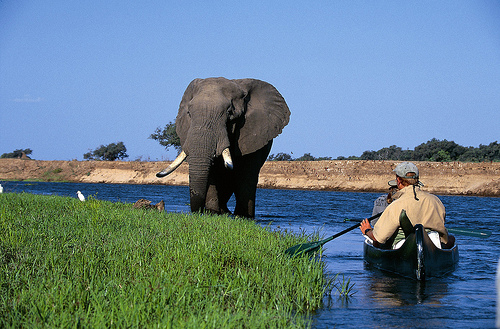 In Mana Pools National Park, you don't observe nature; you participate! A leisurely canoe ride turns into an unforgettable adventure with the help of a 14,000-pound African elephant.
On the Mana Walking Trail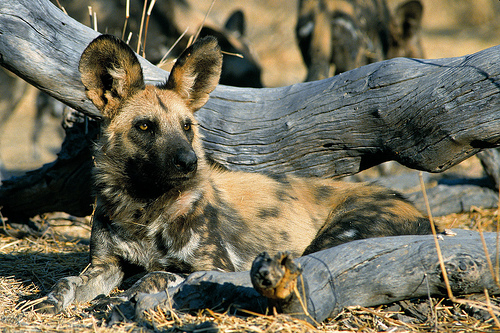 You never know who you'll encounter on your journey through Zimbabwe. In Mana National Park, this wild dog is alert, even at rest. Experienced guides will help keep you safe – but nothing can slow your beating heart!
White Water Rafting by Victoria Falls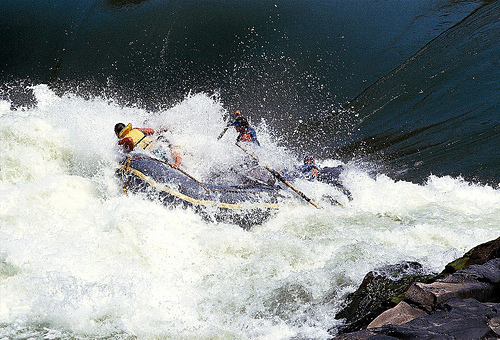 What's more incredible than viewing the "Smoke that Thunders"? How about tackling the rapids? Victoria Falls brings whitewater rafting to new levels. Don't just watch: get wet!
Black Rinos in Matusadona National Park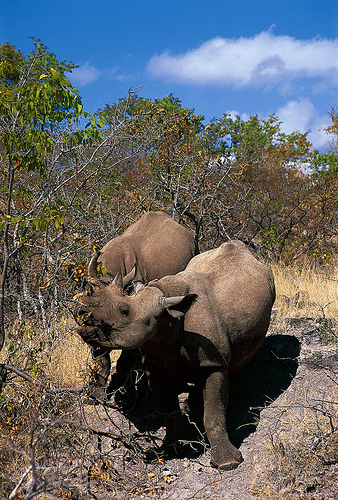 The endangered black rhino finds refuge at Matusadona National Park. Conservation efforts, ecofriendly accommodations, breeding programs, and a stable water supply help support a healthy population.
Matusadona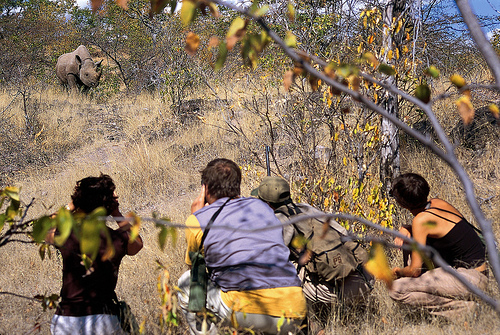 Loosely translated, Matusadona means "falling dung" – a testament to the large wildlife population of this park! Drawn by abundant water, big game like the rhinoceros are frequent sights, so always have your camera close by.
Makalolo Herd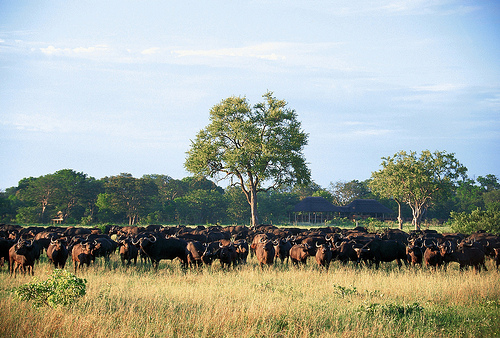 Exclusive game-viewing and luxurious camp-style chalets. What could be better? Makalolo is located in Hwange National Park, near a favorite watering hole for big game.
Elephants Taking a Quick Break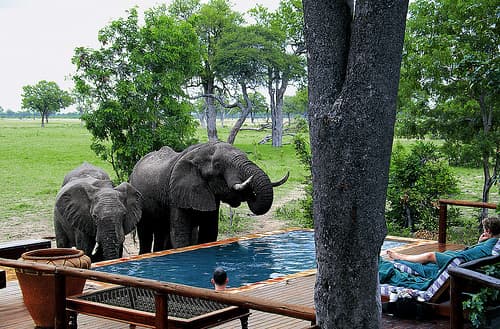 Swimming pool or watering hole? These playful elephants don't care for such distinctions. Makalolo is teeming with elephants, who are not afraid to come up and say, "Hello."
Matusadona Lodge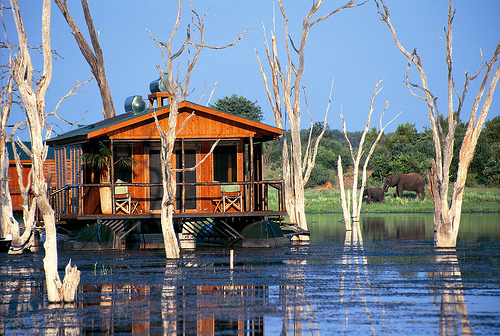 There are no boundaries between nature and luxury in Matusadona's best lodges. Stunning scenery and magnificent wildlife are interwoven into every experience, whether you are on a safari adventure or simply gazing outside your window.
Want to experience this journey first hand? View our Luxury Safari Tours to Zimbabwe!
Tibet is a place that was once closed off to outsiders. Now it is possible to journey to Tibet and visit some beautiful locales. Lhasa is one of these beautiful locations that you will want to see for yourself. You will feel as if you were stepping back in time to when life was very simple and void of modern technology. No matter where you stay in Lhasa, there will definitely be things you will want to do and see!
There are a few beautiful monasteries located in Lhasa. The Sera Monastery is one of the three very well-known monasteries where Tibetan monks walk the streets and are often seen as they make their way to and from temples. The word "sera" that the monastery is named for means rose. This is because when the monastery was built in 1419, the area surrounding the monastery was covered by wild roses.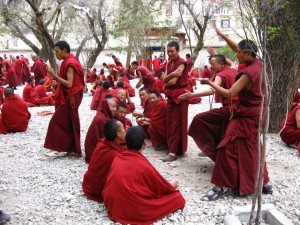 The Sera Monastery is a stunning place to see, but if you plan on trying to see all of it, be prepared to spend a lot of time as it stretches 28 acres. While touring the monastery, you will be able to see scriptures written in gold powder, amazing statues and beautiful murals. One particularly interesting thing about the Sera Monastery is that the monks hold debates about Buddhism using methods of debate that different than those at other monasteries in Lhasa.
If you are looking for a culturally rich journey, plan a trip to Lhasa. This historic city is home to beautiful monasteries, landscapes and people. It is sure to be an unforgettable experience.
We had two gloriously sunny days in Sydney. Today was our harbor bridge climb, and we reached the summit as the rains came. Quite an experience with harnesses, jumpsuits, and ladders, but we had a wonderful time, even though we were soaked and wind blown by the time we returned. It is still rainy, so we are having a reading and relaxing few hours before we go wandering out for dinner. We leave early tomorrow morning for Melbourne.
After 3 changes in itineraries and airlines because of flight delays that would have made our LA connection unlikely, we flew to Dallas, and then breathed a sigh of relief when we landed in Sydney — no, wait — Brisbane — an unexpected detour, but now we are in spectacular Sydney.   The harbor  is so beautiful it can bring your to tears.  We toured the Opera House yesterday morning,  and we were so thrilled by it, we  made plans to see a performance there tonight.  It actually houses all the performing arts groups in Sydney, from ballet to the symphony to drama, so we are seeing a show about Etta James. The zoo is amazing. I hope you can see these photos I have posted. We are having a little trouble with the internet right now, so I will log off and see if this comes through. Love you all.
Lisa
Atami Dragon Temple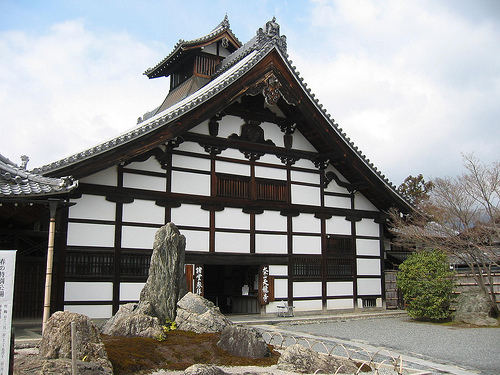 This temple, in the heart of Atami, showcases Japan's intriguing history and brings the visitor back in time.
Mante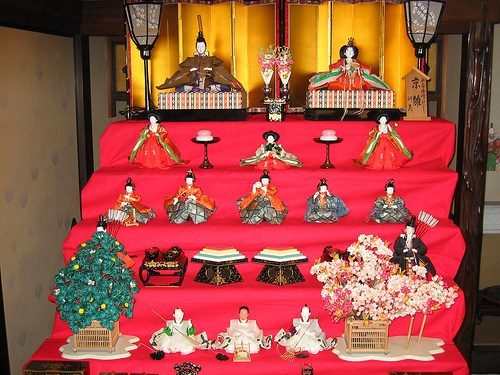 Authentic Japanese figurines reflect the vibrancy of traditional dress and exquisite attention to detail.
A Snowy Afternoon by the Pond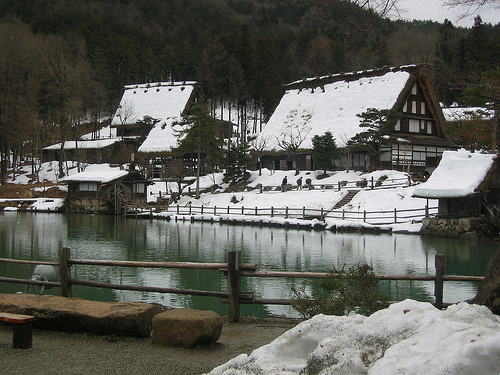 Escaping the frenetic pace of the ultramodern cities for a day and enjoying the serenity of nature.
Kasuga Shrine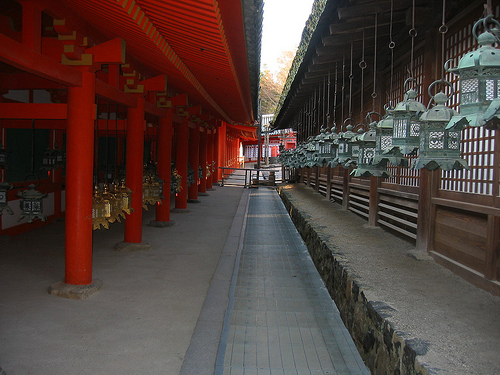 Nara's most famous Shinto shrine is known for its many stone and bronze lanterns. See them in all their glory during the February Setsubun Mantoro and the August Obon Mantoro festivals.
Shrine Dance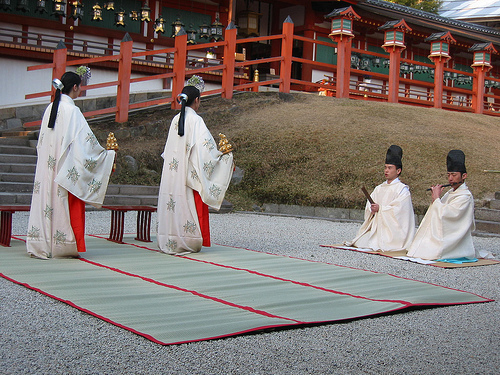 Shrine maidens dance the traditional kagura dance to honor the Shinto gods.
Happo-En, Tokyo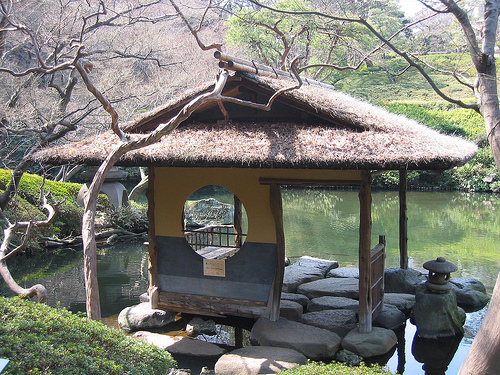 "Beautiful from every angle." Enjoy ancient gardens, tended with meticulous care for over a century.
Bullet Train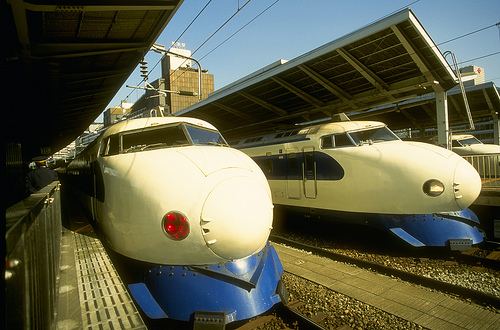 These ultra-modern trains travel up to 240–320 km/h (149–199 mph); an apt symbol for Japan's fast-paced city life.
Blossom Field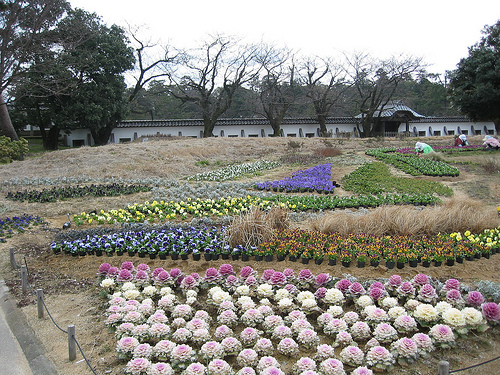 Blossoms explode in vibrant hues across rural fields, while manicured urban parks bring a sense of calm and peace to the chaos of color.
Working in Rice Fields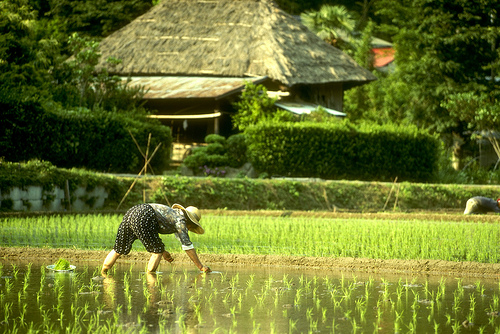 Paddy fields have had a strong cultural impact on Japan. Today, many residents of small villages still work the rice fields as they have for centuries.
Bonsai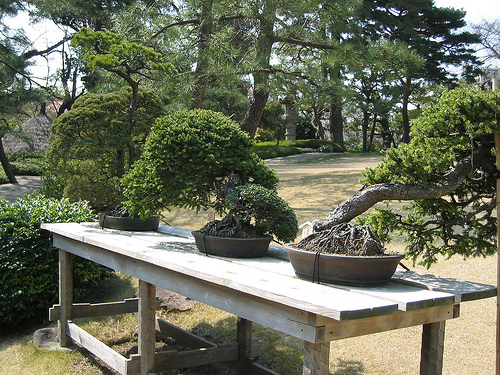 Carefully tended bonsai demonstrate the Japanese ideal of nature's beauty: calm, orderly, and balanced.
Japanese Children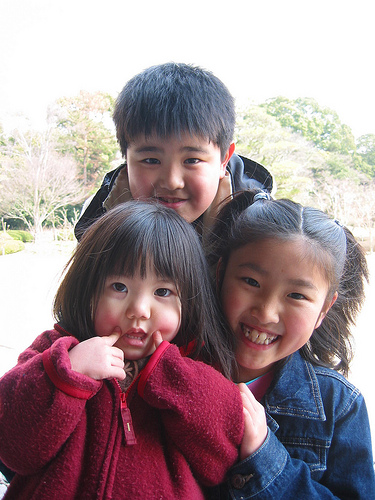 Some of the local Japanese Children smile and make faces for the camera.
Geisha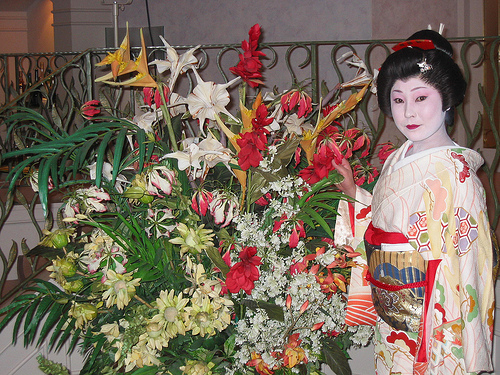 These entertainers specialize in dance, music, and games. Each aspect of their appearance is highly symbolic.
Cherry Blossoms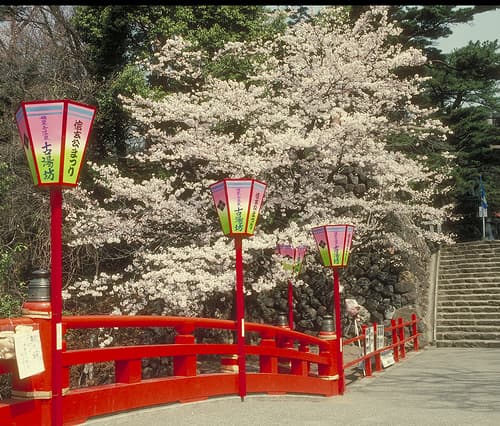 For centuries, people have enjoyed the tradition of picnicking and drinking sake under the billowing blooms of ume and sakura trees.
Nagoya Castle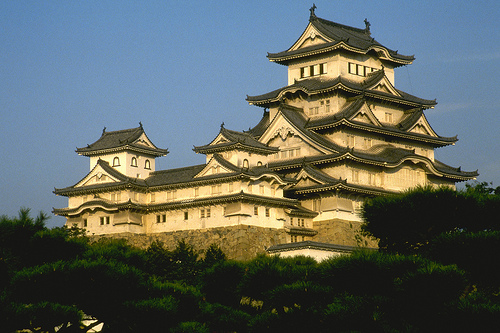 In addition to its stunning architecture, Nagoya Castle is a prime destination for hanami, or cherry blossom viewing.
Kyoto Pagoda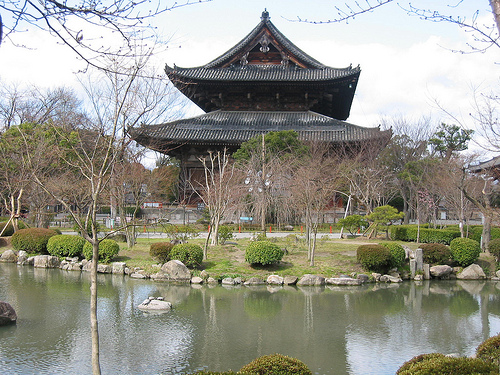 Japan's tallest wooden tower is open just a few days a year to preserve its ancient structure. Enjoy the beautiful grounds, koi-filled ponds, and the bustling, authentic flea market held on the 21st of each month.
Kasuga Shrine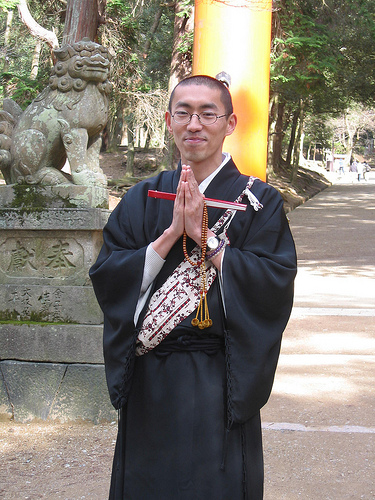 The long pathway leading to the shrine gives worshippers an opportunity to prepare their minds for prayer.
Kasuga Shrine Holy Water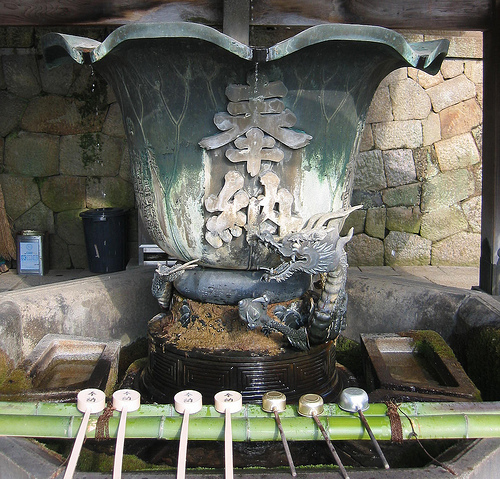 Past the main entrance of the Kasuga Shrine is the Temizuya, a basin in which it is customary to wash your hands.
Traditional Drummers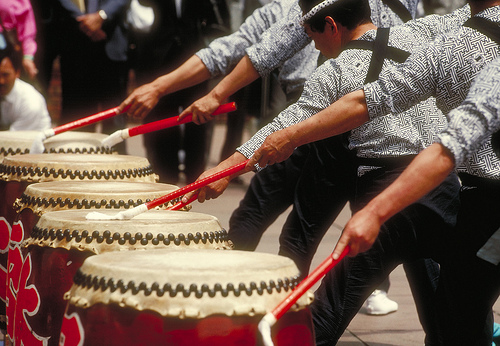 Traditional drummers bring the ancient art of taiko to modern audiences with thundering, graceful performances. 
Mount Fuji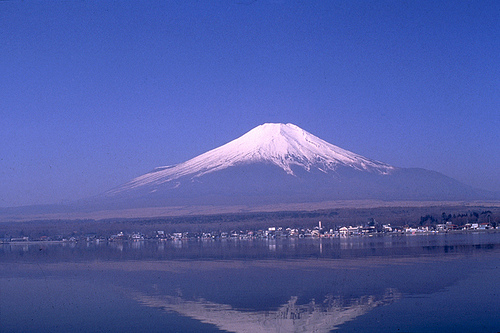 Japan's tallest mountain is also a perfectly shaped volcano. A World Heritage Cultural Site, Fuji has inspired poets, artists, and pilgrims for centuries. 
Always wanted to visit Japan but didn't know where to start? From Tokyo to Okinawa to Mt. Fuji, get started with our carefully curated Custom Luxury Tour to Japan!
« back