Tiny Costa Rica sits on just 0.03 percent of the Earth's surface – but, oh, what a 0.03 percent it is! With 5 percent of the world's biodiversity, these mountains, wetlands, and coastal regions are the richest in the world. But these habitats are also incredibly vulnerable: deforestation, development, and pollution threaten Costa Rica's abundant natural treasures. How is the Central American country dealing with these threats – and how can visitors help?
As valuable as lumber and land is, Costa Rica boasts assets even more prized. There are:
12,000 plant species.
1,239 butterfly species.
838 bird species.
440 species of reptiles and amphibians.
232 species of mammals.
Creatures ranging from massive whales and dolphins to the majestic glasswing butterfly depend on protected forests and conservation areas in order to survive and thrive. To help its wild citizens, Costa Rica has one of the most progressive conservation programs among rainforest countries. One initiative gives landowners $50 per 2.5 acres with the agreement that the land will be protected. Another program, FUNDECOR, helps landowners develop forest management plans that reduce impact on the forest.
More than 90 percent of Costa Rica's electricity is generated from renewable sources, and the nation hopes to reach 95 percent by 2014. The country has an imprint that is just a quarter of the size of the United States, and, according to Happy Planet Index study, Costa Rica is the greenest country in the world – and the happiest. While deforestation wreaked havoc with the environment, and all is not healed, the country is making significant strides, and its people are supportive. While they pay considerable electricity bills, for instance, they see it as the price for a healthier planet.
Ecotourism is another important factor in Costa Rica's efforts at achieving greater sustainability and reducing impacts as much as possible. Considered the birthplace of ecotourism, visitors flock to see the myriad of natural wonders – and learn more about the delicate balance that Costa Rica must tread between progress and conservation.
Visitors' spending also helps protect the parks, beaches, and jungles through which they travel. Travel-related services and lodgings can earn environmental certificates which indicate that they are "eco-friendly," a big boost since nearly half of Costa Rica's visitors come for "ecotourism."
Designated as one of The Developing World's 10 Best Ethical Destinations, Costa Rica has not had a stainless past, nor is its present perfect. Man still impacts earth, but the country is taking significant steps to ensure those steps are lighter and do not leave as big an imprint.
The people of Nepal live amidst some of the world's most rugged, and often unforgiving, landscapes. For all that, though, they are among the warmest and most gentle people that any traveler could hope to encounter. Nestled high in the Himalayas, Nepal offers a fascinating study in contrasts, from crowded cities to lonely mountain peaks, and from colorful cities and temples to nature preserves in tones of brown and green, from religious pilgrimages to exciting nightlife. Nepal is a land that gives travelers more than they expect – even when expectations are high.
Nepal is the birthplace of Buddha. As Buddha's birthplace, Nepal is a site of pilgrimage for the devout. But Nepal's beautiful spiritual tapestry is woven with Hinduism, Tantrism, Islam, and Christianity. Beliefs live in harmony, and the traditional greeting is to put palms together, bow the head, and say, "Namaste," or "I salute the God in you." There are many temples and festivals held in Nepal, which are unforgettable experiences regardless of the traveler's spiritual beliefs.
Nepal is a mountaineer's heaven. Nepal is home to the world's highest point, Mount Everest, but you will also find eight of the world's ten tallest peaks. Expeditions are arduous; there is literally nowhere else on Earth where you will test your body, mind, and spirit as exactingly. Those who want adventure on a slightly less intimidating scale can mountain bike and engage in shorter excursions. Sites are still guaranteed to wow.
Home of the hardy Sherpa. Speaking of unbelievable mountain peaks, Nepal is also the home of the Sherpa people. Sherpas are often employed as guides for climbing excursions because they are immune to the effects of the altitude. Besides mountaineering, the Sherpa people have a rich and vibrant culture.
Shop till you drop. Whether you are in the market for handicrafts, including woolen carpets, paintings, wood carvings, ceramics, paper products, knitwear, jewelry, and pashmina scarves or want to stock up on Gucci, Chanel, Christian Dior, and Yves Laurent for unbeatable prices, Nepal is the shopping destination for a lifetime.
An abundance of World Heritage Sites. Kathmandu Valley has seven World Heritage Cultural Sites. Clustered in a 15 kilometer radius, the visitor has his choice of exciting locales from which to choose, from Durbar Square with its ancient temples and palaces to Lumbini, the birthplace of Buddha. In addition, two natural World Heritage Sites reside there: Sagarmatha National Park and Chitwan National Park, where visitors can hope to catch a glimpse of the rare snow leopard and Bengal tiger.
Nepal is a fascinating country, one that honors its past and its culture, weaving the past seamlessly with the present and creating an unforgettable experience for anyone who ventures into the Himalayan haven.
Australia is one of the most popular travel destinations in the world because it has cities bustling with activity and stretches of open field that go as far as the eye can see. A visitor can travel from one landscape to another, enjoying the diversity that Australia offers. They say that beauty is in the eye of the beholder, but nobody can argue that Australia is one of the most beautiful places in the world.
If you are looking for an escape, pay a visit to the Northern Territory. This are is one of the least populated regions in the world and is also one of the most diverse. The coast of the Northern Territory offers up some great opportunities for photography and fishing with sharks and large schools of mackerel. There are also nearby rivers that will please fishermen, as they are home to archer fish, barramundi and other species. To the east and west, there are semi-arid regions which show a totally different side to this country.
Even in Australia's more populated areas travelers can easily find natural beauty. In South Wales, there are gorgeous beaches, mountains and the famous outback. Sydney is also home to diverse landscapes as it is surrounded by mountains, forests, river valleys and natural parks.
Whether you want to rough it in the outback of Western Australia or relax on the beautiful beaches of Queensland, you will always be close to a unique locale and a great way to take advantage of it. One final relaxing way to pay homage to Australia's natural beauty is with a glass of wine from one of the country's world class wineries.
As you can see, Australia is a very diverse country just bursting with adventurous opportunities!
Buenos Aires means "fair winds." Visitors to the Argentine city will find much more than that. One of the most culturally vibrant and lively cities in the world, a Buenos Aires vacation offers events, festivals,  restaurants, shops, nightlife, and much more. If you need a vacation that will break the mold and give you the memories of a lifetime, you have found your destination.
Immediately apparent is the passion and zest for life that is ingrained into every part of Buenos Aires culture. This is embodied in the unique Calle Museo Caminito. The street museum is full of artists, music, tango dancers, tacky souvenir shops, sculpture, cobblestones, and tourists. If you want to do some prime people watching and feel a part of a lively crowd, this is the place for you. You will also find a variety of shops, museums, art galleries, and other attractions to keep your time happily occupied.
A short trip from downtown is the Tigre Delta, an oasis of waterways and forests. Residents and visitors depend on the river for transport, commerce, entertainment, laundry, cooking, and cooling off! Take a lazy cruise or visit during the week. There are beaches, restaurants, gambling, and South America's largest amusement park nearby to enjoy.
Back in Buenos Aires, the nightlife is waiting. You might want to take a nap during the day to prepare. There is a United Nations of food options waiting to start your night. French, Indian, Italian, Scandinavian, Japanese, Chinese, Middle Eastern…you can even get Argentine food! From there, visit a few of the city's best pubs, bars, and clubs. Whether you love tango and salsa or house beat and techno, you'll find something to suit virtually any taste.
Sleep late the next morning and then get up for a festival or special event. They are strewn about Buenos Aires' calendar, and you'll find something going on at virtually any time of year. From carnivals and dance festivals to art, film, music, and food events, you will gain great insight into Buenos Aires culture.
Buenos Aires is a tremendously diverse city: you can see a large plastic Jesus rising at the world's first religious theme park, visit labyrinthine cemeteries and mausoleums, bird watch, take tango lessons, drink all night and  sleep all day, buy designer clothing, and hunt for  relics in San Telmo. Past blends with present, modern with ancient, passionate with relaxed, lively with serene in this city of fair winds.
If vacation is not time off for you but time on, then you may get bored sitting on a tropical beach or following a tour group around attractions you've seen in countless travel magazines or websites. You want something new, something exciting – or a new, exciting way to see "traditional" destinations. Adventure travel is made for people like you. Here are our top tips for making your vacation the adventure of a lifetime.
When you make an investment, you have to take into consideration your risk tolerance. With adventure travel, you have to figure out your "adventure tolerance"! Is adventure going somewhere few people go? Or is it jumping out of an airplane? This will inform your choice of destination.
How fit are you? Hiking the Inca Trail to Machu Picchu or sea kayaking off the coast of Greenland are wonderful adventures, but they are also intensely rigorous. If, for instance, you have bad knees, you may want to avoid extreme hiking and opt, perhaps, for a walking or biking tour over more level terrain. This can still be an adventure, one that your knees can appreciate.
"Adventure" often means a bit of danger, especially if you visit locales like Mexico, Brazil, Venezuela, Zimbabwe, Yemen, Kenya, and Somalia. While these destinations have much to offer, it always pays to be cautious. Before you plan your trip, look for travel advisories and warnings from your government. They may advise you as to precautions or to avoid a specific destination altogether.
Keep all of your important paperwork in a safe place, and leave a copy with friends and families. When in a foreign locale, familiarize yourself with local police stations and your embassy. The US State Department, for instance, has a Smart Traveler Enrollment Program that allows you to register your travel so they can assist you more effectively and efficiently in an emergency.
If traveling abroad, check your medical insurance coverage if you should, oh, hurt your knee! In all seriousness, make sure you're covered for illness or accident. Related to this, make sure you have the immunizations you need.
Check the weather! If you are from northern Canada and you go to Egypt during the summer months, those 104˚ days are going to be quite a shock. Also, because many regions have dry and rainy seasons and extreme temperatures, you want to make sure you are safe and comfortable.
There is a lot to consider when planning your adventure vacation, but don't lose sight of your goal: to have fun! There are a variety of wonderful destinations that will help you achieve just that.
During vacations we often feel as if we have to pack as much fun and excitement into a short period of time as we can. Usually we need a vacation from our vacation once we return home! In an area as bursting with life as Panama, it might be beneficial to focus on a few exciting things rather than trying to experience everything the Central American country has to offer all at once. Here are three things that will occupy your time, leave you with great memories and refresh your mind just as a vacation should.
Shop – Panama is considered a duty-free haven. While it does have duty-free stores, they are far more limited than the visitor is led to believe. Instead of searching through megamalls or trying to find duty-free items, try Panama's smaller markets and shops. Local vendors sell leather goods, beaded necklaces, native costumes, jewelry, straw products, wood, ceramics and much more. There are many souvenirs here that can't be found elsewhere in the world. Its possible to find tagua nut jewelry, vegetable ivory carved into figurines, Ngobe-Bugle dresses, Embera Indian baskets and Kuna Indian crafts if you stop by the Mercado Nacional de Artesanias.
Beaches – If shopping is not your ideal way of relaxing, you might want to check out the beaches. The best beaches in Panama are on its islands. In the mainland, the beaches can be dreary and dirty, but in the islands, you will find soft sand and pristine water. The Isla Bastimentos National Park in Bocas del Toro has beautiful beaches such as Red Frog, Wizard and Playa Larga. All of these beaches also have a gorgeous jungle backdrop. One of the best features of these beaches is the incredible coral. You will definitely want to bring your snorkeling gear as the colorful fish that congregate around the coral are amazing to see.
Stay up late – The perfect way to end a day of shopping or lounging on the beach is exploring the Panamanian nightlife. There is an assortment of bars and clubs offering everything from German beer and sushi to English-style pubs and thumping house music. No matter what your preference is, Panama is sure to have something for you.
We have been in contact with our Kenya office since very early this morning. We have both travelers currently in Kenya and travelers en-route. Those currently in the country are safe and accounted for and on safari. The first departure from Kenya is in about 48 hours. Those en route to Kenya are in transit and have been provided hotels by the airlines or by our 24 hour White Glove Service® assistance team.
The hotels and camps are working with us to push the arrival dates back and move the reservations accordingly. Terminals 2 and 3 are being prepared for international arrivals as both have immigration facilities. We are expecting for international arrivals to resume by Friday. Land transfers into Kenya from Tanzania are not affected except for increased security. Domestic flights from Wilson Airport are carrying on while domestic flights from JKIA are expected to resume later today along with cargo flights.
If you have any immediate questions please feel free to ask here or on Twitter by mentioning @bigfivetours with the hashtag #Nairobi
Please see the following statement from the Statehouse Spokesperson on the situation.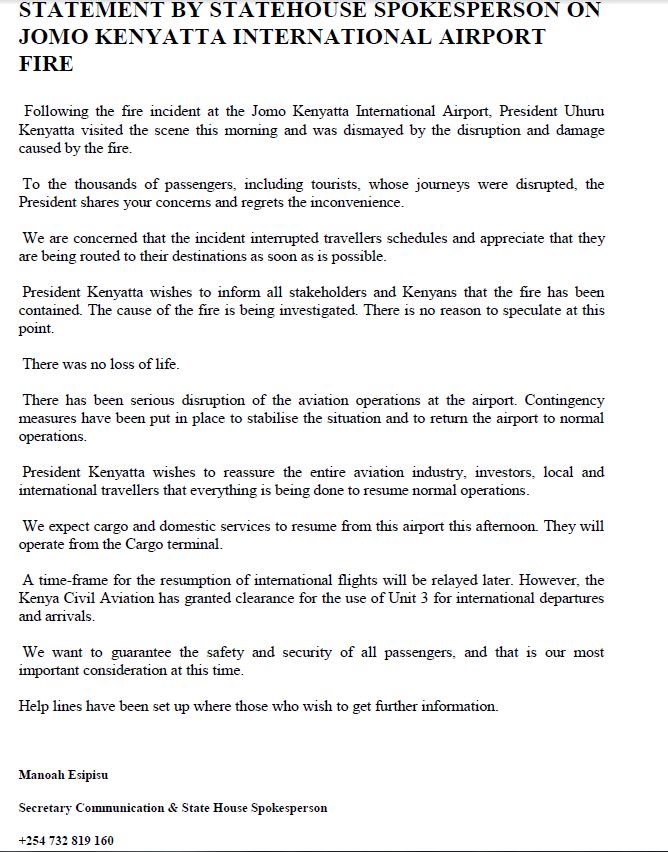 Thailand is a country that is steeped in tradition, from religion and spirituality to the foods served on its people's table to the direction in which one points one's feet. The "wai," or the traditional Thai greeting is done by putting your hands together, in front of your chest, and bowing your head a bit. As a courteous visitor, you can do this when someone "wai's" you, when you are meeting someone for the first time, or when you are greeting someone. If you hold your hands higher and bow your head longer, it shows great respect. A visitor isn't expected to know all of Thailand's traditions – but as with any locale, the more you understand and honor those traditions, the richer your experience will be.
One Thai tradition that will thrill visitors is the abundance of festivals devoted to praying for rain. Farmers depend on rain for healthy crops, of course, and they hold a variety of events as a means of asking, of hoping, and of inspiring themselves for the rainy season.
The Rocket Festival, for instance, is a northeastern Thailand tradition held at the beginning of the rainy season. Legend has it that powerful god Phaya Thaen stopped the rain because he was angry with the world's animals. Phaya Khankhak, an incarnation of the Buddha, helped the animals defeat Phaya Thaen. Since then, Phaya Thaen had to promise that he would make the rain fall if bamboo rockets were launched. The most grand of the Rocket Festivals is held in Yasothon Province and visitors will love the colorful rockets, beauty contest, and folk entertainment.
Another particularly appealing tradition is Thailand's world-renowned cuisine. Eating is a communal activity (outside of Western restaurants, of course), and many matters of etiquette deal with social status. For instance, you wait for the "leader" of the group to invite you to begin eating. Thai food is served communally, as on a large platter, and you take a sample (two to three mouthfuls) of different items. Be prepared to spend time; it is an event as much as a meal.
Thailand's traditions revolve around respect: touching someone on the head may be rude, for instance, or pointing your feet towards someone while you sit on the ground is a sign of disrespect. While we may trip up and perform faux pas when visiting, it is the attempt at honoring Thailand's traditions that matters most. It is our own sign of respect. Make the attempt, apologize sincerely if a mistake is made, and above all, enjoy the remarkable hospitality of the people of the "Land of Smiles."
Visiting China can provide you with the kind of vacation that you will never forget.  But there are some locations in China that can make your visit extra special.  Shanghai alone is a stunning place to see.  During the day, the city teems with life, food, and entertainment.  At night, find yourself a rooftop vista because the way it lights up is simply amazing.  Unique architectural structures, winding roads, and tall bridges are full of light and can make for excellent photo opportunities.
But it's the Bund in Shanghai that has become the most well-known place.  Unfamiliar with it?  An Anglo-Indian word, "bund" means "embankment along a muddy waterfront."  In 1846, the British opened an office in this location and since then it has grown and transformed into what we see today.  Shanghai is known as a city of trade, which is why it is a city that never stops and is brimming with life and trade, food and drink, music, boats, and people.
The Bund extends from WaibaiduBridge to Jinling Road and is situated on the western bank of the HuangpuRiver.  This river is 114 km long and a tributary of the Yangtze River.  No longer is it just a sliver of land, but now it is a place for cargo boats and tourist ferries to dock and cruise from one place to another.  Take a boat ride all the way down to the estuary of the Yangtze and back for a three hour round-trip that will show you everything along the river.
The Bund also has an amazing collection of architectural styles that have been built up over the years.  Stroll through the streets and don't be surprised to see styles that range from Greek to Renaissance, Baroque to (of course) Chinese.  From old European architecture to towering skyscrapers that gleam in the sun, the Bund is a place where time seems to have blended together.
Not all of the Bund is buildings and trade.  You'll find plenty of flowers and trees throughout.  Chinese wisterias bloom in warm weather, ginko trees offer shade with their little fan-shaped leaves, and azaleas show off their vibrant colors.
If China is your next destination, be sure to visit the Bund in Shanghai.  Enjoy the day and stay up to see the nightlife.  You'll never be bored here and make sure your camera has plenty of available memory!
« back