Tanzania and Zanzibar Private Villas
TANZANIA
Singita Serengeti House
Number of Luxury Villas: 1            Capacity: Up to 8 Guests in Total
Singita Serengeti House is located on the plains of the private 350,000-acre Grumeti Reserves in Tanzania. A perfect retreat in the Great Serengeti ecosystem this contemporary private safari lodge located on the foothills of Grumeti is ideal for families or couples getting together to celebrate a much-awaited reunion or host a special occasion in the African wilderness. In reserving the lodge you gain your very own private guide and safari cruiser to go out on game drives with activities designed to your own schedule. An infinity pool like no other awaits at Serengeti House with a view where Elephant and Giraffe stroll by as you unwind with a book. Enjoy hot Air ballooning at the break of dawn start off an exciting day's adventures or take advantage of a private tennis court and gym on the property to keep up with your daily fitness routine. Everyone enjoys the 'family-style' dining, with platters of food served in the center of the table. The kitchen is also part of the home and guests are welcome to pop in at any time and get their hands messy with the chefs!
Bailey's Banda
Number of Luxury Villas: 1            Capacity: Up to 8 guests in Total
Bailey's Banda, an 'owner's house' or private villa positioned on the hillside overlooking the main camp enjoys stunning views into the valley and the hippo pools which are certainly wild Africa at its very best. Bailey's Banda is still part of the camp but enjoys its privacy and is the perfect hideaway for those who want to appreciate the bush without the 'camaraderie' of staying in a 'house party-style' camp like Beho Beho. During the heat of the day what better than to have your own private pool, sun deck or the shade of a sun-umbrella and in the evenings dinner under the stars before settling down in the comfort of your own sitting room to enjoy some music or a movie before bed. The accent is on privacy and enjoying the quality 'private time' that is sometimes hard to find on safari, with dedicated staff, its own kitchen (complete with chef) and exclusive safari vehicle or private boat. Game activities are tailor-made to suit each guest and are guided and guarded by some of the most qualified guides in East Africa.
Thanda Island
Number of Luxury Villas: 1 Villa and 2 Beach Chalets            Capacity: Up to 14 Guests in Total
Thanda Island is located off the coast of Tanzania on a private island in the Indian Ocean. The Villa offers relaxed living and sleeping areas, with everything you would want from an extraordinary beach house, including an indoor aquarium, a variety of musical instruments, magnificent wine collection, glass rim-flow swimming pool, air-conditioned gym, library, including an extensive Ernest Hemingway book collection, and a wraparound dining area with its 180-degree view of the ocean. For our guests who want to relax, there's music, yoga, and spa treatments, for our energetic guests, we're geared for action, including scuba diving and snorkeling, big game fishing, exploring the ocean in our catamaran or cruiser, playing tennis and volleyball, working out in the gym, walking and jogging on the beach, exploring the island, our special Egret Walk and, of course, dancing in the moonlight under African skies. You have exclusive use of the magnificent Shungimbili Island Marine Reserve. At your disposal is our 36-foot adventure vessel Sazi; our 28-foot reef runner, deep-sea fishing cat, Real Magic; our 34-foot Cobalt motor cruiser, Island Princess, and all three vessels are commandeered by our trusted captain and crew. The Thanda Island menu includes ocean-fresh fish and seafood, vegan and vegetarian dishes, beef, game and poultry; crisp seasonal vegetables and tropical fruits, and a choice of divine desserts. From breakfasts on the beach to romantic dinners and bonfires to picnics on a sandbank in the ocean or on a neighboring island and spicy Tanzanian cuisine – whatever you desire, we'll deliver.
ZANZIBAR
Zambia Private Villas
Robin's House
Number of Luxury Villas: 1            Capacity: Up to 7 Guests in Total
Set upstream from Nkwali under a thick canopy of trees you will find Robin's House. Robin's House is a small, private and exclusive house on the banks of the Luangwa River, ideal for young families or friends seeking a more indulgent type of safari. This two bedroom house with main living area provides a shady and cool retreat from the African midday heat and if that is not enough there is a stunning plunge pool to soak in whilst looking over the Luangwa River. During your stay you can enjoy a wide variety of activities such as game drives, walking safaris, seasonal boating, village tours, as well as visits to the Wildlife Education Centre and a tribal textiles experience. With its own team of staff dedicated to looking after you Robin's House offers a home away from home but with added luxuries.
The River Farmhouse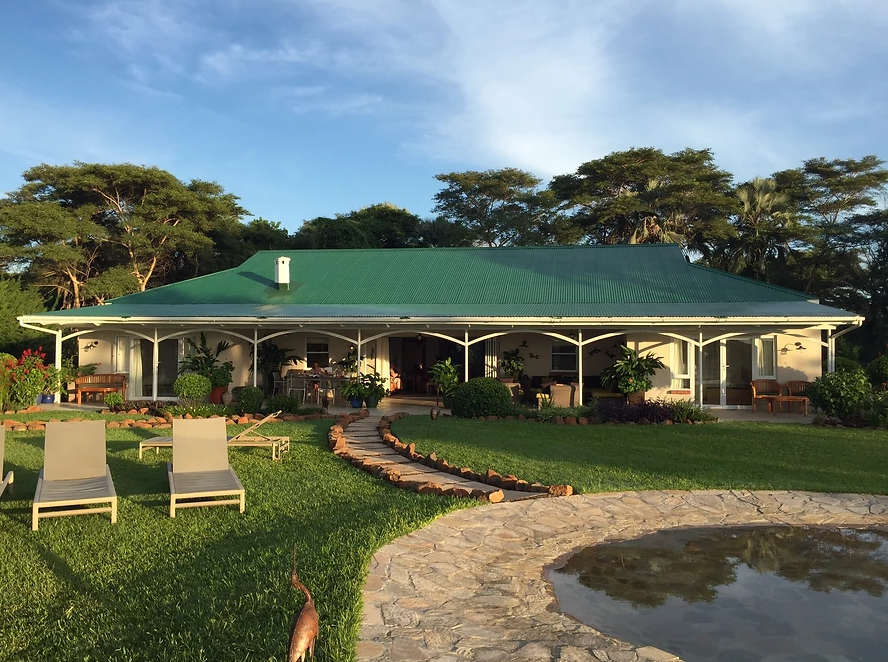 Number of Luxury Villas: 1            Capacity: Up to 8 Guests in Total
With family holidays and groups of friends in mind we built River Farmhouse on the site of the old colonial farm. Designed for keeping cool under the Zambian sun, the main living space leads through large patio doors onto a shady veranda. The veranda is perfect for outdoor living – with dining area and comfortable alfresco furniture, just a few steps away from the pool, and with an outstanding view over the beautiful gardens to the Zambezi river and the game park on the opposite bank. There are sun loungers around the infinity pool and seats under the shady trees and beside the fire pit (for chilly evenings). A private boat with guide for river cruises and fishing;  a chef, butler and household staff to cater for you, your activities organized for you, what better way to relax and enjoy the wonderful Zambezi?