Sri Lanka Private Villas
Tea Country, Sri Lanka  Sri Lanka Private Villas
Camelia Hilla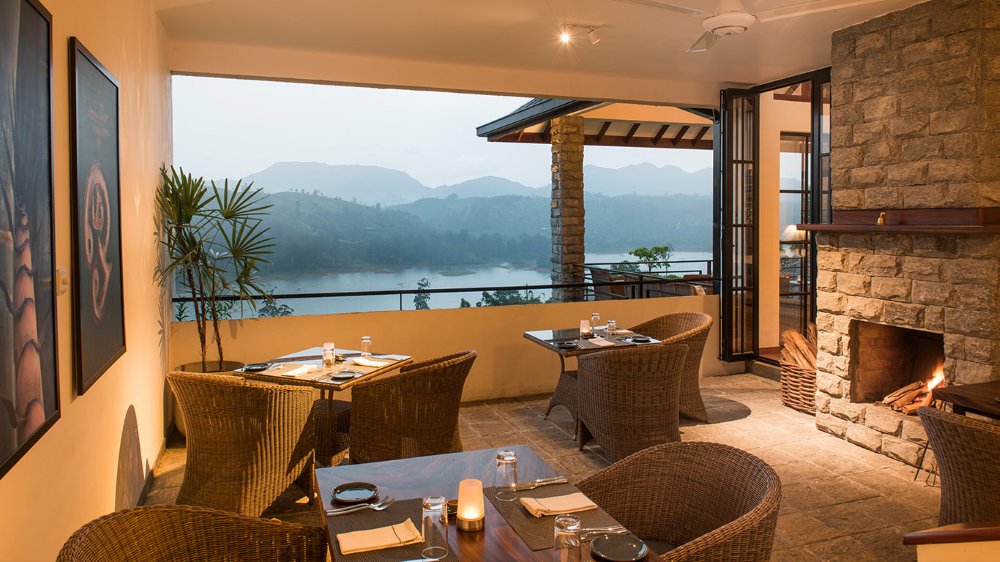 Number of Private Villas: 1            Capacity: Up to 10 guests
In the Castlereagh Valley, near Dickoya, you will find Camelia Hilla nestled into Tea Hill, overlooking Castlereagh Reservoir and boasting dramatic views. There are just five very individual timber-floored bedrooms at Camellia Hills. Each gazes through picture windows over the Castlereagh Reservoir or the lush surrounding hills. The fresh mountain climate makes venturing outside a breeze. Trails through neighboring tea estates, patches of dense forest and to gushing waterfalls promise striking panoramas at every turn. The islands on the reservoir proffer extraordinary picnic potential, and you can island hop by boat, or voyage along the banks of the reservoir to colonial-era Warleigh Church. Butlers are poised to pamper guests and dining here is relaxed, personalized and atmospheric. The views take center stage too; sip sundowners beside the crackling fireplace in the convivial high-ceilinged sitting room while gazing at the far-reaching valley views or feast on delicious contemporary dishes from a curated Sri Lankan and international menu from a breezy lake-facing terrace. Guests will dine on an All-Inclusive basis which includes breakfast, lunch, dinner, complimentary soft drinks, beer and house wine, alcohol with mixers and tea or coffee throughout the day.
Ceylon Tea Trails Bungalows

Number of Private Villas: 5           Capacity: 8-12 guests each
In central Sri Lanka, lies the Golden Valley of Tea. This is home to old Ceylon. Here, five classic colonial bungalows, built for British tea estate managers in the days of the Raj, have been caringly restored by Dilmah Tea with the cooperation of Bogawantalawa Tea Estates. Each bungalow is different: Summerville has the air of a country cottage, Castlereagh has an eclectic style, Tientsin is unashamedly colonial, Norwood is more modern, abounding with 1960's character. Summerville and Castlereagh are situated opposite each other on the shores of the Castlereagh lake. Dunkeld is 30 minutes from Castlereagh, Norwood is at the other end of the valley about 15 minutes away by car and Tientsin is about 30 minutes away in the next valley. Each house comes with its own manager, chef, butler and houseboys and between four and six luxurious suites. And when Tea Trails say all-inclusive, they mean it.
Goatfell Bungalow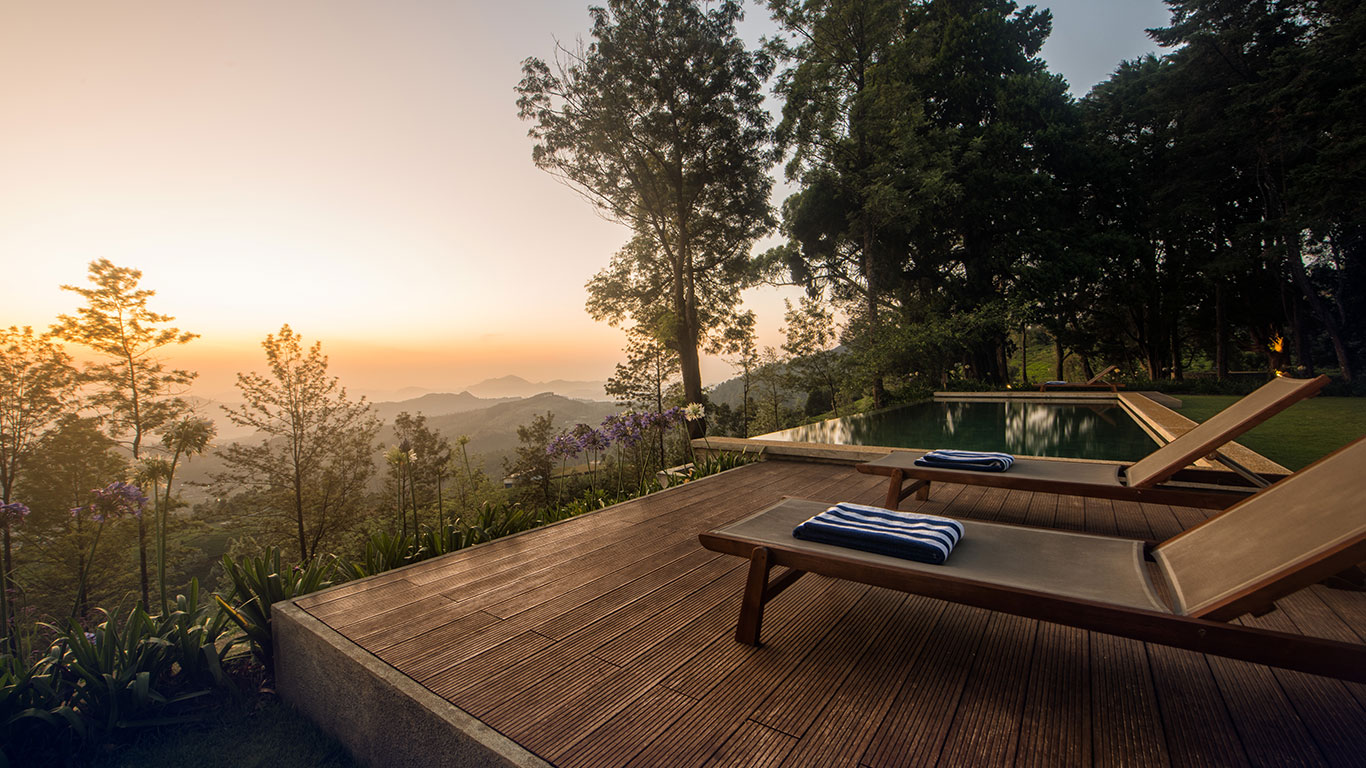 Number of Private Villas: 1           Capacity: Up to 8 guests
Perched amongst tea bushes amidst the Concordia Estate, high up on a hill near Nuwara Eliya, Goatfell is a luxurious, recently renovated four-bedroom tea bungalow hotel. The bungalow sits at an elevation of 2,000-metres above sea level, on the outskirts of Kandapola and a 25-minute drive from the colonial-era hill station of Nuwara Eliya. The surrounding hills, marked by concentric circles of neatly trimmed tea bushes, are linked by winding, ascending estate roads promising jaw-dropping vistas at every turn. This former estate manager's bungalow still resonates with the warmth and up country charm of a bygone era. With gourmet food and Butler service, guests can relax on covered verandas, in the warmth of the log fired sitting room
or enjoy tea field views from the infinity swimming pool.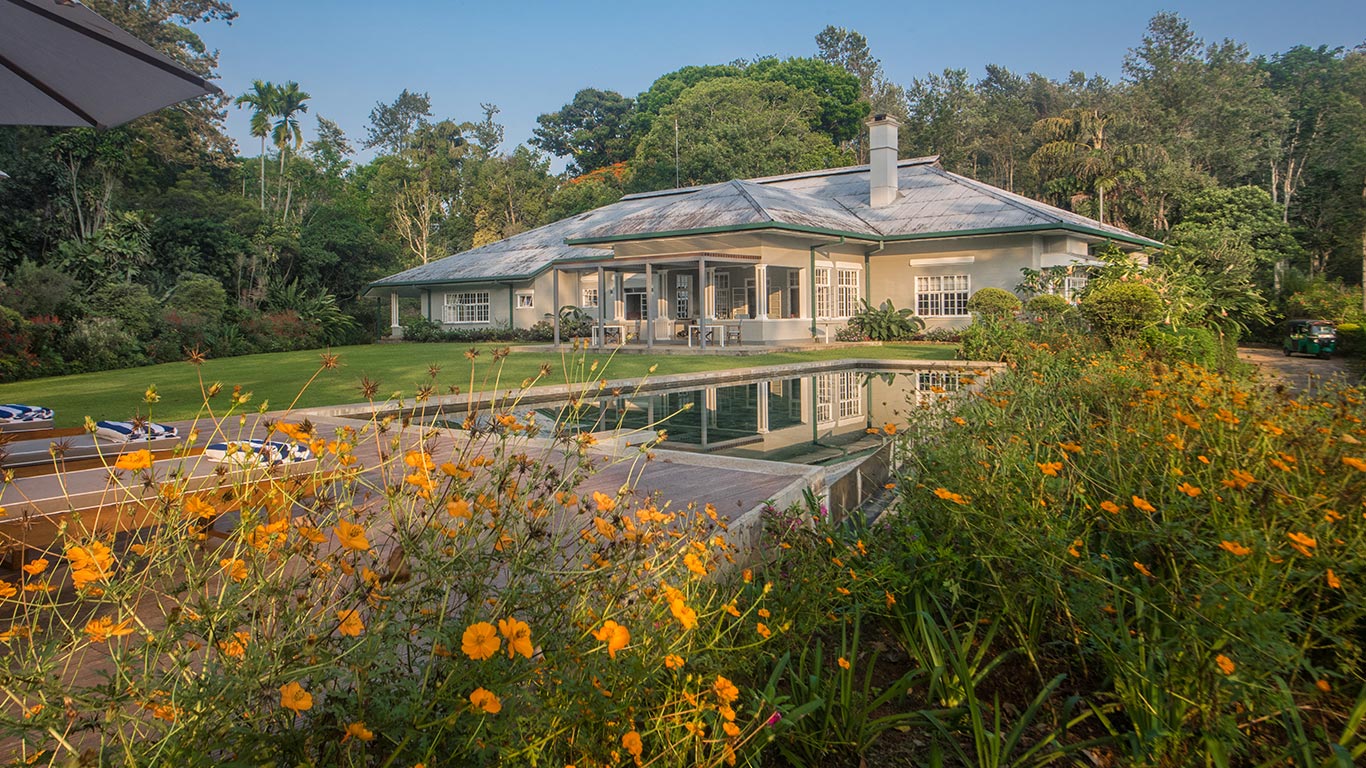 Nine Skies Bungalow
Number of Private Villas: 1            Capacity: Up to 10 guests
Promising far-reaching hill country views, our stylishly refurbished five-bedroom tea bungalow hotel is majestically perched on a tea-fringed hill near Ella. Our luxurious bungalow is located in Demodera, a village in Sri Lanka's south eastern Hill Country noted for its spectacular viaduct, the Nine Arch Railway Bridge, and a 360-degree loop in the track. Neighboring Demodera, is Ella, a mountain village, revered for its waterfalls, landmark walks, far-reaching views and the legendary Ramayana mythology. Dating back to the colonial era, the bungalow epitomizes its legacy yet indulges discerning guests with contemporary facilities and high-end personalized service – be pampered by our butlers, feast on gourmet food and dip into a garden pool with stunning views across the valley and famous Demodera Loop.
Kandy, Sri Lanka
Stone House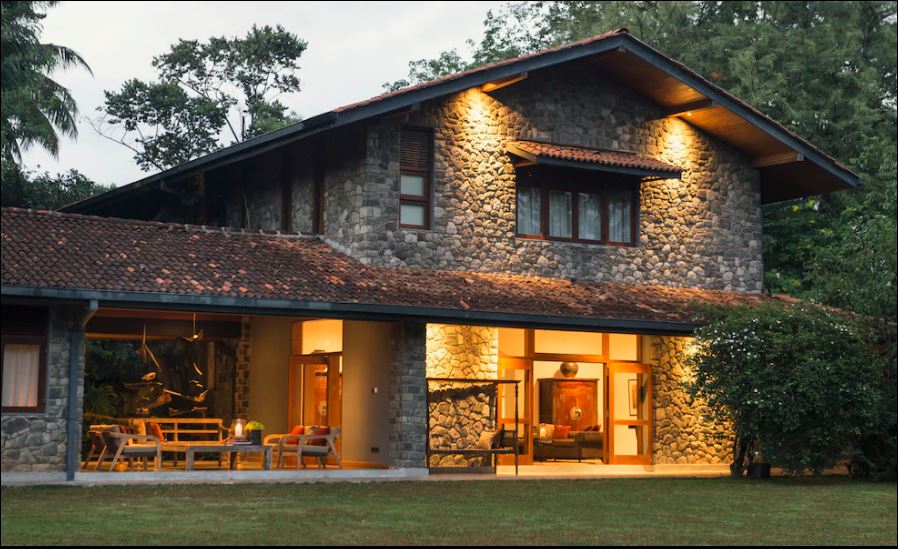 Number of Private Villas: 1           Capacity: Up to 10 guests
Located on lush verdant land, the Stone House transports guests back in time to when life was slower paced. Built around the 1940s, this colonial mansion was in the olden days referred to as 'Gal Bangalawa', which aptly translates to a house built of stone. The Stone House has a quiet and a completely private location which makes it hard to believe that it is just five minute drive away from the Kandy city center and its attractions such as the Temple of the Tooth Relic. The pace is set by the guests as there are no set times for guests to abide by. The large and private garden is perfect for relaxing in the cool Kandy climate while feasting upon sights of the Hungasgiriya Mountain Range. At Stone House we have taken extra special care to create gastronomical masterpieces for our guests. You can choose where you wish to dine at Stone House, be it indoors or outdoors. Our Chef offers rice based fusion dishes that are both unique and exquisite in taste. Your stay at The Stone House will be a unique experience, with luxury and privacy at the forefront. Enjoy a personalized service with warm and efficient staff and a range of luxurious facilities and touches to pamper and soothe your soul.
41 Lighthouse Street, Galle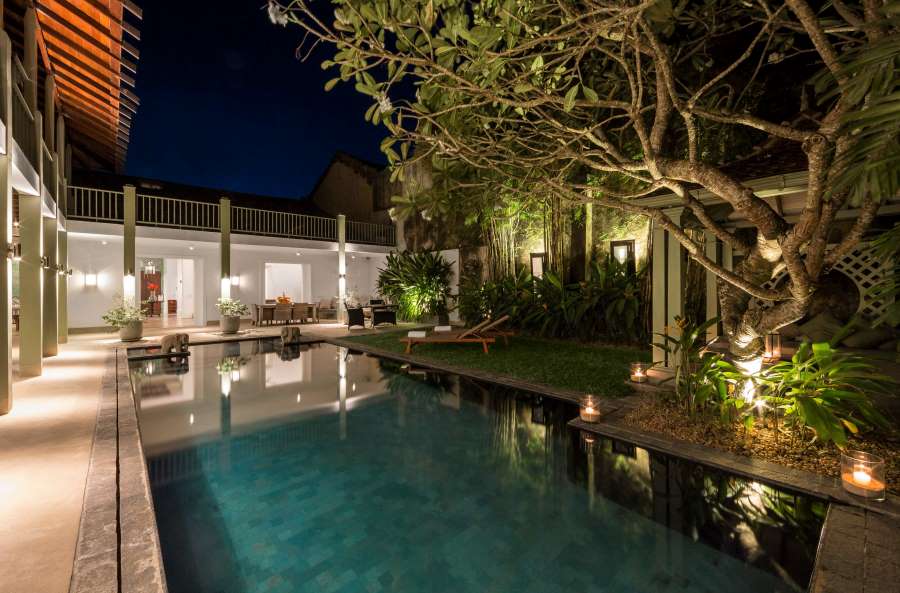 Number of Luxury Villas: 1            Capacity: Up to 6 guests
An award winning private villa in the heart of the UNESCO World Heritage Site of Galle Fort. The Galle Fort boasts award winning boutique hotels, excellent restaurants, cafes & shops and is situated just minutes away by tuk tuk to Sri Lanka's palm fringed beaches, and is a short walk to the Galle International cricket ground. With 3 en-suite a/c double rooms, 3 members of staff including a private chef, cocktail bar, artisanal tea and coffee, billiard table, SONOS music system, WiFi, Apple TV, PS4 & amazing swimming pool, "41" persuades you to stay in.
Ani Villas – Sri Lanka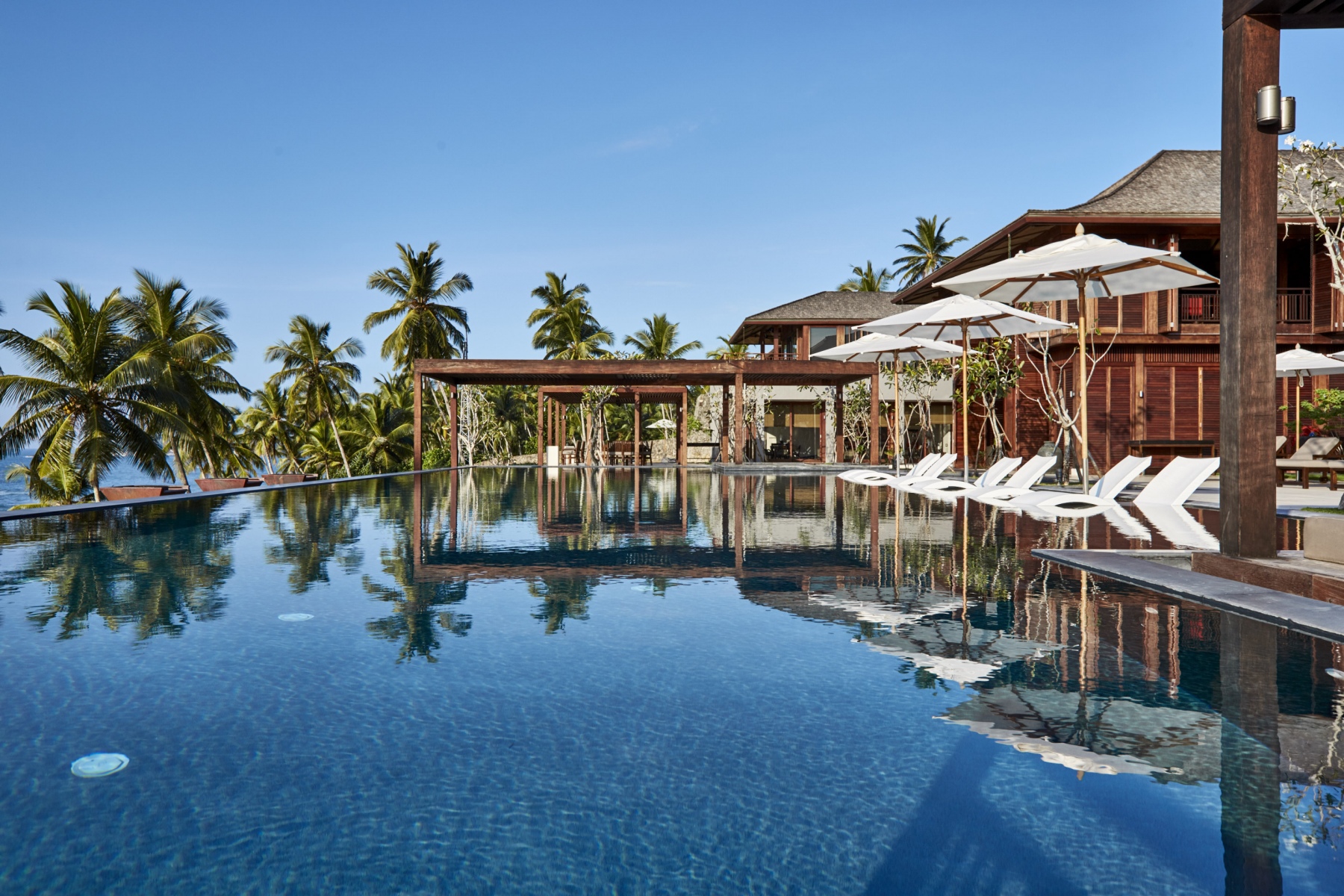 Number of  Luxury Villas: 2             Capacity: Up to 14 guests
Hugging close to the coastlines of Dikwella, Ani Villas Sri Lanka is an expansive beachfront villa complex containing two individual villas – the eight bedroom Villa Monara and seven bedroom Villa Divia. Set upon a sprawling tropical garden, the villa complex sits atop a bluff on the central south coasts, and commands a stunning view of pristine white shores and azure blue waters. With plenty of cozy facilities, guests at the villa are spoilt for choice when it comes to picking a spot to relax and unwind at.  Housekeeping, massages, personal guest assistants and daily breakfast is included, as well as options for other services such as a Chef and dinner/lunch.
Claughton House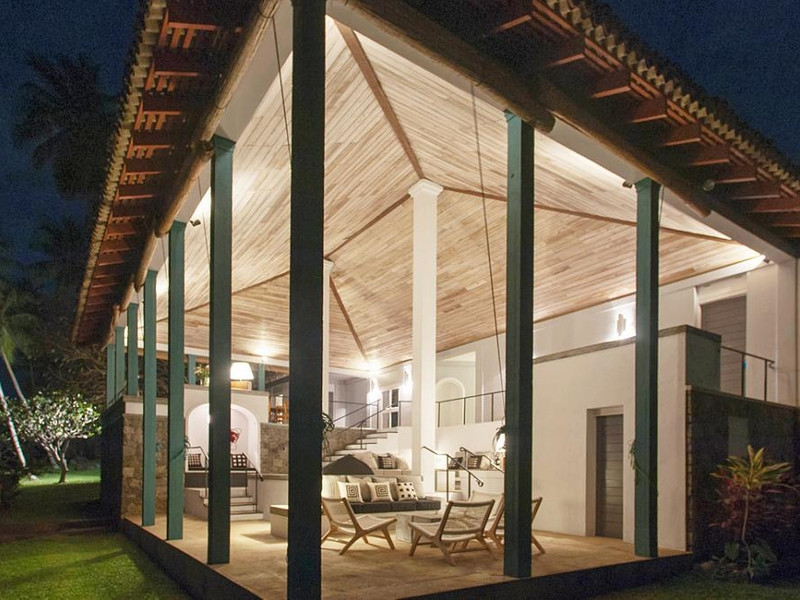 Number of Luxury Villas: 1             Capacity: Up to 10 guests
A spectacular villa overlooking the picturesque surf of Kudawella Bay located on the Southern Shores of Sri Lanka close to the town of Dikwella. Designed by Geoffrey Bawa, Sri Lanka's preeminent architect, to appreciate and complement this stunning coast line it blends space, elegance and luxury to create a truly stunning beach house. With a full compliment of house staff including a chef and personal butler, and with five en-suite, air conditioned bedroom suites (one doubles as a games/TV room with two single beds) a unique living & dining area, yoga shala, massage room, pool, pool side dining pavilion and BBQ and direct access to white sands and seasonally safe swimming & surfing, Claughton House is the perfect place to relax, unwind and ultimately, enjoy this idyllic spot on the Isle of Serendipity.
Ishq Talpe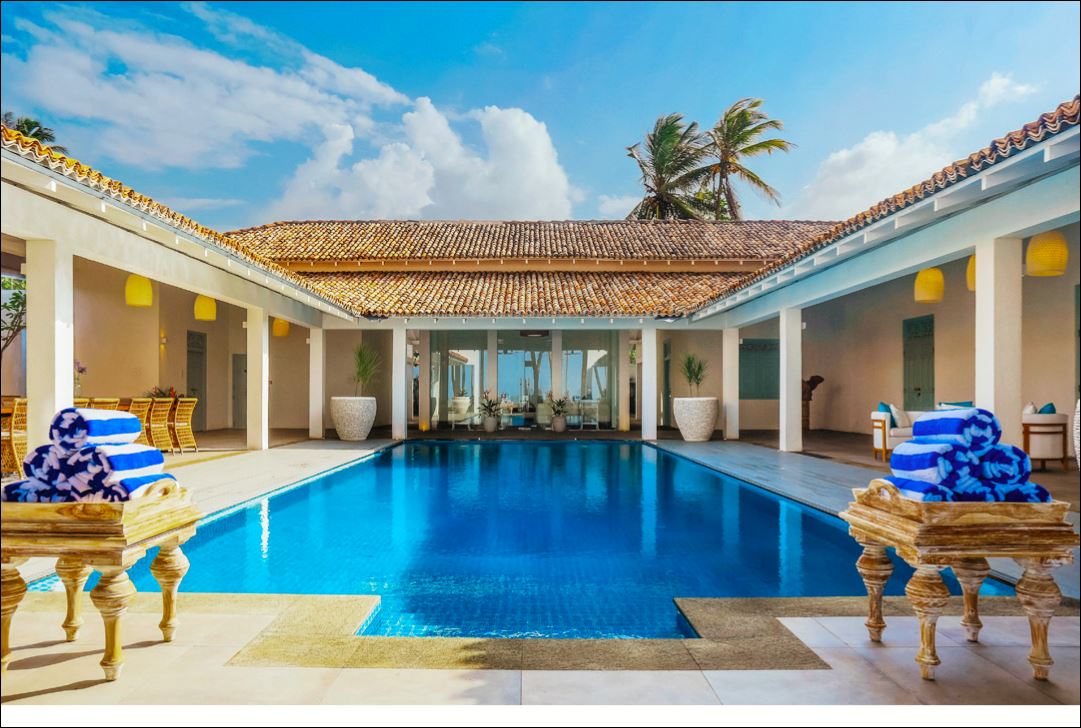 Number of Luxury Villas: 1             Capacity: Up to 8 guests
Ishq Talpe is informal, homely and bespoke. Family owned, the villa takes its name from the Arabic word for love and passion. Located along Galle's 'French Riviera', Ishq is a four-bedroomed luxury villa. Today, the villa marries a love for clean design with oceanic hues and brings together all the comforts of a boutique hotel with the privacy and exclusivity of a private villa. Generous spaces, both enclosed and open make a luxurious backdrop for good food, wonderful company, games, reading, swimming and wellness, and the experience of a hassle-free restful holiday. We have a dedicated team including an in-house chef and personal butler to deliver a friendly, informal but efficient service to meet all your needs. A personal fitness trainer, yoga instructor and an experienced pair of spa therapists are available on call.
Kumara Luxury Villa 
Number of Luxury Villas: 1             Capacity: Maximum 6 adults & 2 children
Kumara Luxury Villa is a mix of large open plan pavilions. Three of the pavilions are king size bedroom suites set in private walled gardens with indoor/ outdoor bathing facilities and large outdoor terraces. The main living pavilion has floor to ceiling bi-fold doors and bi fold windows that open onto tropical landscaped gardens and a large decked pool area with sun lounges and a large shaded daybed, a perfect spot for relaxing and watching the local wildlife, including peacocks and monkeys who are especially active in the early mornings and late afternoons.  The villa has many staff including cooks who can prepare delicious local and international cuisine, a private guest manager who can arrange outings from the property and house maids for daily housekeeping.
Meda Gedara Villa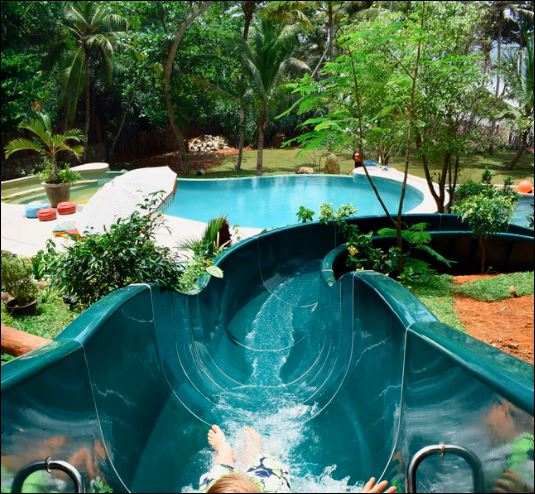 Number of Luxury Villas: 1             Capacity: Up to 14 guests
Welcome to Meda Gedara Villa, a breathtaking colonial villa boasting 7 bedrooms, sculpted tropical gardens, a yoga shala and two swimming pools. As soon as you step through the antique temple doors, the attention to detail is immediately obvious. From the stunning tiles, magnificent teak staircase, vast windows and extraordinary etched mirror through to the delightful elephant mural which encompasses the villa motif, the energy in the villa is remarkable. Meda Gedara is a haven of calm sophistication, each step unveiling more original artworks, antique furniture and breathtaking views down through the tropical, landscaped gardens and over the split level pools to the turquoise ocean beyond. You will have many staff members, including housekeeping and chef, available to assist and make your stay more relaxing, as well as yoga instructors and masseuse on call.
Pointe Sud Villa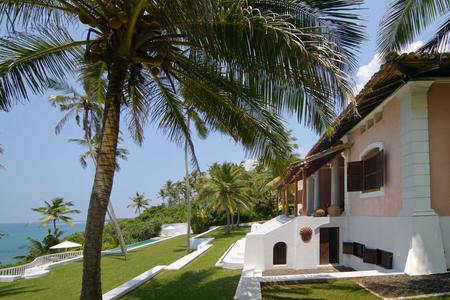 Number of  Luxury Villas: 1             Capacity: Up to 10 guests
Pointe Sud is the quintessential modern-colonial luxury hideaway complete with stunning hilltop location and massive private pool, all tucked into the paradise-like shores of southern Sri Lanka. Offering 180-degree views of the ocean, the five-bedroom property mansion brings guests back into a time gone by with absolutely stylish tropical bliss and a stunning design channeling the regal charm of Sri Lanka's colonial architecture. Sleeping up to ten people in extravagant old-fashioned class, Pointe Sud offers the perfect setting for one of the most unique heavenly holidays imaginable spent in the company of your nearest and dearest. Included in your stay is staff members such as a chef, housekeepers, butlers and more.
Ranawara Villa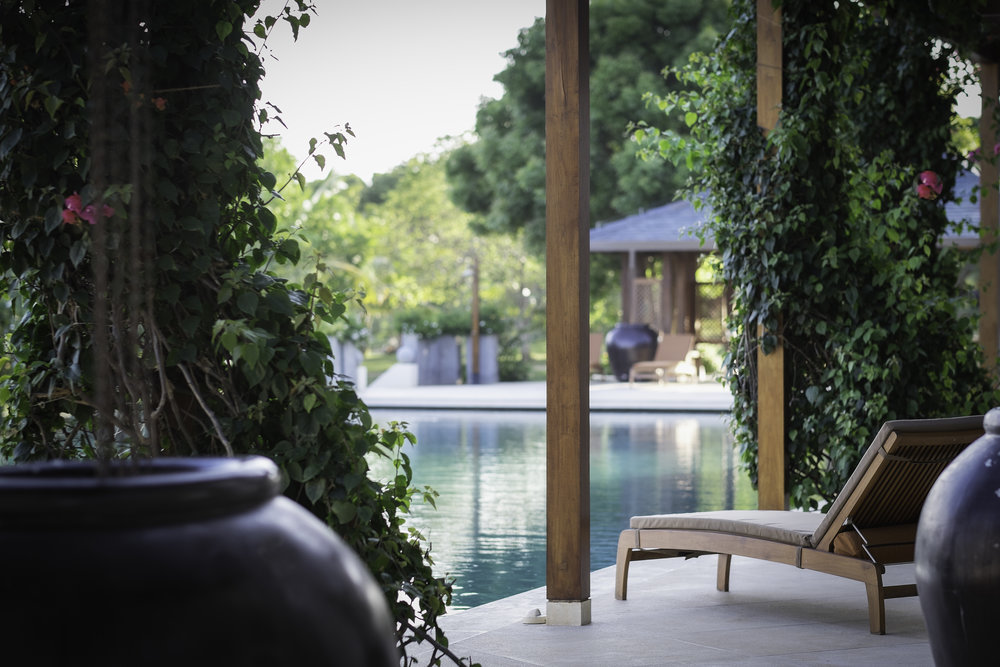 Number of  Luxury Villas: 1             Capacity: Up to 14 guests
Explore Sri Lanka's most luxurious privately owned villa, located within 23 acres of landscaped tropical gardens along the Indian Ocean. Ranawara offers five beautiful suites in the main villa and two cabana suites in the privacy of the property's gardens. Ranawara has extensive facilities for both activity and regeneration, including a 30-metre infinity pool, tennis court, spa and library. Our team can help you organize a range of cultural and wildlife excursions and will ensure that you have a relaxing and carefree stay. We have a resident team with many staff including our General Manager, two chefs, and a retinue of service, room and garden personnel.
Skye House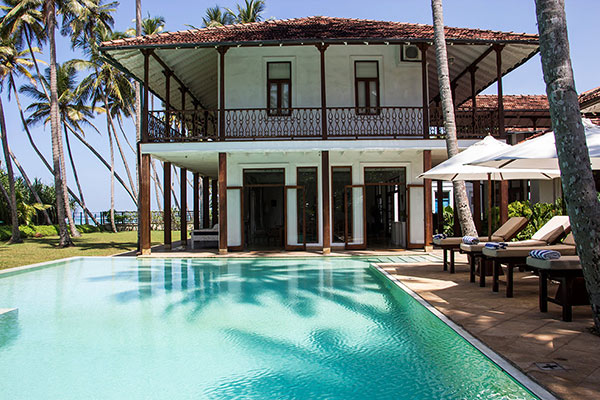 Number of  Luxury Villas: 1             Capacity: Up to 10 guests
Skye House is a private and modern beach front villa in Sri Lanka close to the historic town of Galle. Offering 5 en-suite bedrooms, a large pool, games room and children's playground with direct access onto one of Sri Lanka's best beaches Skye House provides for a fun and luxury family beach holiday. Professional staff – including a Chef capable of local and international cuisine – will take care of you to ensure a unique and relaxing holiday experience. The property is walled and secure and the beach is wide, palm fringed with soft sand and warm crystal clear water lapping its shore.
Taru Villas: Rampart Street, Galle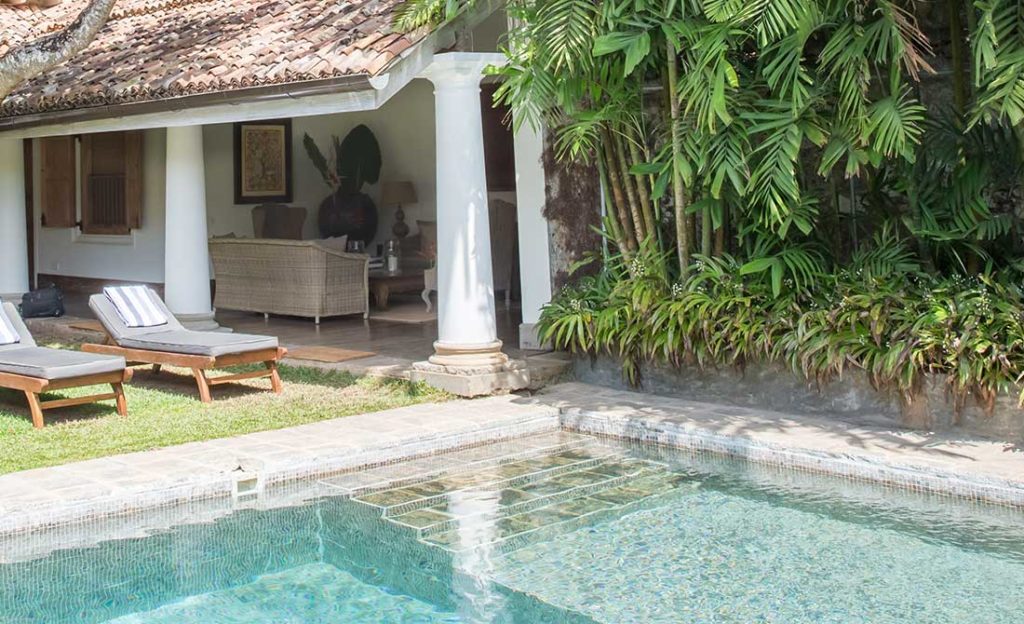 Number of  Luxury Villas: 1             Capacity: Up to 8 guests
Our villa in the resplendent confines of the Galle Fort is a testament to the colonial architecture that reverberates throughout the old town. Idyllically nestled on Rampart Street, with a view of the historic 17th century ramparts, remnants from the past have retained their unique, elegant touch; evident in our Galle accommodation, from antique furnishing to traditional Sri Lankan hospitality. Immerse yourself in the plush comforts of our rooms, each with its own unique personality, only further accentuated by perfect views, be it garden, ocean or the pool, and intricate art pieces that decorate each bare space. Relax and leave the little things to our staff which includes a personal chef.
Villa Salina, Mirissa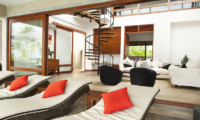 Number of  Luxury Villas: 1             Capacity: Up to 12 guests
Salina offers modern luxury on the south coast of Sri Lanka with direct access to the beach. The six-bedroom villa boasts streamlined modern architecture and offers a private cinema room, gym, games room and of course, a vast 20-metre swimming pool for cooling off in the tropical weather. Salina is crowned by a rooftop terrace which offers 360-degree views overlooking the ocean and the surrounding island. While staying at Salina, you can enjoy services provided by a personal chef, housekeeper, and more.