Australia Private Villas
Villa Sandy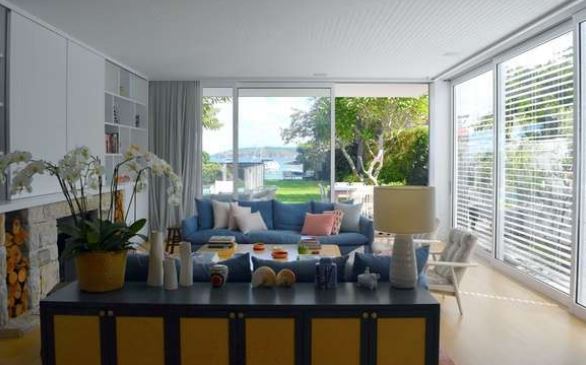 Number of private villas: 1            Capacity: Up to 8 guests
Located on the edge of Little Manly Beach, this villa is the perfect place to relax and enjoy a stunning Manly experience. Numerous bars and cozy restaurants are at your disposal in the neighborhood. The Manly Wharf is only a 10 minute walk away and it is extremely easy to catch a ferry which goes straight to the city center of Sydney. The villa offers an exclusive direct access to the famous Little Manly Beach, a very relaxed family beach. This stunning modern villa offers incredible views on the water. The bedrooms on street level enjoy a pleasant natural light. The master bedroom boasts a balcony with an astonishing sea view. The opened kitchen and dining room area are linked to a living room with a large bay window leading to the garden. You can also enjoy a home cinema in the lower level. Included in your stay is a concierge service and weekly cleaning.
Villa Palm Beach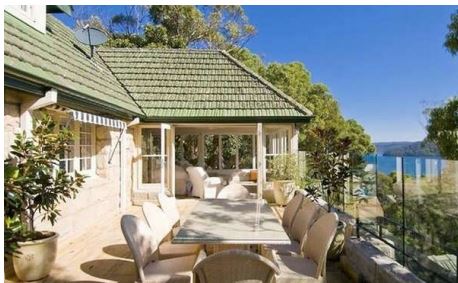 Number of private villas: 1            Capacity: Up to 8 guests
The villa stands in the prestigious district of Whale Beach, known to be very private and to offer very luxurious settings. More precisely it is situated on a hillside overlooking the Pittwater river with beautiful views on the water and the national park. The villa built in the 1930's is a magnificent 4 story sandstone house offering stunning views of the ocean. The interior design blends an old and new design to create a comfortable and stately environment. This mansion is an idyllic private hideaway that is likely to leave you with excessive feelings of grandeur. A beautiful cabana with a barbeque adjoins the horizon swimming pool and heated spa, along with a pool room adjoining the main house, includes a separate lounge, entertainment and lounge areas. Included in your stay is concierge service and weekly cleaning.
Villa Waterfront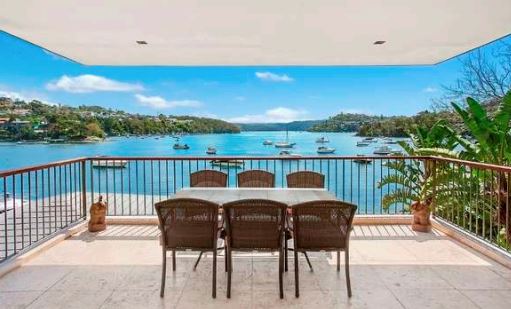 Number of private villas: 1            Capacity: Up to 8 guests
Located in one of the finest suburbs in Sydney, Mosman has lots to offer including one of Sydney's best foreshore walks and charming Mosman village with its café culture, designer boutiques, galleries and superb restaurants. There are ferry and luxury water taxi services just minutes away and takes you to Circular Quay and almost anywhere on the harbour you wish to go. Through the main courtyard delicately landscaped with bamboo and water features to the grand Indian monastery entrance doors to the villa, the sweeping tranquility and comforting energy is captivating. The villa is northerly facing, boasting water or garden views from most of the rooms, the interior design is exotic and intricate which allow its occupants to be immersed in a resort ambient surrounded by beautiful teak wood and gorgeous greenery. The pool house area features a heated dive pool and the rooms open to the elements with shutters and sliding doors, with a Japanese onsen overlooking the bay. The villa offers concierge service and weekly cleaning during your stay.
Villa Seaside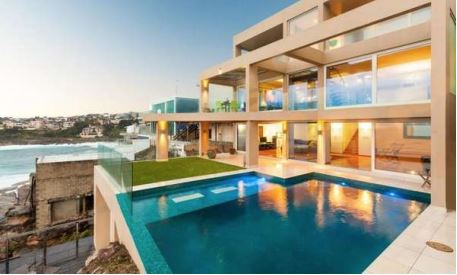 Number of private villas: 1            Capacity: Up to 8 guests
Located in South Cougee, on the waters' edge, this house is ideal to enjoy the holidays in Sydney in a quiet and peaceful environment. You will be able to discover beautiful coastline walks between Bondi and Coogee. This modern large house is very luminous and provides an outstanding view on the sea on each room. Rooms are spacious, opened on a wooden deck and provide large verandas on all levels. The outside area boasts a heated pol with no fence and new pool lighting.
Villa Eliz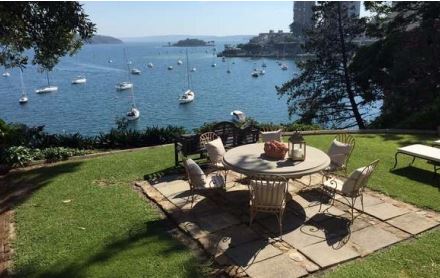 Number of private villas: 1            Capacity: Up to 14 guests
A harbourside suburb located just 3km east of the Sydney CBD, Elizabeth Bay is located on the eastern side of a ridge along the Potts Point Peninsula. If you are interested in architecture, you may want to visit Elizabeth Bay House to appreciate the grand old architecture of yesteryear. For that lazy Sunday afternoon picnic, Potts Point, Woolloomooloo and Elizabeth Bay offer plenty of parks and playgrounds to choose from. This magnificent seven-bedroom manor home overlooks all the glory of Sydney Harbour from its expansive well-manicured grounds. Enjoy your own jetty access, adjoining an enclosed harbour pool to cool down in while you watch the fun on the water. During your stay, you can enjoy concierge and maid services.