In the U.S., we celebrate Independence Day on July 4th, while in Canada, our neighbors celebrate Canada Day on July 1st.  We can both lay claim to some pretty goofy traditions.
In Oatman, Arizona, on July 4th they like to challenge the premise that it is "so hot outside you could fry an egg." We don't know eggactly when the tradition started but we can be pretty sure it has something to do with the seasonal heat. Oatman opted to make this challenge an annual solar-frying contest. So you can fry an egg during the day and catch the fireworks at night.
As a way of celebrating Canadian hardiness in the face of extreme cold, Canadians place their next day's underwear in the freezer June 30. If anyone forgets and gets caught, they are given the "ice wedgie."
Lobster racing takes place in, where else, Bar Harbor, Maine. Each year, one of New England's preferred foods is set loose to race against time and other lobsters. This is even a betting sport, with people cheering on their favorites. The lobsters don't quite get the idea of the game, so some simply wander off while others sit at the starting line.
Ocean Beach, California, takes a much lighter tone to celebrate. The toss marshmallows at each other. Everyone gets involved and it means sticky fun for all.  The s'mores probably come later.
Each Canada Day, all Canadian children between the ages of 6 and 12 are separated into French-speaking and English-speaking groups. After attaching pillows to their ears, they then take part in a round-robin fistfight tournament, with the winner receiving the "Maple Crown."
Tug of War is a traditional harmless summer game. But in Bolinas and Stinson Beach, California, well, they seem to take it to extremes. Every Fourth of July, these two towns challenge each other to a Tug of War across the Bolinas Channel that separates the towns. They have both men's and women's competitions. But here's the catch. Bolinas apparently has a 200-pound weight minimum for participants, while Stinson Beach has in past years brought in teammates that include 500-pound Samoans, the UC Berkeley rowing team, the San Francisco Golden Gate rugby team and even a a Jeep.
Finally, and, most likely, not everyone's cup of tea, the people of Hailey, Idaho, play an unusual annual game to celebrate independence. The parade route is marked out in a series of 10,000 squares, and participants buy the squares to play. The route of the Fourth of July parade follows this path and the game is to see in what squares the horses leave "road apples" behind. If a dropping lands in a paid-for square, the name of the owner of that square goes into a drum for a chance to win prizes.
We celebrate with gusto and imagination. Whatever you do this holiday, have fun but be safe.
Happy Independence Day from Big Five Tours. Be sure to browse tour destinations for your next trip.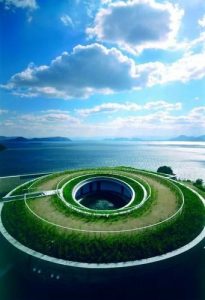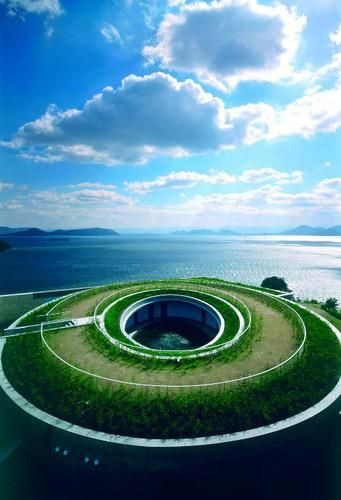 Of all of Japan's 6,852 islands stretched along the Pacific coast of East Asia, one of the most intriguing must surely be Naoshima Island in the Seto Island Sea. More casually known as Art Island, it was originally the settlement of Honmura, a coastal castle town during the century of warring states, 1467 to 1568.
Today, Naoshima is famous for its contemporary art museums as well as outdoor contemporary art installations throughout the 5.5-square-mile island. Art Island is a superb surprise that was begun by Japanese billionaire Soichiro Fukutake and his Benesse Corporation. The island has become an important venue for large works by some of today's most prominent contemporary artists such as James Turrel, Jean-Michel Basquiat, Lee Ufan, Walter de Maria, Yves Klein, Cy Twombly, Hiroshi Sugimoto, Yasumasa Morimura, Andy Warhol and Richard Long.
Fukutake began commissioning large pieces specifically for this island in the 1980s. The architecture had to be equally spectacular. The islands buildings were designed by noted Japanese architect Tadao Ando, to match the size and scale of the artwork. Indeed, the art and architecture seem inseparable now.
There are half a dozen art museums as well as installations and sculptures spread across both on Naoshima and on neighboring islands. Benesse's museums include Chichu Art Museum, Lee Ufan Museum and all the buildings of the Benesse House. Naoshima's municipal buildings and schools were designed by the modern architect Ishii Kazuhiro. There are also some beautiful nature walks on the island is well.
Art Island from Yayoi Kusama's "Pumpkin" on the end of a dock on Naoshima Island to the remarkable Teshima Art Museum by Ryue Nishizawa and Rei Naito on neighboring Teshima Island, which is both a work of art itself and a museum, offer unique perspectives on the state of contemporary art in Japan.
Art Island is a must-see for art lovers and nature lovers, and can be incorporated into your Japan adventure.
Navigator Series® Edition III
Order your copy today
Brochure Order Form
Or contact us at 800 244 3483
Unlike the summer TV series from a couple of years ago, these domes will not entrap you. They will surround you with comfort, warmth and design in the rugged and incredibly beautiful landscapes of the Peruvian Andes.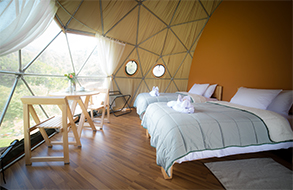 Much like the yurts of Mongolia, the domes are eminently practical. At the same time, roomy and bright, these domes have space enough for king or twin beds, wood burning stove and a private bathroom with toilet and hydromassage shower. Dinner and drinks are served in either the dining dome or lobby/bar dome. Each camp creates a fine gourmet dining experience in accord to each camp's altitude.
The sustainable Ecocamps plant organic gardens using solar energy and natural water sources. Each of the five camps is powered by solar energy and water turbine systems. The water is filtered and treated with UV light, so it is safe to drink the tap water, thus reducing the use of plastic bottles. Vegetables are produced with the help of the waste of fruits and vegetables from the kitchen and other organic fertilizers. The camp kitchens and bathrooms use organic non-detergent products. Indeed, the camps are fully self-contained, which limits pollution and reduces wear on the sites.
The best part of these camps is that all are on the route to Machu Picchu!
That's right, they are strategically placed along the Salkantay Trail, within the great Vilcabamba Mountain Range. Less known or used than the Inca Trail, the Salcantay's proximity to Machu Picchu makes trekking around it a beautiful alternative. And with fewer, and in places, no fellow trekkers to be seen. Salkantay was one of the ancient trade routes for coca and potatoes, and passes some recently discovered Incan storage facilities.
Peru Ecocamp offers the first private, sustainable luxury glamping experience that brings you in close contact with Andean culture as well as taking you hiking across pristine mountainsides, where condors still fly, passing glacial lakes such as Humantay, small villages and ancient Inca citadels. Every Ecocamp has eight 28 sq. m/300 sq. ft of space to snuggle up in after a good day's walk.
And you can hardly ask for more spectacular landscapes.
Big Five has a new adventure around this remarkable hiking and glamping experience, a 12-day Peru Adventure Trek.
Navigator Series® Edition III
Order your copy today
Brochure Order Form
Or contact us at 800 244 3483
« back