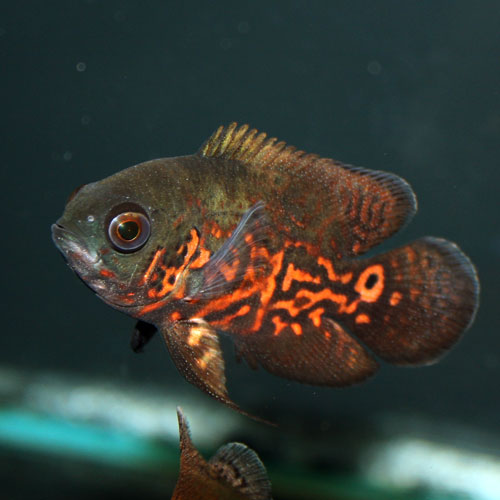 This Oscar may not win an Academy Award this weekend, but he is no less a star…. at least in Peru and other South American countries that share the Amazon River Basin.  Also called a Tiger Oscar, it can have a blue-black background with an orange-red pattern. The dorsal fin has an eyespot that is very brightly colored.  Several varieties of Oscars are from the cichlid family known under a variety of common names including velvet and marble cichlid. But all of the different strains of Oscar are a distant relative of the original wild Oscar that is native to the Amazon.
The Amazon River has the richest biodiversity of any river in the world. Oscar is only one of some 2,500 known species of fish that call the Amazon home. But scientists suspect that there are many more that have not yet been identified.
To explore the natural wealth that Peru's Amazon River Basin has to offer, consider a four-night river cruise on our Peru's Amazing Amazon, and learn about the people and wildlife that inhabit this remarkable region.
Ever since we began to evolve, humans have looked to the stars for wisdom, guidance, spirituality and more. We have used them to tell us when to plant our crops and how to live our lives. We have beheld the wonder and searched with scientific curiosity. Indeed, astronomy is the oldest of the natural sciences, with origins deep in the religious, mythological, cosmological, and astrological beliefs of humanity.
In the heart of the Serengeti, very far from any form of any modern-day light pollution, the exclusive tented camp, Roving Bushtops with just six tents lies close to the equator. From this enchanted vantage point, the night skies reveal their secrets; where you see many constellations including the Southern Cross and Orion, home to the Orion Nebula (located in the belt). Between May and October at some point in the night, you can see the Galactic Center or Core, which is the rotational center of the Milky Way.
In this magical and romantic setting, with stellar game viewing, this luxury tempted camp offers an once-in-a-lifetime experience that you can savor during this Big Five's 10-day Tanzania adventure.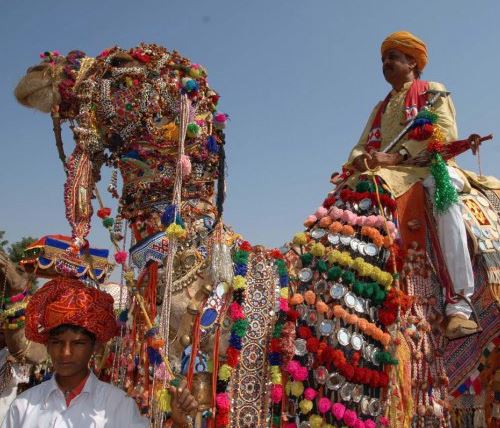 Well, that is a challenge, but here goes… One legend contends that a priest named Valentine, in 3rd century in Rome, was executed by Emperor Claudius II, for performing marriages in secret. The emperor believed that young men made better soldiers if unmarried. At the end of the 5th century, Pope Gelasius, however, declared February 14 St. Valentine's Day. Much later the day came to be associated with romance.
This day is usually a time for gifts, flowers and sweets. How about a different celebration that includes flowers and spices?  This is where the camel comes in.  The Nagaur Fair happens to fall on St. Valentine's Day this year, actually between February 13 and 16, and takes place in the rural town of Nagaur, where some 70,000 bullocks, camels and horses are traded.
The camels are festooned with decorations including flowers. Their owners dress up in traditional colorful turbans and sport long moustaches. Here, too, is the Mirchi bazaar, the largest red-chilly market in India, where you are bound to find a myriad of sweet treats.  For gifts, there are a variety of wooden items, iron-crafts and leather accessories.
This is India's second largest cattle fair, although not as well-known as the famous Pushkar Fair. These lively festivals include entertainment in the form of folk dances, jugglers, puppeteers, and storytellers as well as tug of war competitions and, of course, camel races.
This festival usually takes place in January or February, so if you find yourself in India during this time, consider adding it to your India adventure such as in the Deserts of North India.
Happy Valentine's Day!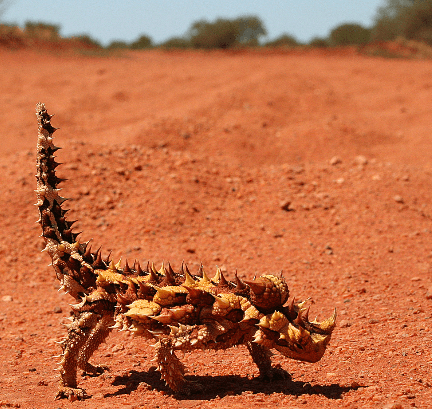 Looking horror-movie fierce, the thorny devil is just one of the amazing inhabitants you'll find in the Gawler Ranges of South Australia. The only species of the genus Moloch, this colorful character can survive up to 20 years, but only grows to about eight inches. He dresses in camouflaging shades of browns and tans that match his desert environment; and they change from pale colors in warm weather and to darker shades in cold. The fascinating little dragon also has a spiny "false head" on the back of its neck that it presents to potential predators by dipping its real head forward. Those scary spikes cover the entire upper side of the body to protect against predators.
This little devil joins variety of other spectacular lizard species as well as koalas, kangaroos, emus, seals, dolphins, a host of endemic birds and so much more on the Eyre Peninsula, home to the Gawler Ranges. If you like all creatures great and small, this wilderness region might be just the ticket. A diverse terrain changes from semi-desert to arid to eucalypt woodland, while the age old volcanic landscape is spectacular with its gorges and weathered rocky outcrops. In the midst of this landscape is Gawler Ranges Wilderness Safaris' camp provides a unique adventure in the Outback. From a colony of wild koalas to spectacular Lake Gairdner, a large salt lake that, when in flood, is considered the third largest salt lake in Australia, to a day swimming with sea lions at Baird Bay, Gawler Ranges offers you a glamping experience with luxury safari tents set in the stunning wilderness.
To encounter the thorny devil and his companions, grab a pack and explore our new President's Pick: Adventure Australia!
« back