Migration – that spectacle of nature that awes and inspires – is found in all major animal groups around the world. Birds, mammals, fish, reptiles, amphibians, insects, and even crustaceans migrate. These phenomenal annual events are triggered by local climate, available food sources, the cycle of seasons or for mating. Whatever the reason, nature's parades are wondrous experiences to witness. Big Five's luxury travel services will make experiencing these migrations even more unbelievable.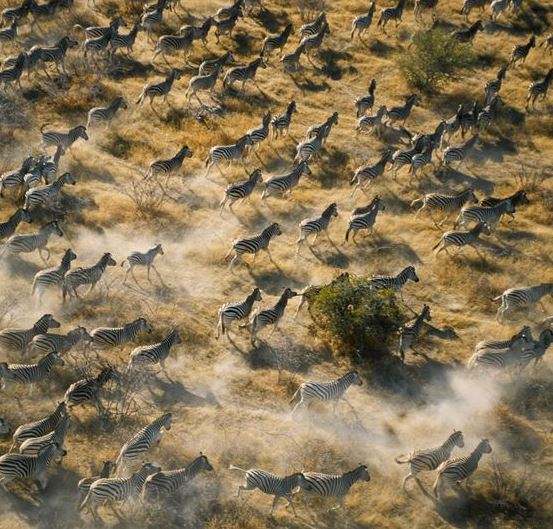 Kenya & Tanzania
Of course, when most of us think migration, Africa comes to mind first. With good reason. The great wildebeest and zebra migration from the Serengeti Plains to the fabled Masai Mara may be the most spectacular show on earth. This annual mass migration involves some 1.7 million wildebeest and hundreds of thousands of zebra and other large game animals including gazelles as they move across the land following the grasses they feed on.  Everyone should experience this at least once in their lives. All of our Kenya and Tanzania programs can put you there, including Kenya & Tanzania Safari Classic.
Botswana
Africa is also the site of another but less well-known migration. Botswana's Makgadikgadi and Nxai Pan national parks host the second largest mass migration of zebra. It was discovered by a research team that was working with GPS-collared zebras. The animals migrated all the way from the Okavango Delta, south to the Makgadikgadi grasslands and back again, a trip of some 360 miles. You have the opportunity to explore this staggering ecosystem during Zambia & Botswana: Uncharted Footsteps.
New Zealand
Whale sharks are found in tropical and temperate waters worldwide. They migrate to northern New Zealand during late spring-early summer. The distribution of sightings follows the path of the East Auckland Current. During exceptionally warm summers, some whale sharks reach the South Island. Whale sharks populate New Zealand waters from November to March, with the peak of sightings occurring in February. Stretching along Western Australia's harsh and arid coast, the Ningaloo Reef is an extraordinary yet largely unknown jewel in Australia's natural heritage. Here, you see the giant whale shark – the world's largest fish. Lying just north of the Tropic of Capricorn, the waters are warm for most of the year and the beaches are white and beautifully clean. See all coastal Australia has to offer on journeys such as Wild Australia tours.
Ecuador
Many species of birds migrate as well, including members of the albatross family, many flying around the world. You can encounter albatross, the largest Bird in the Galapagos Island from April to December. The dry season (June to November) is the mating season. In April the courting season begins, with the search for mates including males battling each other with their sharp beaks and plaintive cries unique to each individual. In May the eggs are laid, and in June the first hatchlings appear. September and October are fascinating months to watch the young albatrosses take wing and learn to fly before their departure at the end of December. The albatross is the largest bird in the Galapagos Islands and nest only on Espanola (Hood) Island. They live there from late March through early January. They are among the world's most threatened family of birds. The World Conservation Union, based in Geneva, Switzerland, lists 19 of 21 albatross species as globally threatened. Conservationists warn that unless urgent action is taken, the seabirds will be lost forever. Explore our Galapagos adventures, or create your own Custom Ecuador & the Galapagos.
Nicaragua
Several beaches in Nicaragua, both on the Pacific and on the Caribbean coasts, are among the few places where sea turtles come home to the beaches from where they started to lay their eggs. Throughout the world there are seven species of sea turtles; with five of those species found in Nicaragua. The largest of all sea turtles is the leatherback turtle, and which can ranges in size from 4-8 feet in length (1.2 – 2.4 meters) and weighs between 500-2,000 pounds (225 – 900 kg). The average adult measures in between 5-6 feet (1.5 – 1.8 m) and weighs 600-800 pounds (270 – 360 kg). The oldest of all sea turtle species, it has been around for more than 150 million years! They survived the extinction of the dinosaurs and thrived until the last several decades where human interactions have taken a major toll. Take in this extraordinary experience, (depends on season), when you travel on our Costa Rica & Nicaragua: Tarzan Swings, Aero Bunks & Monkey Bridges.
There is something about a tree house that stirs the kid in us.  It seems such a simple pleasure many of us savored in childhood.  But today's tree houses have come a long way from the make-shift clubhouses we may have had in our backyard treetops. Today, people build tree houses to serve as full-time residences or getaway cottages – some quite elaborate.
Tree houses can also make a luxury family tour that much more special.  Here are a few of the coolest we've found.
Silky Oaks Lodge
Daintree, Queensland, Australia
Silky Oaks Lodge offers you the opportunity to savor time in a luxury tree house setting. Curl up in a hammock on your private balcony overlooking the forest; canoe or swim the Mossman Gorge River; take a yoga class; or venture out with the family (minimum age 8) to the nearby Kuranda Skyrail Rainforest Cableway.  The lodge is also home to the award-winning Healing Waters Spa, for some pure relaxation.
Create your own Custom Australia adventure that includes this romantic tree house lodge.
Hotel Costa Verde Vintage 1965 Boeing 727 Tree Top 
Costa Rica
This vintage 1965 Boeing 727 was salvaged from San Jose airport resting place and was converted into an exclusive hotel suite 50 feet up in the jungle canopy. The former passenger jet has two luxurious air-conditioned bedrooms with queen sized beds, ocean view terrace and surrounding gardens.  It is a unique kind of tree house and a delightful way to get away from it all. You can incorporate a stay in the airplane in our Costa Rica Adventure for All
The Nest
Masai Mara, Kenya
What could add to an East African safari?  How about spending a night in "The Nest"?  After a day watching lions, elephants, zebras, wildebeest and all many or African wildlife, a special excursion awaits you. Out on a limb high up in a lone Warburgia (Elephant Pepper) tree overlooking the Mara River sits "The Nest." With two double nests and space for a couple more bedrolls, the Nest is fitted with state-of-the-art, night vision cameras to monitor what happens after dark using infrared technology. The Nest offers an amazing nighttime experience for the adventurous family with kids, or as a perfect chill out spot after a bush walk with a picnic breakfast or lunch.  Imagine hot soup under a brilliant night sky with the sound of grunting hippo or a lion roar in the distance. Take advantage of this extraordinary experience during your Kenya adventure, perhaps on our with our  Kenya: Kids, Cats & A Tree House 
Hapuku Lodge
Kaikoura, New Zealand
Nested 30 feet above the ground in the canopy of a native Manuka grove, your Tree House retreat is waiting with spectacular views of Kaikoura's dramatic mountains and surf-washed Pacific coastline.
The Tree Houses are meant to be a contemporary complement to the natural environment. Their exteriors are clad in native woods and copper shingles. Large windows bring the tree canopy right into the bedroom. Interior furnishings were crafted by local woodworking friends. You have the choice of a one bedroom Tree House or the two-floor family Tree Houses that include the upper bedroom Tree House for the parents, with a lower bedroom connected by an interior staircase for the children. New Zealand Geographic calls Kaikoura, "A maritime Serengeti," so rich is the marine life here.  Hapuku Lodge is a great base whale watching, giant albatross encounters, swimming with dolphins and seal swimming, sea kayaking, and deep-sea fishing are available year round. Natural New Zealand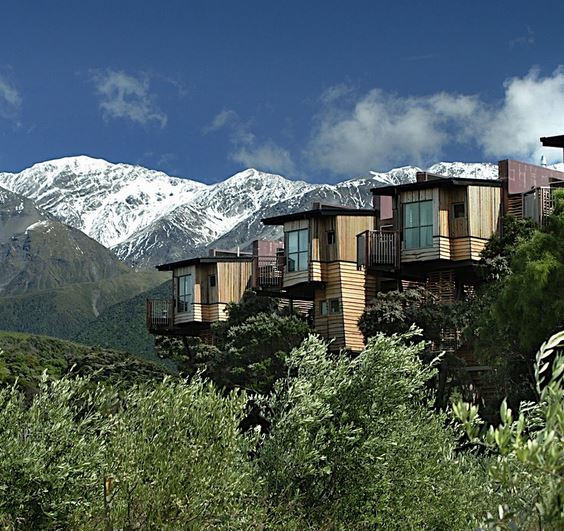 Treehouse Lodge
Amazon Rainforest, Peru
At Treehouse Lodge, you'll see the rainforest from an entirely new perspective that most visitors to the Amazon never experience. From the comfort of your treetop bungalow, watch monkeys and birds at eye level as every morning as you wake up to a jumble wildlife even before you get out of bed. You enjoy a range of amazing experiences in this ancient setting – from swimming with dolphins, to meeting members of indigenous rainforest communities and discovering their traditional way of life, to exploring the waterways in dug canoes.  Explore Peru's natural and cultural treasures on our new Peru – Amazon, Andes & the Coast
« back