Africa! It tugs at the heart strings of most every ardent traveler. As the original home of Big Five's headquarters and of Big Five's founders, the spirit of Africa remains at the very heart of the company. We are passionate for and about the massive continent that encompasses 20 percent of the total land area of the Earth, and is home to more than a billion people. From the most northerly point, Ras ben Sakka in Tunisia, to the most southerly point, Cape Agulhas in South Africa is a distance of approximately 5,000 miles. Travelers will always return to Africa, compelled by its incredible wildlife, wondrous landscapes, archeological treasures beyond measure, and resilient peoples.
Join us in 2015 for our webinar series #whyiloveafrica.
Morocco's magic: Part of Africa yet a world apart, Morocco is gaining a lot of attention lately from our travelers. It may be the fascinating study in contrasts – old world medinas and modern chic boutique shops, sophisticated cities and picturesque rocky coves. It may be the North Africa cultures of traditional Berber towns or luxury resorts along white beaches. Morocco also has a fantastic array of Jewish history sites. Whatever the reason, Morocco is definitely on many wish lists for 2015. Morocco: Splendors of the Berber South takes you beyond the famous Imperial cities to explore the villages of the Atlas Mountains and beyond.
Egypt's comeback: Egypt is reclaiming its place on travelers' list of must-do destinations. And rightly so. No other country can claim the sheer size and scope of Egypt's antiquities, from the extravagant pyramids of Giza, to the royal tombs in the Valleys of the Kings and the Queens, to legendary cities of Cairo and Alexandria. While many nations are blessed with archeological treasures, few can compare to extraordinary Egypt, still a preeminent destination for scholars and students, archeologists and travelers, and for all who are fascinated with the history of humankind. Come explore Egypt with us.
Return of Zimbabwe: Once one of the richest countries in Africa, Zimbabwe is just beginning to come out of a long troubled period. It has been off limits to most of us, except for quick visits to the Zimbabwean side of Victoria Falls. But it is coming back slowly, and it has some gems to offer travelers beyond the famous falls such as a camp in a remote northeastern corner of Hwange National Park, one of Zimbabwe's premier wildlife destinations; Lake Kariba, where you can do a walking safari; and Mana Pools National Park in the heart of the Zambezi Valley. Zimbabwe is well worth a spot on your adventure list.
Namibia's Nomadic Traditions: Namibia is home to one of the last truly nomadic communities remaining in Namibia and indeed Africa. For centuries, the Himba people have lived a relatively isolated existence. Basically, Herero in terms of origin, language and culture, they are semi-nomadic pastoralists who tend to move from one watering place to another several times a year to seek grazing for their goats and cattle. The Himba, Tjimba and other Herero people who inhabit Namibia's remote northwestern Kunene Region are loosely referred to as the Kaokovelders. You have the opportunity to visit a Himba settlement in our Namibia- Desert & Beyond.
South Africa -World of Meercats: Most people have an image of the Kalahari as a lifeless desert, but that couldn't be further from the truth. The diversity of habitat and climate has resulted in a diverse animal population. There are about 80 species of mammals and approximately 240 species of birds. The open habitat makes game viewing excellent and the animals can be appreciated within their habitat rather than amongst bushes. Here, you have lions with black manes, rare desert black rhino, a separate sub species to those in the east of southern Africa and aardvark. At Tswalu Kalahari, the star is undoubtedly the dark eyed, marvelous meercat! This is one of the few places, where you can see these small members of the mongoose family. Here, Tswalu's meercat families are quite used to people so you can get close. In fact, don't be surprised if you find one standing on your hat. You will meet these little guys during our South Africa journey.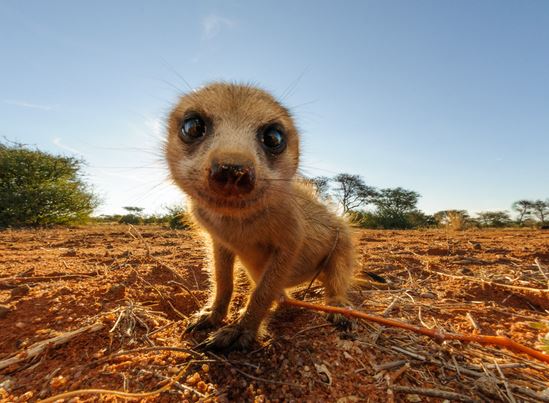 The world's spectacular houses of worship beckon both believers and non-believers. The majesty, architecture and sheer presence of these structures attract even the casual visitor. Each is a gem of art with a unique history. Some are grand and sweeping while others are more modest. Many have played key roles in world events. We often take comfort in the beauty of these magnificent edifices. Here are five that we find especially interesting.
Las Lajas Sanctuary, Ipiales, Nariño, Colombia This remarkable Roman Catholic Church was completed in 1949. The beautiful Gothic Revival church is one of the major hallmarks of Columbia. The basilica church was built inside the canyon of the Guáitara River. This architecturally impressive structure at first glance resembles a medieval castle. Some 17th and 18th century references note that a much smaller chapel originally stood in the sanctuary's place. A larger church was constructed on the site with the help of donations from local churchgoers. The main tower of the sanctuary soars about 100m from the canyon's bottom, and is connected to the mainland with a 50m tall bridge. Though the church is incredibly popular with local people, many international travelers never see this beautiful church. You can arrange a visit to this charming cathedral on one of our Colombia journeys.
Basilica of Our Lady of Dolours, Thrissur, India
The stunningly white Basilica of Our Lady of Delours is located in southern India and is the tallest church in Asia. Construction began in 1929 and was consecrated in 1940, yet the tallest of the towers was not completed until 2007 and was dubbed the Bible Tower. The basilica was built in an Indo-Gothic style with three large towers, the tallest of which is 260 feet high. The red cross atop the Bible Tower is lit at night and can be seen from miles away. The church is dedicated to Our Lady of the Dolours in reference to the Blessed Virgin Mary and the seven sorrows of her life. You can incorporate a visit to Thrissur in our South India adventure.
St George's Cathedral, Cape Town, South Africa The Cathedral Church of St George the Martyr in Wale Street, central Cape Town, is the oldest Anglican cathedral in southern Africa. It is most famously known as the church of Archbishop Desmond Tutu. In September, 1989, more than 30,000 people drawn from all the race and cultural groups of Cape Town join the archbishop in a mass protest march from St George's Cathedral. If you visit, notice the stained glass windows that feature both a white Christ and a black Christ. Add this historic cathedral to your South Africa itinerary.
Goeme Underground Cave Churches, Cappadocia, Turkey
Hundreds of early 3rd and 4th century cathedrals were built by Christians among the 36 cave cities, where hundreds of thousands of people lived. Göreme became a monastic center in 300—1200 AD. The open air museum includes half a dozen ancient churches with rich paintings, and monasteries up in the canyons. This region of exceptional natural wonders, is especially known for its fairy chimneys and a unique historical and cultural heritage. Cappadocia is truly a remarkable once-in-a-lifetime experience worth the trip. Discover Cappadocia on our Turkey & Morocco.
Cathedral of the Immaculate Conception, Beijing, China The original foundation of this cathedral was set in 1605, making it the oldest Catholic Church in Beijing. The current building in the Baroque style dates from 1904, and is the fourth church on the site. Earlier incarnations were alternately destroyed by earthquakes, fire and the Boxer Rebellion of 1900, which saw the destruction of all the churches of Beijng. The present structure was completed, the fourth church on the site. You can incorporate a visit to this church during our 11-day China journey.
« back