The eyes of the world are on Brazil. As football's biggest event plays out, and 32 teams from around the world battle to claim the title of World Cup champions, over 3 billion people will tune in. Several lucky millions have the opportunity to see the action in person. After a long day of exciting goals and thrilling saves, Big Five Tours invites you to escape to Brazil's beautiful beaches for some well-earned relaxation and fun.
The British say, "That's my cup of tea." In Brazil, its "é minha praia," or "That's my beach." Sun-worshipping travelers are sure to find "their beach" amongst the country's 4,650 miles of tropical coastline. Discover:
Praia do Forte, Bahia
Time your visit during low tide to see pools teeming with sea life, and keep your eyes open for whales in the distance. Ideal for swimming, sunning, and aquatic life-viewing, Praia do Forte is a refreshing respite on hot Brazilian days. Available activities include horseback riding, paragliding, biking, and shopping.
Copacabana, Rio de Janeiro
A famous beach in a land of famous beaches, Copacabana is both lively and historic, with forts standing sentry at either end. Walk along the promenade and enjoy the area's shops and restaurants. Or, as most visitors do, soak in the sun. This is not a tranquil, quiet stop: it's a prime spot for people-watching and a feeling of revelry.
Porto da Barra, Salvador
Swim, pick up a game of beach volleyball, and check out the traditional fish market. Local fishermen bring in the catches of the day; you can't find fresher, more delicious seafood! Porto da Barra is one of the few beaches in Brazil that faces west, so make a day of it and stay for the beautiful sunset.
Ipanema, Rio de Janeiro
No tour of Brazil's beaches would be complete without a wonderful day spent at Ipanema. Another beach at which visitors applaud the sunset, Ipanema offers friendly games of volleyball, football, and a hybrid of these two favorites, footvolley. This is the place to see and be seen: the Travel Channel named it one of the sexiest beaches in the world, and it is known as a trendsetter, dictating "beach chic" style.
World Cup? What World Cup? With these, and many other, marvelous beaches, you will forget about everything but sunscreen and bathing suits as Big Five Tours treats you to the experience of a lifetime.
Today, rather than discussing a travel destination, I will talk about a popular animal within a destination. The giant panda, which the Chinese refer to as "daxiongmao," or large bear cat, can weigh up to 220 pounds.
Where Wild Pandas Live
Pandas inhabit several few mountain ranges in central China, mainly in Sichuan province, but can also be found in the southwestern regions of the country. Pandas once lived in lowland areas, but due to modern farming, forest clearing, and other development they are now restricted to the mountains.
A Wild Panda's Diet
Although it is a carnivore, a panda's diet consists of over 99% bamboo. Since the bamboo diet isn't very nutritious, pandas spends more than 14 hours a day eating. Wild pandas will occasionally eat other grasses, wild tubers, or musk deer fawns, birds, rodents or carrion.
What's Being Done to Protect Pandas?
The World's Conservation Union (IUCN) has placed the giant panda on the endangered species list, as they are threatened by habitat loss, poaching and a very low birthrate. Wildlife experts are unsure of exactly how many remain living in the wild, but the number is estimated to be from 1,590 to as high as 3,000. Some reports have also shown that the number of pandas in the wild is on the rise.
The giant panda is among the world's most adored and protected rare animals. Lots of time, money and energy has been spent on conservation. In 2006, there were 40 panda reserves in China, and in 2012 a global nonprofit named Earthwatch Institute launched a program which allows volunteers to work with pandas in captivity in an effort to help them adapt to life in the wild. If successful, the panda may go on to breed, and live longer and healthier lives in the wild where they belong.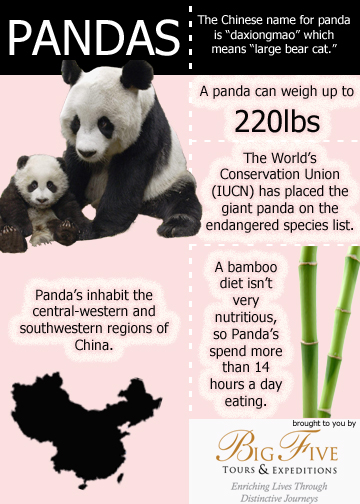 If an ardent sun worshipper and beach lover were to design the ideal destination, chances are it would look much like Costa Rica! This gorgeous Central American nation is blessed with tranquil neighbors: the Pacific Ocean and the Caribbean Sea. For visitors, this means a wide array of beaches, from gentle waters and fluffy white sand to fast waves and shell-filled walks on the coast. Big Five Tours introduces its visitors to the best of Costa Rica, ensuring that, whatever your vision of an ideal beach, it is fully realized.
Costa Rica has over 300 beaches. Why not explore them all? However, if you have time only for a few, these are our top picks:
Playa Avellana, Tamarindo
If surfing is on your mind, set aside a day for Playa Avellana. Conditions are perfect year-round for experienced surfers, and the surrounding area offers plenty of accommodations. The beach, set against a backdrop of old trees, mangroves, and fields, is as diverse as Costa Rica itself. In some spots, you can stroll along rocky shores and wade in tide pools. In others, you can enjoy the dazzling turquoise water and powdery sand. Be sure to stop for some pizza at the famous Lola's, a beachside bar.
Playa Potrero, Guanacaste
Playa Potrero appeals to a wide range of visitors, making it the ideal spot if you are traveling with companions. While some of you lounge on the beach and gaze at the turquoise water, others can try scuba diving, snorkeling, and kayaking. The beautiful setting offers endless views of exotic plant life and volcanic mountain ranges. Why not charter a boat at the nearby marina for a fun afternoon of exploration, or venture into the rainforest at the nearby Palo Verde Natural Reserve or Santa Rosa National Park? Adventure awaits!
Punta Islita, Nicoya Peninsula
Find serenity in nature. Driving into the charming village is a fun excursion in itself, but then you arrive at the small beach. Nestled in a protective cove (and connected to another, larger beach, Play Corozalito), Punta Islita is surrounded by lush greenery. Keep your eyes open for numerous bird species or the Howler monkey. Here, you can catch some rays or opt to go horseback riding, jet skiing, or kayaking. Accommodations nearby make this an ideal destination.
With hundreds of other exceptional choices, you are sure to find your ideal beach in Costa Rica with Big Five Tours.
It's not always easy to pick a destination to visit. That's why we created this travel quiz to help you figure out where your next beach vacation should be!
Bhutan is a land of incredible diversity – and beauty. Dramatic glacial mountain peaks, rugged alpine shrub, and subtropical forests create ideal habitats for thriving wildlife populations. But to be sure that man doesn't tread too heavily on nature, the Bhutanese government has always been proactive, and progressive, in its environmental policies. Approximately 26 percent of the country is protected as biological refuges, and among its most treasured residents are the sleek, powerful cats. Big Five Tours offers you a ticket to this most isolated and exciting of lands.
Eurasian lynx, tiger, leopards…oh my!
In 2012, the wildlife community was thrilled when the elusive Pallas's cat, also called manul, was captured on film in the Wangchuck Centennial Park. This species, rarely seen, has roamed Bhutan's rocky ledges for millions of years, changing little. Also making an infrequent appearance on film that year was a baby snow leopard. These remarkable, and shy, creatures are endangered, and it is believed this sleeping baby, tailed curled around his body to keep warm, was one of only 7,000 left in the world.
Bhutan is the land of hidden beasts! In addition to these very rare species, researchers have discovered what they call "hidden" tigers, living in the Himalayas. It was previously thought that the beasts couldn't stand the high altitude or frigid temperatures. Other feline inhabitants of Bhutan: the clouded and common leopards, the leopard cat (a little "big" cat), the Asian Golden Cat, marbled cat, and the Eurasian lynx.
While big cats are notoriously elusive, that can't stop intrepid travelers from trying – and, in the process, seeing Bhutan's gorgeous landscape and other wildlife species – at the various national parks. Royal Manas National Park, a World Heritage Site, Wangchuck, Phipsoo Wildlife Sanctuary, Thrumshingla National Park, Jigme Dorji National Park, and many other parks and refuges allow visitors to enjoy the best of Bhutan.
Visiting Bhutan
To protect its natural resources and biodiversity, Bhutan requires a daily tourist tariff. If you have been searching for an exclusive experience, look no further. Big Five Tours can arrange your trip, and a local guide will accompany you. In addition to the gorgeous vistas and wealth of natural beauty, you will have the opportunity to engage with Bhutan's vibrant culture, discover hidden villages, tour historic monasteries, and meet with warm and welcoming Bhutanese people.
Explore Bhutan; there are wonders to behold at every turn, both natural and manmade. And always keep an eye open for the mysterious, sleek, big cats!
« back